You've been living under a rock if you haven't heard about climate change. It is the one true unifier of this planet—the problem belongs to us all. But for developing countries, especially those who depend so heavily on small-scale agriculture, the impacts are felt much more intensely. Haiti is no exception.
Annual average temperatures have risen year after year on the island country and the rainy season has become unpredictable and unreliable. Forecasts of future climate change impacts indicate that average temperatures will continue to rise; inconsistent rainfall will lead to extreme droughts in the dry season and heavy rainfall in the rainy season. This year, the drought is already so severe that many farmers have lost crops and animals.
The impact of climate change is particularly devastating for Haiti– one of the most deforested countries in the world. Dependence on charcoal and firewood as energy sources is the major reason for the deforestation. There is less than 2 percent of vegetation cover across the entire nation's landscape. This has led to severe soil degradation, erosion, flooding, desertification, and scarcity of water resources. In an effort to control this situation, the government, together with other interested parties, has tried to carry out reforestation projects— but few have succeeded.
You can help mitigate the effects of climate change and restore a bountiful world.
Heifer Haiti is closely monitoring the situation and has been adapting project activities to mitigate the impact by encouraging smallholder farmers to practice advanced agroforestry models and other adaptive measures. Hervil Cherubin, country director for Heifer Haiti, says, "The models we are using will support a complex habitat that sustains bee farming, reduce poverty through increased production of wood and other edible tree products, restore soil fertility for food crops, and will eventually reduce deforestation and pressure on forests by providing farm-grown fuel wood."
Through the Rural Entrepreneurs for Agricultural Cooperation in Haiti(REACH) project, farmers are trained and given technical support to ensure that they comply with rigorous environmental standards to conserve soil and water. They are encouraged to afforest, or plant trees on, their land, maintain healthy soil, and decrease their use of water and energy. They are also taught organic, non-chemical, alternatives for growing crops.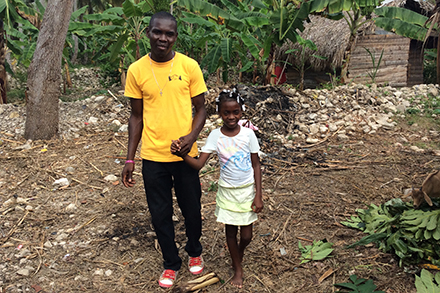 Garrand Bernier, a successful young farmer in the REACH program and president of Youth Union for Development of Savane-du-Bois (UJDSB), attributes part of his and his group's success to adaptation. He has learned new ways of mitigating the effects of climate change, including reforesting and restoring his farm. "I started at an early age helping my parents around the farm. When I completed my studies I returned back to the village to do what I loved doing. With the support of my family, I set up my small farm and joined UJDSB to work together with other people to boost my financial status as a young farmer in the community."
Savane du Bois is a very poor community. Deforestation in the area is vast and felt by everyone. The river that once passed through the community dried up this year and has become a dirt road. Heifer Haiti is in the process of training all of the 150 registered project members, and eventually the entire community, on agroforestry, agroecology, entrepreneurship and livestock and crop production.
After receiving training from Heifer, Gerrand, 31, started practicing what he had learned from Heifer. He and a friend who owns a cybercafe in the village center used the Internet to research farming practices that would improve productivity of his farm for maximum financial gain. His first step was to plan his farm. Then he identified ways to maximize use of his farm, while protecting further damage to the soil.
In June 2013, he received the gift of five goats and seeds from Heifer. Now he has seven goats and two kids. He also grows beans, bananas, peppers, forage for the goats, and sweet potatoes, which serve as cover crops for the terraces he dug to prevent soil erosion. In addition, Gerrand grows Mango trees. Fifteen new trees will soon begin replenishing the forest. Heifer, combined with Gerrand's motivation and commitment, helps make all of this happen.
Garrand is just one example of the many farmers across Haiti who are adapting new methods of farming that will help curb climate change. Heifer is working to reach out to more farmers nationwide to spread this impact.
"In the next five years, I envision my farm all green and productive to provide enough income for me and my family," Garrand says. "I have an integrated farm that I am using as a model for members of my organization. "
Story by Pamela Nyaga, Communication Consultant, Heifer Haiti