Women & Girls
A Story of Resilience: One Year After Haiyan
Fear flashes through Ricardo Dillo's eyes when he recalls Typhoon Haiyan.
"Haiyan, in one word, was a nightmare. When it hit us, I thought that would be our end," he said.
Super Typhoon Haiyan made landfall in the central Philippines in the early morning hours of November 8, 2013. It was the strongest typhoon to hit land in recorded history, packing winds of 195 mph and gusts up to 235 mph. With a diameter of 1,150 miles, the typhoon affected about two-thirds of the exposed Pacific island nation.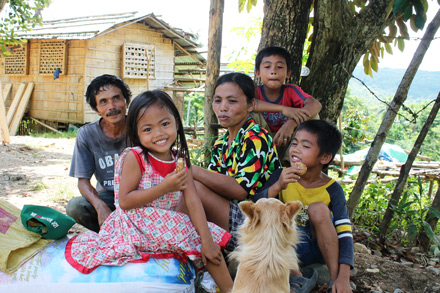 Haiyan left 8,000 dead and injured more than 28,000. A year later, more than 1,000 are still listed as missing. Eastern Visayas bore the brunt of the damage, where according to official government records, more than 1 million houses were destroyed.
Heifer was serving more than 1,000 families in the areas of of Calubian and Ormoc. One year after the storm, 100 percent of the 618 project participants in Calubian have reconstructed their houses. The same can be said for the 392 project participants in Ormoc. All have also rebuilt their animal shelters.
Astonishingly, there were no casualties among Heifer participants. While recovery has been swift for many project participants, rebuilding is ongoing in the region. One thing has been made clear, though: Heifer participants were prepared for the storm in ways that many other Filipinos weren't.
You can help families like the Dillos. It only takes a few minutes to make a difference.

As part of the project, Ricardo and other participants attended Community Managed Disaster Risk Reduction Training (CMDRR). They were taught what to do before, during and after a natural disaster. The 45-year-old father recalled that presence of mind and reacting quickly are important for survival.
Immediately after the typhoon, Ricardo led his family to start clearing the debris and mapped out a plan on how to go about the day and how to start life again. He saw others overwhelmed by the devastation, in shock from seeing their livelihood and belongings ruined.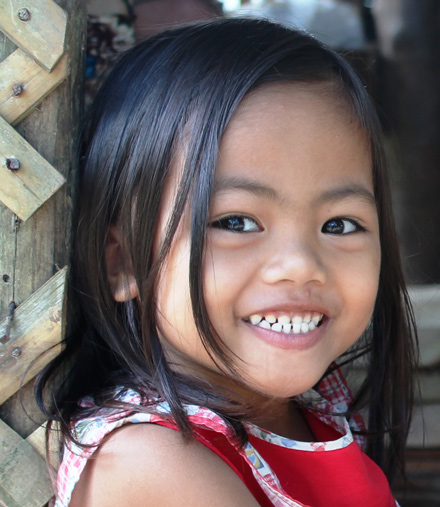 His wife, Jacquiline was mostly concerned about feeding their children. "I feared most for our three children. Our house was destroyed, our crops were totally damaged and that left us with little food to eat," she said. But Ricardo knew what to do.
He told his family to salvage what they could from their farm. The food they harvested sustained them for few days.
"Our nights turned into days working in the farm," Ricardo said. "It is a good thing that we stored seeds from the crops originally given by Heifer and immediately planted while the soil was moist from the strong rains of Haiyan."
Heifer Philippines' rapid damaged assessment and needs analysis (DANA) team arrived at the project sites less than 72 hours after the typhoon. As power lines were down, the power generator provided not only light, but also a lifeline for the DANA team. The team and partner families were able to use it to communicate to their relatives outside affected areas. Assessment was immediately sent to the Country Program Office, response was immediately deployed.
Food packs were starting to stream in from Heifer farming families in Bicol area. In the spirit of sharing and caring, these families pooled their donations, and together with the Bicol Upland Resources Development Foundation, Inc., (BURDFI), the packs were in Calubian less than two weeks after the typhoon.
"Despite the typhoon, our Christmas last year was simple but abundant. Heifer gave us a sack of rice, powdered milk, sugar, coffee, hygiene kits, soap, dried fish and beans, canned goods and crop seeds. Our food supply lasted for two months," Jacquiline said.
"It was good that while we worked the farm, we did not worry about what to eat. That gave us more time to work in the field. We also rebuilt our house from the galvanized iron sheets and nails Heifer gave us," Ricardo said. "The gifts Heifer gave us during the worst times of our lives helped my family and other partner families bounce back again."
As most farmers in the area are still growing their crops, Ricardo and Jacquiline are among the very few that already harvested. "We hit the jackpot with our vegetables," Ricardo said. Their farm record shows that they harvested and sold a total of 1,950 pounds of bitter gourd for one season alone at a price of 85 pesosper 2 pounds for a total of $1,646. Their second crop yielded 1,200 pounds. They also harvested beans and a few other vegetables, earning a total of $2,422.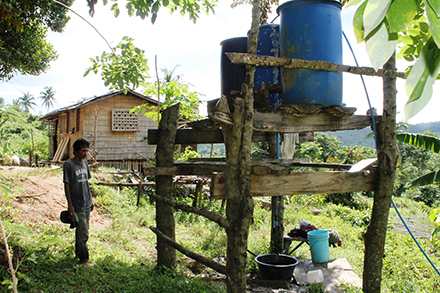 The family invested their income by buying a water buffalo that will be used as draft power in their farm. They also installed an electrically operated water system for irrigation. "We do not fetch water anymore from the hill to water our crops, so we have more time to spend in our farm and be with our children. We are starting to see the light after the storm, " Jacquiline shared.
The family now rents two more additional farms with an area of five-and-a-half-acres. They are growing corn, beans, peanuts, chili and okra. Although Ricardo does most of the farm work, he has five farm helpers that assist him.
"We dream big now, realizing that we can achieve them. After Haiyan, we learned that our crops are prone to disaster and we therefore need to take good care of our livestock and save more. We want our children to study and pursue their dreams. We need to be ready at all times; we need to be resilient," she said.
Their sons Cipriano, 11, who is now in fifth grade, wants to be a soldier; John Rick, 9, a fourth grader wants to be a policeman, while the youngest, Maria Janine, 4, wants to be a teacher.
"Our children now also dream big, because they see we are preparing for their future," Ricardo said. "We are grateful that Heifer instilled in us the value of savings, our self help group learned that savings commands security."

Heifer Philippines PM&E Manager Karla Rodulfo contributed to this story.