REACH Project,
Haiti
Rural Entrepreneurs for Agricultural Cooperation in Haiti
Restoring rural livelihoods by promoting sustainable food production
Location

Haiti

Products

Livestock, Crops

Active Since

2010
A comprehensive plan to restore rural livelihoods by promoting sustainable food production
When disasters like hurricanes or earthquakes strike, many local farmers lose their most valuable assets – livestock. This was the case in 2010, when a devastating earthquake hit Haiti.
Our team's post-earthquake assessment found that almost every family in rural Haiti raised at least one type of livestock. But most had never received any animal wellbeing training, meaning their farms were operating well below production capacity.
With hunger and poverty still impacting many Haitians in the aftermath of the 2010 earthquake, we launched the Rural Entrepreneurs for Agricultural Cooperation in Haiti (REACH) project – a comprehensive plan to restore rural livelihoods by promoting sustainable food production.
For decades, Haitian farmers have grappled with poor quality soil, a lack of tools and expertise to grow their farms, and poor roads, limiting their ability to get their products to markets. Before the REACH project began, there were only 75 registered veterinarians in the whole of Haiti and no veterinary schools. As a result, demand for meat and dairy far exceeded domestic supply.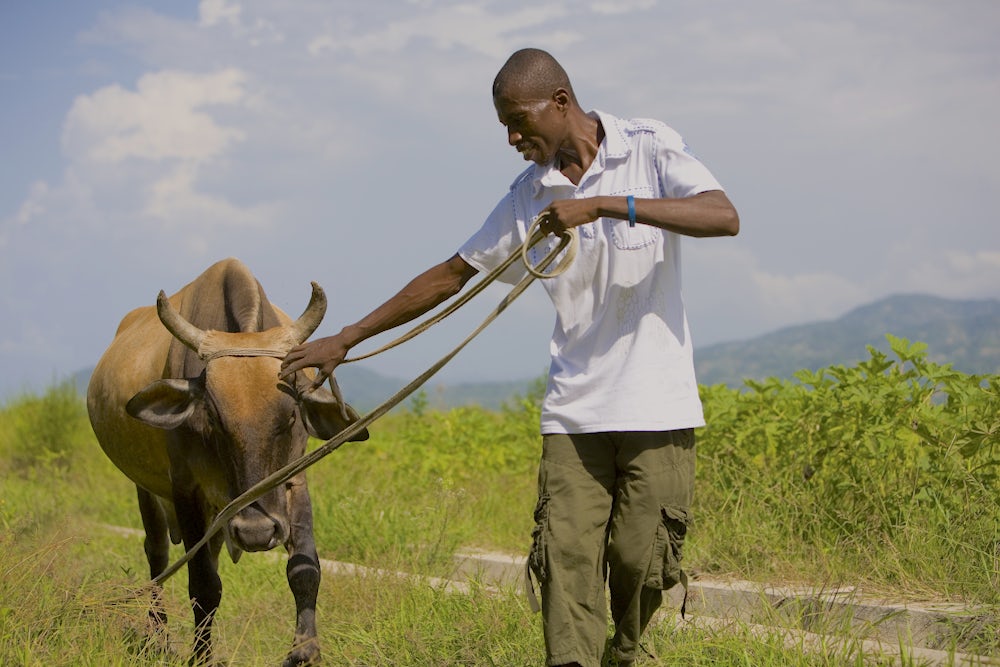 Over a five-year period, the REACH project supported farmers as they learned and adopted modern farming practices, improving the productivity of their farms in a sustainable way, protecting local resources like soil and water.
Communities organized themselves into self-help groups that identified needs within their community and then set about agreeing plans to address them. With women and youth among the most vulnerable to disasters, we focused on equipping them with the skills they needed to build modern, successful farms that provide them with a reliable source of income.
Working closely with the self-help groups, we identified, recruited and trained 120 new animal health workers who live and work within farming communities. This created new, local jobs, giving farmers access to a wide range of expertise to make their farms more productive.
We set up 75 local animal breeding centers to improve the quality of breeds on local farms and create more local jobs. And our experts worked with farmers to expand crop growing on their farms, producing locally grown nutritious food that also gave them another source of income.
As farmers expanded their farms and improved their production processes, we provided business training so they can manage their accounts, get access to finance, find new markets for their products and continue to scale up their businesses.