By Peggy Reiff Miller

Nearly 7,000 men took to the high seas to deliver livestock via ship on Heifer's behalf after World War II. The deliveries came about through a partnership between the United Nations Relief and Rehabilitation Administration (UNRRA) and the Brethren Service Committee of the Church of the Brethren. Heifer still gives animals to families around the world, but today most of those animals are purchased in the regions where they're given.

Although the golden era of the seagoing cowboy is past, Peggy Reiff Miller, an author, historian and archivist, is keeping their stories alive through her work, which she describes for World Ark.
...

I never set out to become a historian or an expert, as I've been called, on seagoing cowboy and Heifer International history. All I wanted to do was write a novel.

It all started with a handful of my Grandpa Abe's photos. After he died, my father gave me an envelope of pictures from Grandpa's trip delivering horses to Poland in 1946. Years later in a writing course, I needed a topic for a young adult novel and remembered Grandpa's photos. I thought, "Aha, a seagoing cowboy trip to Poland!" My instructor agreed it was a good idea. "Something new under the sun," she said.
The latest evolution in my motivation has been my growing relationship with Heifer International. The more I learn about Heifer's current work, the more excited and committed I am to be a Heifer supporter and promoter.
Having grown up in the Church of the Brethren that birthed the Heifer Project, the topic of seagoing cowboys wasn't new to me; but I had never heard Grandpa's story and needed to know more. So in 2002, I started interviewing men who had made livestock trips like Grandpa's after World War II for the United Nations Relief and Rehabilitation Administration and the Heifer Project. One cowboy led to another and another. Their stories were so fascinating and compelling, full of adventure, danger, humor, drama and even an occasional romance, that I was hooked. When I realized these stories were just hiding away in people's minds and drawers and attics, my mission changed to documenting this piece of little-known history. And I've been researching, writing and speaking about it ever since.

It didn't take long to realize that I couldn't tell the history of the seagoing cowboys without also telling the related story of the Heifer Project, the early years of Heifer International. This expanded the scope of my research, such that I now have my own archive room filled with file boxes that feed my writing and speaking engagements.

My novel did get drafted, but it's resting. In the meantime, I've been sharing the seagoing cowboy story through magazine articles for adults and children, a DVD documentary, and a website and blog with twice-monthly posts (www.seagoingcowboys.com). My first book out of the chute will be a children's picture book, The Seagoing Cowboy, to be released by Brethren Press in early 2016. Works in progress for adults include a book on the Heifer Project and one on the seagoing cowboys.
Cowboy Curator
My motivation has evolved over time. After my novel was drafted and I could have stopped researching, the cowboys themselves kept me going. To sit in their living rooms and listen to them tell about experiences that had a profound impact on their lives has had a profound impact on me. These men have entrusted me to be the caretaker of their stories, and I take it as my mission to see that their history of rebuilding a war-torn world lives on.

As I continued to interview cowboys, a second motivation for my work developed: connecting families with their own history. Like me, many grandchildren and even some children had never heard the story of their loved ones' seagoing cowboy experiences. And many cowboys themselves had not realized the scope of the program in which they had participated and its historical importance. Notes of appreciation I receive from cowboys and their children for rekindling these stories in their families make all my efforts worthwhile.

My work evolved to another, unanticipated level once my seagoing cowboy website went up in 2008. I had unwittingly become a source of information, regularly fielding inquiries that came from children or grandchildren wanting to know about their loved one's cowboy experience, or from elementary through graduate students wanting information for papers they were writing, or from Heifer International staff needing answers for constituent questions. I struggle at times balancing this aspect of my work with the writing I want to be doing; but the seagoing cowboys have so graciously shared their stories and materials with me that I feel I have the responsibility of sharing them with others.

The latest evolution in my motivation has been my growing relationship with Heifer International. The more I learn about Heifer's current work, the more excited and committed I am to be a Heifer supporter and promoter. I've realized that my work reaches many people who have never heard of Heifer. The more ways I can find to tell the seagoing cowboy story, the wider that story will travel; and the wider that story travels, the more people will be introduced to today's world-changing work of Heifer International. Thereby, history becomes a doorway to the present.
Hidden Gems
With my research expeditions to a number of archives around the country, my work has been akin to mining for gems. Since 2004, I've been up and down interstates from Indiana to Arkansas seven times to dig through historical files at Heifer headquarters in Little Rock or the vital records storage facility in nearby Maumelle or Heifer Ranch in Perryville. And I've struck gold many a time, finding nuggets that shed light on both the Heifer Project and seagoing cowboy histories.

One gem that set my heart fluttering was the seagoing cowboy card file. I knew from reports I had read that it existed, and I knew where it had once been located; but the person who had shepherded it through the years was deceased, and no one seemed to know where the card file went. Did it even still exist? I wondered.

Then on my November 2007 trip to Heifer, I found it: four green metal index file boxes stuffed with 4-by-6-inch cards with the records of more than 6,800 seagoing cowboys hidden away as items number 217860-217863. I was soon holding in my hands the card for my Grandpa Abe. What a joyous day! And what a priceless find.

Three months later, I headed back down to Arkansas with my laptop and scanner and holed up at the Heifer Ranch for 10 days with those four metal boxes, scanning every single card. Heifer staff and I would now have the information at our fingertips to answer the caller who says, "My father was on a cattle boat trip after World War II. Can you tell me when and where he went?" Recently, the information on the cards has been put into a searchable database for me by Ohio Heifer supporter Terry Thoreen, making it even more accessible.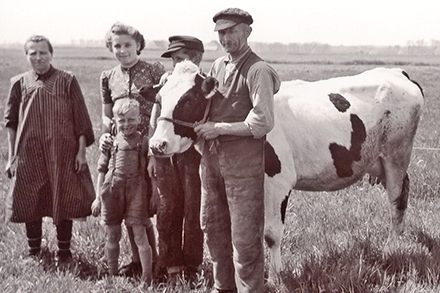 Another motherlode I hit was the boxes with the records of more than 80 Heifer shipments to Germany that took place from 1949 through 1960. At the end of World War II, people of German descent who lived in Eastern European countries were sent back to Germany, no matter how many generations their families had been in the East. The new government of West Germany had to absorb 10 to 12 million of these refugee resettlers. And hiding away in Heifer's archives were many of their stories. It was largely to these resettlers that the Heifer Project cattle were sent.

The boxes I found held lists of donors and recipients for all the shipments, as well as photos of and letters from recipients telling of the often traumatic hardships they had endured and how important their heifer was to them in their recovery. A rich motherlode, to be sure, that helped round out the Heifer story and became more valuable to me than I could have imagined.


In September 2013, I had the opportunity to travel to Germany and Poland. With the lists of recipients from Heifer's archives and the help of German friends, I was able to find and meet with members of 11 families from the Reichswald resettlement in Germany where 42 heifers had been placed in 1950. What a phenomenal experience! Not only for me, but for them as well, as they were finally able to say thank you to someone for this gift of a heifer at a critical point in their lives.

I pass the recipients' gratitude on to those whose families were involved in donating heifers to Germany. Marianne Queling Arts summed up the difference this gift of a heifer meant to her family, which had been run out of their village in Silesia where her father had been mayor. She said, "Our heifer lifted us from the depths of despair and gave us hope." In Poland, I heard a similar message from a family there who received a heifer in late 1945. These contacts would not have been possible without the records from the Heifer archives.

So why do I do what I do? Because this history has claimed me, and I cannot do otherwise. There is power in story, and Heifer has a rich history that needs to be told.