By Austin Bailey, World Ark senior editor
Photos by Lacey West, video producer
Beyond Hunger: Communities of Change
The year 2014 marks 70 years of Heifer International's impact in more than 125 countries and through 20.7 million families. Come celebrate what we've accomplished together at one of Heifer International's Beyond Hunger events being held nationwide this year.
Be Part of the Change
With its 70th birthday celebrations this year, Heifer International called the cowboys home to honor their immeasurable contributions and collect their memories for posterity.
At the close of World War II, herds of young men and a few women crossed oceans with shipments of livestock for families whose livelihoods were obliterated during the fighting. We credit those seagoing cowboys with cementing the foundation of Heifer International, which grew into a global nonprofit that's now 70 years strong.
The all-expenses-paid trip overseas came with a number of caveats. The animals had to be fed and their stalls mucked multiple times a day. Seasickness was practically a given on the utilitarian ships that shuttled livestock and other aid to postwar countries. And there was no getting around it, the poignant stench from mounds of manure would be inescapable.
For the young men eager to earn their credentials as seagoing cowboys, there was no waffling. This was a plum chance to do important work and sample a taste of freedom, all while setting out into the wider world for the first time.
Teams of boys as young as 15 caught trains or hitched rides from heartland farming communities to the ocean ports where they would set sail. Those boys are in their 70s, 80s and 90s today, but their stories of adventures on board and ashore are as vibrant as ever.
Heifer's mission to ending poverty and hunger would not have been possible without seagoing cowboys.
Nearly 7,000 young men took to the high seas to deliver livestock on Heifer's behalf after World War II. The deliveries came about through a partnership between the United Nations Relief and Rehabilitation Administration (UNRRA) and the Brethren Service Committee of the Church of the Brethren. Heifer still gives animals to families around the world, although today most of those animals are purchased in the regions where they're given. Alas, the golden era of the seagoing cowboy is past.
But with its 70th birthday celebrations this year, Heifer International called the cowboys home to honor their immeasurable contributions and collect their memories for posterity. Some wrote in with their stories, a few called. And much to our delight, a handful of cowboys showed up in person and agreed to an interview. Following are highlights from a few of our favorites.


Peggy Reiff Miller: The historian
It's high time to chronicle the cowboy legacy, said Peggy Reiff Miller, an author, historian and archivist who's interviewing as many cowboys as she can find for two books she has in the works, as well as for her website, seagoingcowboys.com. Miller and a crew of her beloved cowboys came to Heifer headquarters in Little Rock, Ark., in March 2014 to share their stories at a celebration of Heifer's 70th anniversary.
Miller didn't aspire to become the expert on all things cowboy when she set out to learn about her grandfather, who traveled to Poland as a young man. But as she flipped through old photos and learned about the early days of Heifer, she quickly realized her grandfather's story was only a tiny thread of a rich history that remains largely uncaptured.
"It didn't take long for me to realize, here's a history that's hiding away in people's drawers, in people's attics," she said. "I realized, too, as I interviewed these men, how much it meant to them. This was a very formative time in their lives."
So what started out as a personal quest turned into a full-time job for Miller, now established as the go-to expert not only on the cowboys, but also on the early days of the organization that has grown strong on the foundation those cowboys built.
MERLE CROUSE: The joker
"If you like to feed dusty hay to confused cows who are sliding around on a layer of fresh manure that has greased a floor that is rocking four ways at once from 40-foot North Atlantic waves, while you are so seasick there's nothing left in your stomach to throw up and you almost wish you were dead, and you almost wish you had stayed home on the farm instead of volunteering to be completely miserable, then welcome," retired minister Merle Crouse told his audience at Heifer headquarters in March. "Welcome to the experience of being a seagoing cowboy." Crouse and a few other cowboys from Heifer's earliest days headlined a 70th birthday celebration for Heifer International that brought together longtime supporters and new recruits in the mission to end poverty.
Like many other cowboys, Crouse was following in the footsteps of a family member when he signed on for his overseas adventure. His father went to Poland to deliver animals when Crouse was in high school, so when he graduated from college, Crouse left the family farm in Maryland bound for Bremerhaven, Germany, to deliver 63 heifers. He was assigned to a merchant ship departing New York in November, when cold temperatures and choppy waters make for a tumultuous crossing.
"The North Atlantic gets pretty raucous," Crouse remembered. He and other crew members locked hatches and windows and spent most of their time huddling below deck. At mealtimes, the cowboys had the choice of losing their food when rough waters sent everything flying off the table, or holding on to their plates and losing the meals later, over the side of the ship.
"So it wasn't all fun," Crouse said.
His plans to spend two years in Germany for the Brethren Volunteer Service shifted when he was called to work in Istanbul, Turkey, instead. That's where he met his wife. When they returned to the United States, the couple went to Ecuador, where three of their four children were born.
Crouse kept up with Heifer International throughout his life but was still surprised in March when he got the chance to meet with Heifer staff and see how far-reaching Heifer became thanks to the early contributions of cowboys like himself.
"I did not realize how elaborate and developed Heifer has become until we got here," he said.
HOWARD LORD: The romantic
Younger brothers tend to follow their older brothers' leads, and so it was that young Howard Lord boarded a ship bound for Greece in 1947. He was working on the family's farm in Grinnell, Iowa, deferred from the war as a conscientious objector for his Quaker beliefs, when he got a letter from his brother urging him to hop the next cattle boat. The trip would require him to leave his fiancee, Wilma Russell, but she didn't object. She had some things to do, herself.
"I made my wedding dress while he was gone," she explained.
So Lord promised his dad he would be back in time for spring planting and took off for Greece as a seagoing cowboy. The trans-Atlantic leg was only the first part of his trip. Lord left Greece for Djibouti to deliver cattle, sheep, mules, horses and chickens. The poverty he witnessed in both Athens and Africa rattled him. Seeing grass shacks sagging in the shadows of grand palaces and meeting people with the distended bellies and red hair that are surefire marks of severe malnutrition left him questioning his plan to farm.
"It was a total change of life; I was never the same," he said. "I became so much more socially conscious … it was almost like starting life all over again."
Once back in the United States and married, Howard Lord entered seminary. Wilma Russell Lord gracefully donned the role of pastor's wife and supported them during the seminary years by sewing and baking pies.
RICHARD REISTE: The adventurer
At 17 years old, Richard Reiste was antsy to get out of Iowa. Having ventured beyond state borders only twice before, to Chicago and Kansas, Reiste was jumping to leave his family's farm and explore more of the world.
"So going abroad was something really big for me," he said.
Heading across an ocean to deliver animals sounded so good to Reiste that he ended up signing on for two trips nearly back-to-back, one to Italy in 1946 and one to China in 1947. An exuberant traveler, Reiste made the most of both.
Reiste set out for Italy in the summer before his senior year of high school, stopping to visit family in Chicago before catching a train bound for his port of departure in New Orleans. He and about 30 other men took on the care of horses bound for Trieste, Italy.
The crossing was tough on animals, and not all of the horses survived. Reiste remembers one particular burial at sea with a grisly ending. The cowboys swung the horse's body out on a piece of canvas and dropped it in the ocean.
"It was a beautiful day that day, really still," he said. As the horse's body floated away, "We saw a gigantic fin come up out of the water and the horse disappears. I wonder what kind of shark or what could handle a 1700-pound horse for breakfast. It just really makes you appreciate the variety that God has created."
Reiste stared, amazed, as they floated past the Rock of Gibraltar and Africa's purple mountains. In the Adriatic Sea he was taken with the clear blue water and the life he could see in it. "The jellyfish looked just like Aunt Jemima pancakes, beautiful brown pancakes here and there," he said. Docked in Trieste, Reiste became a student of black market economics, accompanying a friend to swap cigarettes, a valuable black-market commodity, for an accordion.
Reiste made it back home at the end of September. "I was a little bit late to school, but I didn't mind that," he said.
Soon after, his pastor heard about the first Heifer shipment bound for China. Reiste and three of his classmates signed up, and he headed back to New Orleans on Christmas break to board the very same ship he'd taken to Italy. The crew shipped out and through the Panama Canal, then docked in Pedro, Calif., long enough for the crew to see the Rose Parade in Pasadena on New Year's Day. Reiste and company then traversed the Pacific, arriving at Shanghai during the Chinese New Year celebrations. Alongside the fireworks, Reiste noticed the bedraggled rickshaw boys who worked for two eggs a day and a mat to sleep on.
Storms dogged the ship during a side-trip to pick up more livestock in New Zealand, and a huge wave nearly washed one cowboy overboard.
Once back home, Reiste felt changed. "I had so much more appreciation for everything. I had a sense and a desire to learn about other people," he said. He made his home in Minburn, Iowa, and eventually slowed his pace a bit, but he still heads out of town often. He volunteers at Heifer's information booth at the state fair in Des Moines each fall, and shows up every year at a reunion for Iowa's seagoing cowboys. In March, Reiste was among the cowboy glitterati feted and photographed in Little Rock for the 70th celebration.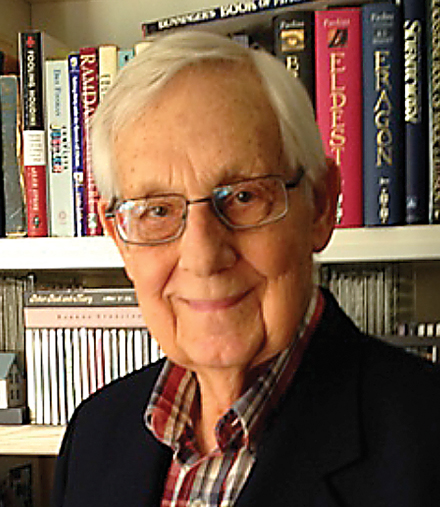 DONALD STRUCHEN: The heartthrob
Was it his devil-may-care account of hitchhiking through New England that summer before being called up for cowboy duties that cast him as the dashing vagabond? Or was it the suspense of his last-minute race to Newport News, Va., to catch his ship bound for Italy? Maybe it was the image of him slumped in the shadows behind an outdoor opera house, exhausted from travel but determined to hear the lyrics of "Carmen" performed al fresco on a summer night.
Regardless, Donald Struchen's enchanting, sun-dappled tales of his seagoing days brim with an infectious spirit of adventure. His photos from that summer, peopled with pretty girls in polka dot dresses and sunburned young men squinting in the bright sun, add even more glamour.
A retired Methodist minister now living in New York, Struchen shared his story via email:
"It was the summer of 1946 when I was a student at Garrett-Evangelical Seminary in Evanston, Ill. A fellow student and I thought a good way to spend the summer would be to help the farmers in Europe recover from the war by taking them some livestock. Arrangements were made and we were told to report to the Carroll Victory ship in Newport News, Va. We began hitchhiking from Evanston to Virginia only to be told when we arrived the ship was not ready. My friend was interested in a girl who was in Buzzards Bay, Mass., for the summer so we hitchhiked up there. Since we didn't know how long it would be before sailing, we got dishwashing jobs in a restaurant, but before we could begin work for even one day we received word to report to the ship in three days. So it was back on the highway with thumbs in the air and hope that we could make it over the July Fourth holiday before the ship sailed.
"We did get there and watched them load 900 horses, which were going to Trieste. We were happy about this, for most ships were going to Poland and we thought this would be different. My partner and I were assigned to caring for 50 horses in the front hold in the bow of the ship. We watered and fed them regularly every day. We kept them standing the whole time. We helped the vet care for them if they needed care. … The manure piled up higher and higher every day, so the smells were pretty powerful along with the heat down in the hold and the seasickness that hit us as we rolled out into the ocean. I recall lying on a bale of hay and asking myself if I regretted my decision to make this trip. The answer was NO. It was a great adventure and wonderful summer even though I was bitten in the arm by one of the horses.
"It took two weeks to get to Trieste but along the way I had a lot of time to read. I was reading Ben Hur about a slave who was rowing on a slave ship. On the day that our ship went through the Straits of Messina I read that Ben Hur was rowing through the Straits of Messina. Talk about coincidence!
"We had three days ashore before we were to head home. One night we found an outdoor opera house, and I recall standing along a wall at the back listening to "Carmen" and fighting sleep, for we were exhausted. I bought a beautiful carved wooden horse about 4x6 inches in size as a remembrance. It still stands on a shelf in my house. We met two young ladies who took us swimming at a nearby lake. Their picture is still in my album. Our three days ashore were soon over and we began the two-week trip back home. Our job the first days was to scrub down the holds and clean the ship so it could reload and continue this wonderful ministry to the people of Europe.
"The other cowboys were an interesting bunch. Several Mennonites, a couple of pre-med students, some pre-ministerial and a handful of pacifists. We had Bible study and deep discussions up on the forward deck. I made a number of friends who I kept contact with for several years. We docked in Baltimore right on schedule, and George and I once again began hitching back to my home in Erie, Pa. I grew a mustache during the summer, which made quite a hit when school started. I think we received a check for our summer work. But no amount of money would be as valuable as this summer adventure was to me. Thank God for those who made this project possible."
Arthur Kennel: The Innocent
A doctor and author of Life, Love, Llamas, and Laughs: My Story, Arthur Kennel wrote in his memoir that his trip to Poland at age 16 was "a defining experience in my life." He took in the human toll of warfare and recommitted himself to nonviolence. He watched porpoises glisten and leap alongside the bow of the ship, and he marveled at the strength of the Polish women at the port in Gdynia who unloaded 130-pound hay bales without any assistance.
Kennel encountered other marvels, less endearing but undoubtedly eye-opening for a 16-year-old Mennonite boy from Pennsylvania. For instance, Kennel quickly realized the pitching and weaving that was making him so seasick was also provoking the crowded horses, which were becoming surlier by the day. "The horses were almost constantly nipping at each other and some of them tried to bite a piece out of their caregiver. Horse bites could be quite serious," he wrote.
Safely docked in Poland, Kennel got a lesson in port city economics. "There was the usual contingent of women of ill repute, often brokered by a little brother. The going rate was a pack of cigarettes or a chocolate bar." Kennel was also taken aback by all the drinking, especially when a Russian soldier got handsy. "One of them was so ebullient on meeting us that he insisted on kissing each one of us, " Kennel wrote.
In the end, Kennel was proud to be a part of Heifer's efforts with his fellow cowboys to lift up people who had been knocked down by war.
"I derived some satisfaction to know that I had been permitted to do my bit, however small, toward restoring the people smited by repeated ravishes of fighting."