Editor's note: Robin McManus teaches fourth grade at the Willard Elementary School in Concord, Mass. Last year, McManus used Read to Feed® in her classroom after a suggestion from a student. You can read the first installment here. We'll continue the series of her classroom's journey through the curriculum here next week.
Kicking it Off
As a way to pique my students' interest, I told them that we had a very special project coming up in April. I kept alluding to it in the weeks leading up to the launch, but not really sharing what it was. By the time I was ready to introduce the project, students were very enthusiastic to learn about it. "Let's talk about basic human rights," I prompted my class one day. "What do you think every kid, every human, has the right to expect in their life?" This conversation was imperative in building empathy and helping my students to understand how there are people in the world who don't have things that we take for granted. After defining human rights, students debated whether or not education, water, or voting was a basic human right. What about internet access? Access to medical care? A good job? The conversations were enthusiastic, deep, and spread out over a few days. We realized that defining basic human rights was a bit in the eye of the beholder, but we came up with our lists of "niceties and necessities."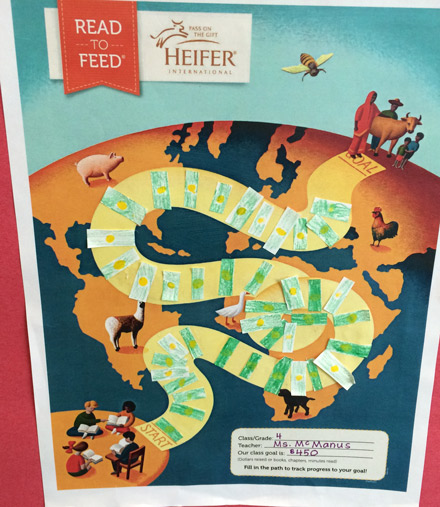 During this conversation, I showed my class pictures of students in developing countries. We noticed their clothes, their schools, and their homes and did a lot of comparing. One student in my classroom was horrified at the state of one child's shoes—torn, dirty, and much too small. Were shoes a basic right? Throughout the week we looked at other photographs and read some picture books. We would stop and point out how the children in the books were or were not getting their needs met.
By using 10-15 minutes each day for a week, I was able to set my students up to be really pumped to become activists and help others. All of these discussions created a context for my students to understand why there is a need for organizations like Heifer, and left them wanting to do something, to take action.
After learning all about different needs around the world, we looked at the Read to Feed website. Before I could even explain it, students were jumping out of their seats and blurting out, "Do we get to do that?" The excitement was over the top. We looked at some of the ways Heifer spends its money. Students loved reading the catalogue of gifts…animals, water, education…identifying what basic needs the item fulfilled became a bit of a game.
Then came the actual project. "How can we set a class goal?" I asked. All of my students, reluctant readers, reluctant math learners, all of them, furiously started calculating and discussing with their peers what our goal should be. How much money could we raise? What was reasonable? Would we ask for donations per book or just as a lump sum? One student commented, "We shouldn't ask for too much because we want to reach our goal" while another said "We should ask for a lot! Then we can donate a lot!" The class came to the decision that $20 per person seemed reasonable, and that way, if people raised more or less than $20 it would even itself out. Seeing the number typed into our fundraising page created a whole new wave of whispering and planning-the students were ready to go!

----
If you're interested in starting your own Read to Feed program or using our other classroom reasources, check out all the resources Heifer has to offer and download or order them today!