Women & Girls
Your Cosinga Quispe Finds Passion and Purpose in Abandonment
How many times have we had to clear our minds from selfish thought with a dose of common sense before we can make the decision necessary to move forward in a difficult situation? Your Cosinga Quispe knows the feeling.
In the Pinchanaki District of Junin Region, located in the middle of the Peruvian jungle, 22-year-old Your lives with his 51-year-old mother Inés Quispe Yaranga, his two brothers and his nephew.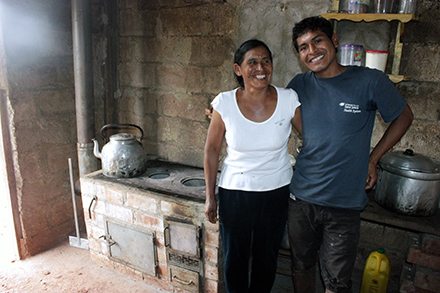 Your finished high school in 2011 with one conviction: to study agronomy at Satipo University. Unfortunately, he has not been able to fulfill his wish because his father abandoned the family and they've yet to hear from him.
The family's only income came from their coffee crops. His father was solely in charge of it, and it was him who arranged their farm's admission to the Central Association of Coffee Producers (CPC Association). Because of this, Your's brothers were able to finish high school in Pichanaki City instead of working on the farm. Your also lived most of his school-aged life away from the farm, so he did not know much about coffee production. However, to deal with his father's abandonment and the lack of support at home, he set his university plans aside and went back home to care for his mother, who was still trying to cope with the situation.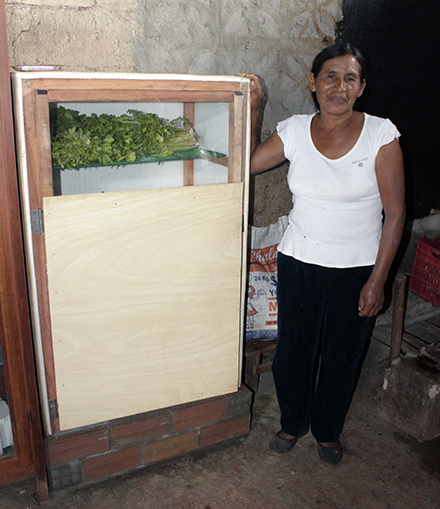 Between 2012 and 2013, the Coffee Rust Plague, also known as La Roya, destroyed more than half of his crops, leaving only a third of the land cultivable. Their production dropped drastically from 37 to 11 tons per harvest. This is when his family found out about Heifer Peru's Women's Empowerment and Food Safety for Coffee Families in the Pichanaki Jungle project.
"One of the things I appreciate the most about Heifer Peru and the Cedepas project is the opportunity to learn," Your said. "I buy books about animal management technology use, coffee production and other subjects like literature or philosophy. Even though I couldn't go to university, my friends bring me books, and sometimes I go to fairs in Pichanaki to buy specific ones. I have lots of agriculture and animal-raising books, so when we get training I have my own knowledge to draw on and try in practice."
Empower a son like Your to find his passion for learning.
Thanks to his passion for learning and the training from Heifer Peru, Your was able to build a place for his guinea pigs, a family vegetable garden and an ecological refrigerator that keeps their produce fresh for feeding small animals as well as his family. This nutritious food allows Your's family to have a better diet and live a healthier life. Your said the addition of an improved stove and refrigeration to the family kitchen, as well as an organized pen for the animals, has made daily living easier.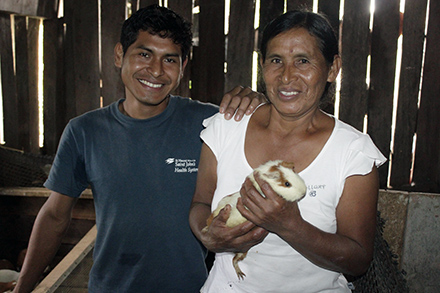 "To see my mother so happy after so long makes me feel like I'm making progress and that all the effort is worth it," he said.
Your attended the project's technical training, and shortly thereafter he became a community promoter, specializing in small animal care and coffee production. In four weeks he provided technical assistance to 12 families, and within three months he reached 33 families who lived far away.
Your's mother is very proud of her son and his ability to teach others.
"Your has grown so much since he started working on the farm," Inés said. "He is passing on the knowledge from trainings to families all around us. He goes out very early in the morning and rents a motorcycle so he can go other places to teach."
Out of everything he has learned, Your has enjoyed becoming a promoter the most because of the unique opportunity it has given him to interact with other farmers.
"I think the best way to learn is by teaching others. There are farmers with life experience that can teach you more than a book can tell you; it's the knowledge you get by doing," Your said. "I like to get into conversations, to share ideas, to listen and to be heard. When you are teaching you know you are contributing to something special, you know you are doing something for your life and other people's lives."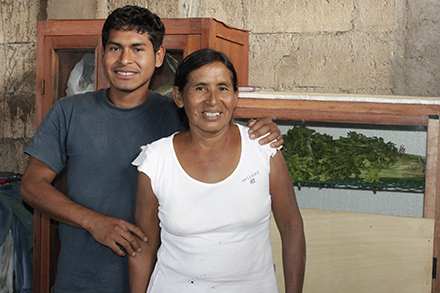 There was a time when Your wanted nothing more than to be at university with his friends from school; he felt like he was being left behind without opportunities to grow. Becoming a promoter helped Your navigate his transition from academic to farmer and opened doors to learning that he never knew possible.
"I have friends that have a university or a technical degree, and it amazes me that sometimes I am the one who knows more about certain subjects. Sometimes I run into them and I ask them what they are up to; they tell me they are looking for a technical assistance job, and I tell them I am doing exactly that. I've learned how to make a plan, how to know if the investment that I've made today is going to be useful someday, and I go to the field to visit the farmers and give them technical assistance with small-animal breeding."
As a 17-year-old fresh high school graduate, Your had the chance to make the decision to stay in the Pichanaki city center, to go on with his life away from his family, to think only about his own benefit; however, he chose to come back and support his mom. Abandonment is not an easy thing, it goes beyond feeling unloved. It's trying to understand another person's decisions while silencing your own emotional perspective. Though it hurt deeply—so much so that at times he could not speak—Your stands tall for his family and his story.
Your hopes to continue learning and growing his coffee and small-animal breeding operations into bigger, more successful businesses. He plans to spend the next two years establishing the farm and allowing the coffee crops to fully develop. Then he'd like to make it to Satipo University to study agronomy. These are the people that Heifer projects stimulate, people who see opportunities in adversity.

Story and photos courtesy of Heifer Peru