Two of the Fifteen Thousand Families Heifer Helped in Vietnam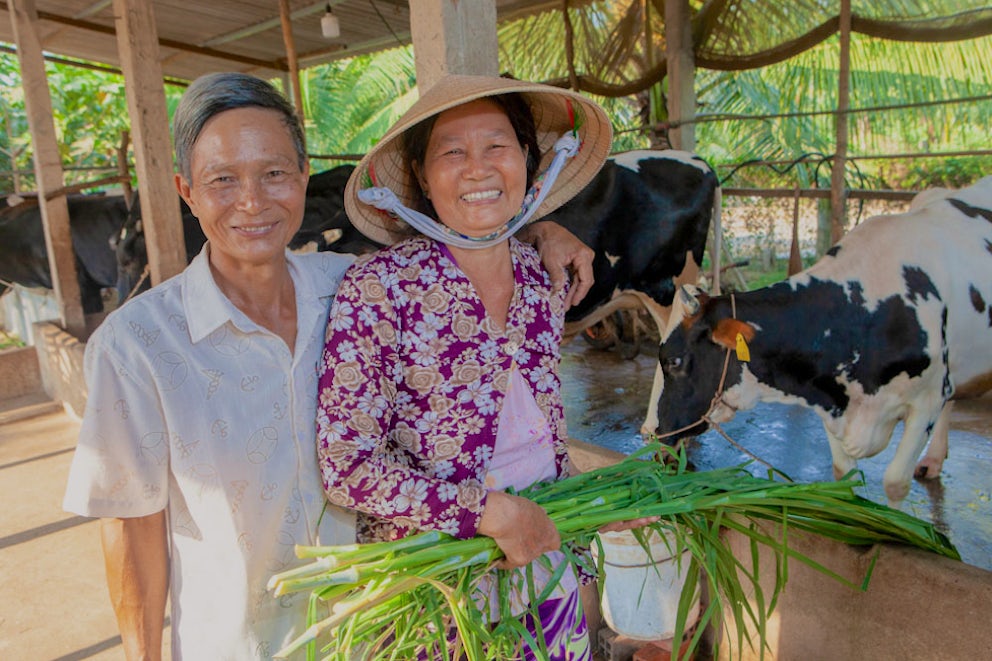 In 2014, Heifer began working in the Mekong Delta of Vietnam. Here, many families lived on less than $1 per day. The Dairy Development project worked to change that – the goal was to help 15,200 families increase their total income to $4,740 through the sales of milk. In fact, with three milking cows, a farming family in Vietnam can earn $20 per day from milk sales – that translates to about $7,000 per year!

We'd like to introduce two of the families whose lives were transformed by the Dairy Development project.
The Loc Family

Phan Thi Loc and her husband, Tran Van Cong, believe in hard work and reinvesting in their dairy business, but they are also quick to laugh, clearly taking joy in their work and their partnership.

"I just use the money to buy more cows. I don't buy any other items, like a cell phone, TV or gold," Loc said. "I'm a farmer, so I am telling you the truth" she said with a laugh. She will admit that she has made one indulgent purchase with the money from their milk sales: a traditional long purple Vietnamese dress. Now, she no longer has to rent a dress to attend weddings, festivals and other special occasions.

The elderly couple work in tandem until it's time for Cong to take the milk to the local collection center, the result of a partnership between Heifer and the local government. Cong will take the milk via his motorbike, and Loc will stay behind to feed the family's 12 dairy cows, nine of which belong to her and her husband and three of which belong to their adult son, Tran Minh Phuong.


Loc hopes that her son will continue in the dairy business and become a successful dairy farmer, and she is teaching him everything she has learned from Heifer. "In a family, if everyone can work together and help each other we are happier," Loc said.

It was Heifer that taught Loc how to make a proper cowshed, one that has a higher ceiling than the traditional low ceiling used for beef cattle. The change allows for better ventilation, which the dairy cows need. She learned that instead of mixing feed, fodder and water together, she should feed them each item separately. Heifer also taught Loc how to diagnose mastitis, an udder infection that often results in higher bacteria count in the milk, how to diagnose the infection in the early stages and how to keep it from spreading to other cows.


"Knowledge is the most important," Cong said. "We learn some technique in dairy production … and we apply it to our family, so we can maximize our capacities, our resources and develop ourselves."

As they continue to care for and grow their dairy enterprise, Cong hopes they will have enough money to renovate their home. He wants to paint it blue and repair the floor. Although the home is a huge improvement over the thatch-roofed hut where they lived earlier in their married life, thanks to your support they're now free to dream even bigger.
The Huong Family

Chau Thi Kim Huong's front garden is a source of pride. "I feel it is very beautiful," she said of her garden. It leads up to her home – which is made of a mixture of concrete, sheet metal and wood - that she lives in with her husband, Truong Tan Kiet, and their children. Home is a very special place to Huong. As a child she moved more than 100 miles away to work in a factory so she could send money home to her mother. "Sometimes, although [I was] very homesick, I couldn't go back home because every time I go back home I spend money for traveling," Huong said. "So I just stay there to save money."

Huong tried to raise dairy cattle once before, but she was not successful. "Before Heifer, I didn't know how to feed the cow properly," she said. "I would just do it by my own way, what I think is good. I just keep doing that."


After the training, "I know that we need to know how much grass, [and] how much concentrate feed." Now, not only does she know how to milk the cow properly, she also knows how to deliver a calf and care for it once it has been born. Huong even knows how to save an animal that is born still, without any movement. That happened once. Kiet thought the calf was dead. Huong corrected him. "Because I know from training, we can rescue it," she said. "I said to my husband, 'It's OK, I will rescue this cow' and I clean all the liquid around her face,", bringing the calf back to life."

"Before the Heifer project my family [was] poor. But I try my best to buy milk because I see milk is very good for children, especially when they are very young," she said. "Sometimes I didn't have money for other things, but milk for children is first priority."


Now, she has an endless supply of milk, so much that her children became sick of it! Having her own cow milk meant she could save the expense of having to buy it.


Huong is also diversifying her income. She has taken out a loan from the self-help group Heifer helped establish to launch another business. She used the loan to buy corn, which she boils and sells. The corn business earns her about $7.50 a day in profit, money she uses to pay her children's school fees. Huong hopes to use future income to build a new house.

Inside the home, a child's pink and yellow desk is plastered with certificates proclaiming Huong's daughter, Truong Thi Kim Ngan "an excellent pupil" in grades one, two and three. Ngan is now in grade four. Every day Huong gives her daughter ten cents. Ngan spends five cents and puts the remaining five cents in her yellow piggy bank. She is keeping the money for the same reason her mother once quit school.


"I think it's good to save some money so when I need money to help my mom and dad, I can have money," Ngan said. But thanks to support from donors like you, Ngan can save her money from the comfort of home.
Thank You

Because of your monthly gift, you make a difference in the lives of hundreds of thousands of families across the globe. You give them the ability to provide for themselves and a path to make their dreams of a better future a reality.