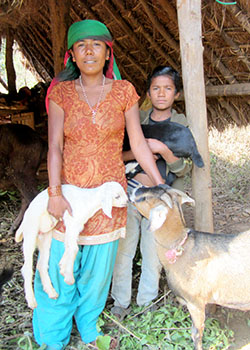 Story by Manamaya Nepali | Project Participant | Heifer Nepal
Translated by Alina Karki | Planning, Monitoring and Evaluation Temp | Heifer Nepal
This story captures the transformation of Manamaya's family from being a recipient to a proud donor. She had received two goats from Heifer in 2011 and passed on two goats in March 2013 at a Passing on the Gift® (POG) ceremony. Many women like Manamaya have been passing on gifts this month across Nepal. So far 2,812 families have gifted 5,704 goats, 108 bucks, 210 swine, 35 cows, four oxen, 30 buffaloes, 2,138 poultry and a POG fund worth Rs. 3,268,622, or about $37,600.
My name is Manamaya Nepali, and I was born in Gorkha District in 1980. I am the youngest of four daughters. I was married to Birkhaman Nepali at the age of 14. There are five members in my family: my father-in-law, husband, two sons and me. Our family was struggling to support ourselves. My husband left the country to find work, but now he doesn't have to leave anymore.
I received two goats from Heifer International and applied the knowledge I acquired during Improved Animal Management training while raising them. Initially I was not willing to raise goats, believing the superstition that raising goats wouldn't suit my family, but now after receiving goats from Heifer my illusion has been cleared. Now I know it all depends on your own hard work.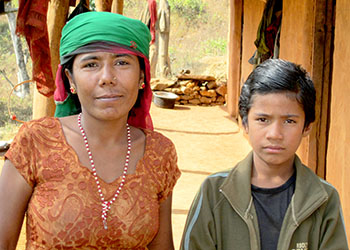 After receiving the animals I have passed on two goats as well as earned 17,000 rupees (about $200), from the meat goat and 6,000 rupees, (about $70), from the buck. Now I have three does and three kids at home. I have been able to enjoy profits from the goats by taking proper care of them. Realizing the potential income that can be earned from these goats, I have also gifted one female kid each to two women outside of the group, which does not need to be returned. I have been earning 20,000-25,000 rupees (about $230-$290) annually after receiving the goats.
After seeing how I was able to raise the family income by raising livestock, my husband has decided to stay home and work to expand our goat farming. We have planted varieties of fodder and forage to feed the goats and improve their productivity. My small effort has helped my family have a better life. I hope other women will be able to achieve bigger success by working harder. I am extremely grateful to Heifer for helping my family increase our income and have a prosperous life.