Training Teaches Villagers Livestock Technology
Story and Photos by Zhou Li | Yunnan-Guizhou Regional Program Officer | Heifer China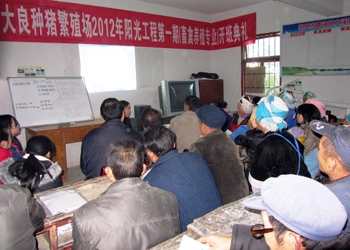 The traditional method of raising livestock in Kaili, China, caused a number of problems in the breeding process, including a long breeding period and low feed proficiency, which resulted in a slow increase in income. Project participants of Heifer China's Kaili Mountain Area Ethnic Group Holistic Community Development project urgently needed to learn new livestock technology.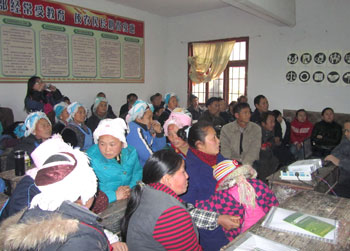 Heifer China, in coordination with the Kaili City Animal Husbandry Bureau and the Hongda Fine-Quality Pig Breeding Farm, conducted the Sunshine Project Training in Daxi Village, Panghai Township, Kaili City, Guizhou Province, focusing on livestock technology.
Since the opening ceremony on December 10, 2012, 60 participants from Daxi and Duoji villages have received the four-day training, which included the topics of Nutrition and Management, Pig's Artificial Insemination, Pig's Scientific Breeding Methodology and Animal Disease Prevention. The training aimed to change animal breeding concepts, help them gain marketing information, adjust livestock numbers and breeds, and enlarge their breeding scale year-by-year. The ultimate purpose is to increase their income and build community harmony.