Edith, Clara and
Lubia: Three Entrepreneurs Shattering
Stereotypes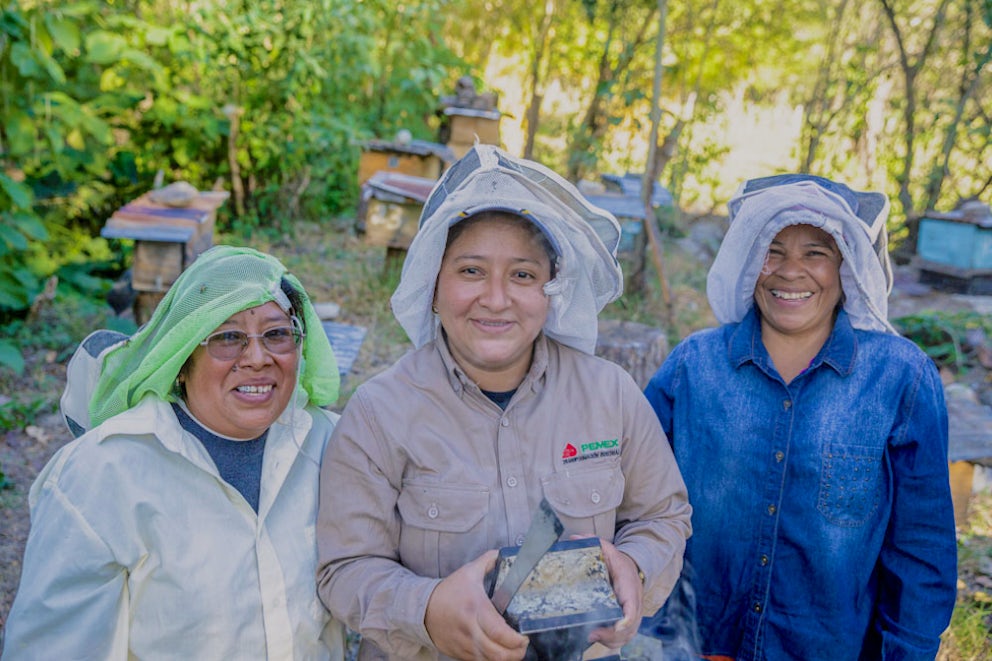 Meet Edith, Lubia and Clara; they are among a handful of women who belong to Sociedad Flor de Copal, a beekeeping cooperative in Chiapas, Mexico. Thanks to your monthly gifts, these women have taken advantage of opportunities to expand their knowledge, build new skills and shatter gender stereotypes. They are making valuable contributions to the co-op's success and forging a path for other women to follow.

It wasn't easy for them to get to the position they're in now. Out of the cooperative's 54 members, only six are female. Beekeeping is traditionally viewed as a male occupation in Mexico, and the other beekeepers were not just skeptical — some were downright insulting. "The only thing [women] can do is prepare lunch and stay at home with the kids," said one. "They don't know anything about agriculture."

After that meeting, Edith, Clara and Lubia got together and questioned why they couldn't do this work. They knew they could do more than prepare food! So they talked to a Heifer technician and signed up to participate in a carpentry project to build beehives.

The men of the co-op noticed the women's hard work and proficiency. In fact, their work impressed the man who had insulted them so much he practically begged Clara to help the cooperative sell honey. But it wasn't just the rude man who took notice of their hard work — others in the village took a special interest in their accomplishments.

After seeing Clara, Edith and Lubia succeed as beekeepers, other women in the village started to question the stereotypes that prevent them from working alongside men.
Because some other women have seen our initiative to work in beekeeping, they see we work like
men and then they question themselves, 'Why can't we do it?' They have even scolded their husbands,
saying 'Why can those women do that and you won't let me do it?'Edith

Not only have Edith, Clara and Lubia become trailblazers in their community, they've also become quite successful. Because their honey has its own organic certification, they no longer need to rely on the middleman for certification and sales. In the recent past, selling three barrels of honey to a middleman would fetch 14,000 pesos ($731.10). Now that the honey is certified and they are able to skip the middleman, one barrel can fetch 17,800 pesos ($929.54) — that's a 280% increase!
Thank You

Knowing they are not alone sustains these women, as it does thousands of Heifer families all over the world. Thank you for your commitment to helping Edith, Clara, Lubia and all whose lives are improved by your generosity.