She's recognized by many as Davina on "The Originals," but not long ago, actress Danielle Campbell took on the role of humanitarian when she visited women's groups in Guatemala with Heifer International and Teen Vogue.

Campbell traveled to Tucuru where she met with indigenous peoples involved in Heifer projects. Their efforts are transforming the futures for these traditionally marginalized and impoverished people.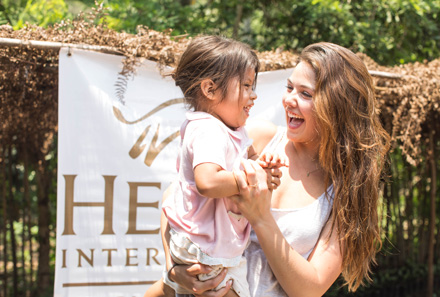 World Ark: Tell us your first impressions about Heifer's work in Guatemala.
Danielle: Guatemala's one of the most beautiful countries I have ever visited! Heifer's work to help educate people to make the most of their natural resources was really impressive. I will admit that it was somewhat hard for me to see some aspects of daily life there, so my heart really went out to them, but what struck me was their kindness, how sweet and genuine everyone was.
What aspect of the work were you most impressed with?
Agriculture is a dominant part of Guatemala's economy. I was really blown away by listening to the people talk about their land and how proud they were at what they could grow. It made me happy to know that Heifer provides great educational opportunities that help Guatemalans provide for themselves.
How has this trip changed you personally?
I will remember this trip forever, especially Guatemala's beautiful people and countryside, and how an organization like Heifer can truly make a difference in people's lives.

You can see more of Danielle's trip in the video below, or read about it over at Teen Vogue.


For more stories like this, be sure to sign up for our email list, and don't forget to share this story. You can use the "Tweet" and "Share" buttons above to link friends directly to this post from Twitter and Facebook.
Sign Up Here