Striving for Success in Armenia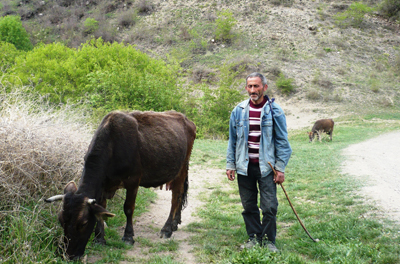 Story and Photo by: Aram Petrosyan, Program Coordinator, Heifer Armenia

Recently while driving back from the regular monitoring of Heifer's Chinari Cattle Breeding Project, our team saw project participant Vachagan Badalyan leading his cow back from the pasture. We stopped to greet him and asked him to discuss his success with us. The Badalyans, who live in the village of Choratan in Tavush region, joined the project in 2008. They received a cow from Heifer Armenia, and they have come to be recognized by one of the most diligent project participant families in their village. Vachagan and his wife Manushak have three children: daughters Lusine, 22, and Tatev, 20, and son Narek, 9.
The family fulfilled their Passing on the Gift® responsibility in 2011, but they still keep in touch with Heifer Armenia and enthusiastically shared their success and experiences with us.
"Now we have four animals in our barn," Vachagan said. "We have the cow that Heifer provided to us; its calf, which has grown into a heifer, and two more calves. The last one was born two months ago. We get 10-12 liters of milk per day. When our pregnant heifer delivers we hope our income will increase even more. What Heifer does is unbelievable. It takes families out of poverty. More importantly, it provides its project participants with knowledge and skills we can use throughout our entire lives."
Before getting support from Heifer, the family was desperate. They had absolutely nothing. No animals, no job and no stable income. Their nutrition consisted only of vegetables like potatoes, corn, cucumbers and beets that they grew on the tiny piece of land behind their house.
The family's condition is much more stable now. They have milk and other homemade dairy products daily. Vachagan sells the surplus of milk and vegetables to buy bread, meat and fruit for the family. Their nutrition has greatly improved.
"I'm happy to share my success story with you. Pass on many thanks to your diligent staff, and we send the best wishes to all Heifer donors," Vachagan said.
Seeing the impact of your work on other people makes you want to work harder and strive to help as many people as you can.
Heifer's Small Farmer Project is making a huge difference in the lives of Armenian families like Vachagan's. Learn how you can help.