Spring Brings Surprises in Yarkant Village
When we visited Tuerdi and his family again, we were in for a surprise. With the coming of the spring cultivation here in Yarkant Village in the Xinjiang region of China, the family is getting busier. Tuerdi needs to get up earlier to take care of the pregnant cattle that were provided by Heifer China and to make the breakfast for his children. Then he will ride his recently-purchased motorcycle to the field for working on his land. He bought the motorcycle two weeks before our visit in order to save his time and energy when making the trip between the fields and his home.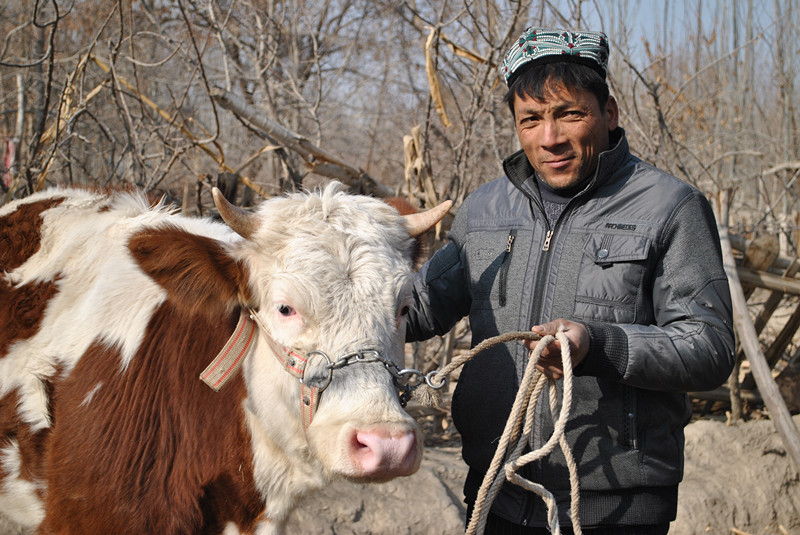 And during our visit, we learned that Hasanjan, the family's son, now eats more nutritious lunches through a local government program (he used to eat only a pancake as his lunch). Although we don't know how long the lunch support will last, we are happy to see Hasanjan's face is getting red and rounder. When we ask about his studies in school, the little boy is quite excited in telling us he could count the numbers from 1 to 10 in Han-Chinese!
As we were leaving, Tuerdi phoned the the next families we would visit to inform them of our arrival and to check on their cattle. Through his enthusiasm for joining all the Heifer program trainings, he has become an expert in cattle rearing, and he serves as an instructor of the subject in his village. Spring is the best season of the year, and we wish Tuerdi and his family will have a busy and prosperous year.
Editor's note: This post is part of a series that follows the progress of specific families, starting at the beginning of their work with Heifer. You can read the first post about Tuerdi and his family here.