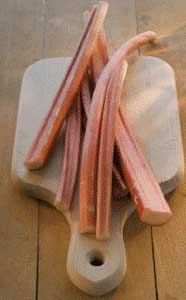 With the first warm winds of spring come the first harvests, those hardy green sprigs breaking through the thawing soil. If you live in cooler climes, rhubarb is a terrific harbinger of the changing season. It loves a brisk spring and is a tangy palate cleanser after the heavier starches of winter.
Rhubarb Pie
Ingredients
4 to 5 cups rhubarb, peeled and cut into 1/2-inch pieces (about 6 stalks)

a generous pinch of grated lemon rind
1 2/3 cups sugar
1/4 cup flour
a pinch of salt
two pie crusts, either store-bought or homemade
Preparation Instructions
Preheat oven to 400 degrees. In a bowl, combine rhubarb with all ingredients (except crusts). line ungreased 9-inch pie pan with one crust. fill pie with rhubarb mixture. Cover with top crust. Pinc edges and slash to allow steam and juice to escape. Bake for 20 minutes, then reduce heat to 350 degrees and bake an additional 20 minutes to brown the crust. Serve warm with vanilla ice cream.