Culture
Research Shows Hope Amid Destruction
By Alex Russell
Strategic Communications Manager at the Feed the Future Innovation Lab for Assets and Market Access at UC Davis.
Researchers conducting a randomized controlled trial to evaluate a Heifer International program in rural Nepal when the 7.8 magnitude Gorkha earthquake struck have shared preliminary findings that may draw hope from the destruction.
Heifer Internationals' Smallholders in Livestock Value Chain (SLVC) program seeks to provide poor rural households—particularly women—a sustainable pathway out of poverty. April 25, 2015, the day the earthquake devastated much of the country, was less than a year after the research team began their evaluation of the program.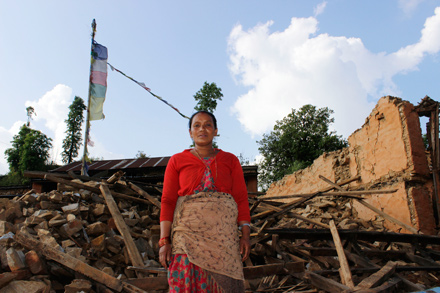 Of the seven districts within the study area, two—Dhading and Nuwakot—suffered catastrophic damage. The research team halted the study in those two districts.
"Providing emergency relief was more important than sticking to the original research design," says Sarah Janzen, an assistant professor of economics at Montana State University and a principal investigator on the study.
In the immediate aftermath of the quake, Heifer International deployed a response with immediate and livestock-related relief for its beneficiaries in both districts. This included interest-free $150 loans.
Janzen and her team have reported that in the remaining five districts of the study, the program made women more empowered and more connected to financial markets. These results come from data collected one year after the earthquake, and a year and a half after the program began. The team plans to collect additional rounds of data in the summers of 2017 and 2018.
Heifer International also asked the research team to expand the scope of their work. They have since launched a second study to measure the impacts of those interest-free loans, in part to measure whether they increased these families' resilience in the wake of a major shock.
Learn more about the project from the Feed the Future Innovation Lab for Assets and Market Access.

Read how Heifer Nepal continues to work with families affected by the quake two years later.