This post was written by Heifer International Malawi Country Director Petronella Halwiindi.

Last week I had the opportunity to represent Heifer International at The ONE Campaign's AYA Summit. ONE is an international campaigning and advocacy organization with nearly 6 million members taking action to end extreme poverty and preventable disease, particularly in Africa. Heifer and ONE have been partners since 2013, and I was so glad to be able to participate in this exciting summit.
ONE called the summit AYA after a West African fern that represents resilience, strength and endurance: all perfect descriptions for the women who attended the event, as well as the women and girls in developing countries this movement aims to empower. The ONE Girls and Women initiative, which launched in July 2014, examines ONE's key issues through the lenses of girls and women. The goal is to motivate and activate people to take action against extreme poverty, which disproportionately affects girls and women. It also provides a platform for ONE's partners, like Heifer, to highlight their work.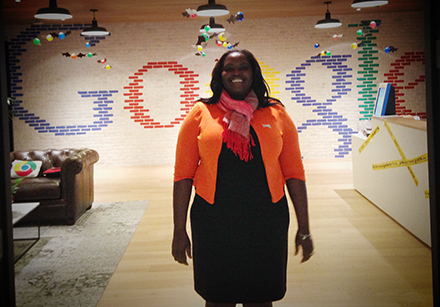 At 9 a.m. on Thursday, October 23, beautiful women in beautiful colors filled the dimly lit auditorium at Google's Washington, D.C. office. These women (and a handful of men) included 80 digital influencers – primarily American bloggers – with a combined reach of more than 48 million people. Panelists, like myself, were women, men and girls eager to share their personal stories and experiences working with voiceless women and girls in the developing world.
Kenyan talk show host Patricia Amira was the master of ceremonies for the day-and-a-half summit. The messages from the first day emphasized the struggles of women in girls in Africa and the United States, whether as a result of conflict, disease or poverty. We listened to panelists speak about the importance of investing in girls, heard moving poetry from a young about the struggle of being homeless and listened to Nick Kristof talk about the benefits we receive when we chose to give of ourselves – all before lunch.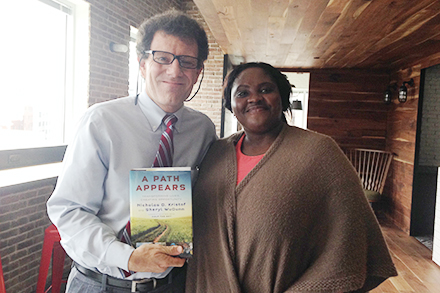 The afternoon included experts on topics from human trafficking and worries over vaccine-preventable illnesses to the visceral fears shared by storyteller Clemantine Wamariya, who fled the Rwandan genocide at age 6. But hope was not absent: there were discussions about empowering progress through electricity and health care and actions we can take to make the world a better place. The evening was powerful, with a dramatic reading by actor and playwright Danai Gurira from her new play and hearing Saa from Nigeria tell her harrowing story of escaping from Boko Haram the night nearly 300 schoolgirls were abducted.
The next day, the spirit of camaraderie was strong among the attendees, who listened with their hearts and spoke with passion. I was on a panel, moderated by Ellen McGirt, with two other women and one man to discuss the importance of creating economic opportunities for the women in the developing world. I was there to share my experience empowering women farmers in the communities where Heifer Malawi works. I sensed a keen interest from the audience to learn more about how Heifer ignites the flame that continues to burn even after we exit the communities we serve. I emphasized the need to partner with the communities, in the real sense, as equals, in defining poverty and solutions to eradicating poverty from within the communities. I stressed the importance of facilitating the creation of social cohesion through shared values and learning and in having mutual responsibilities, obligations and accountability. I ended by applauding the hardworking women farmers, who are not beneficiaries of our projects, but partners in our work to end hunger and poverty while caring for the environment.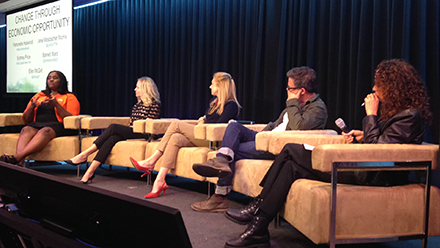 The bloggers were tweeting away, and I said to myself, "What a lucky woman I am to work for and represent this great organization."
The remainder of the final day included a panel on ending Ebola, a special message from Ellen Johnson Sirleaf, President of Liberia, and a keynote from Jamie Drummond, ONE co-founder. We left on a high note, with this message resonating loud and clear: "There is no them. There is only us. We are ONE."

Check out local news coverage of the event.