Pheasants Mean Business is Good for Zhang Hui
Guizhou Province endured a long stretch of heavy rain, creating problems for many travelers. But for Zhang Hui's family and for all of Baishui Village this was a joyful occurance: last year's severe drought was fresh in everyone's minds, leaving a lingering fear for the year ahead. But with this bountiful amount of rainwater the villagers were assured of a good harvest.
This inundation left everyone very busy, especially considering the season, and Zhang Hui was no exception. Although during this period he had only sold 78 pheasants (for a total of RMB6240 or US $981, and a profit of RMB3100 or US $487), Zhang Hui's main concern at the moment was the successful incubation, hatching, and nurturing of his chicks.
"Don't think that because these chicks are small they won't be able to fetch a good price. My incubator can hold more than 600 eggs at a time with a successful hatching rate of over 80%. So I'll sell this batch of 1,120 birds for a profit of RMB11,800 (US $1854)," Zhang says. "Then I'll buy more chicks from elsewhere at RMB 3.5 (US $0.55) each and incubate them for 20 days before selling them off again at a price of RMB 15 (US $2.36) each, making a profit of over RMB 10 on each bird."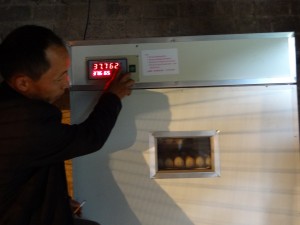 Zhang Hui plans to sell all his pheasants at the Lunar New Year, so at present he still has all his current chicks. This year Zhang Hui has decided to raise 4,000 chickens before the Lunar New Year, so that by Lunar New Year next year he will have made a small fortune. Going along with this scale of expansion, this year Zhang also planted 20 mu of corn. He said, "This year the corn I plant will have 2 days of after-manuring, when I'll ask friends to come help out. Everything else can be done by the children and their mother, so I won't need to do anything at all."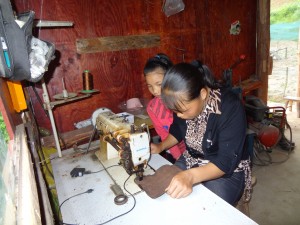 Zhang Hui feels very satisfied because not only are his two daughters both obedient, they are also talented: the elder daughter is top in her class, and the younger daughter is a talented painter, getting second prize in a contest held on Children's Day (June 1st).
"Usually I have so many things to do, making my time at home limited. It's difficult to help look after the children," Zhang said. "So I bought and brought home an electric rice cooker and a microwave to give them, to make it easier for them to cook for themselves."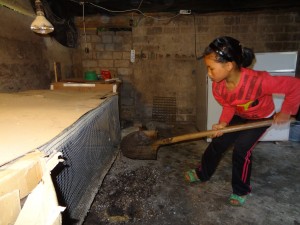 Zhang Hui's family is getting on better and better. Recently Zhang applied for building an operational base to better raise his pheasants, and has already heard that his application has been approved. Zhang's wife is a skilled artisan in every aspect of making leather shoes, and is happy to help shoulder responsibility for her family. The children, too, are growing up peacefully and happily. All in all, we can see a family that has a bright future ahead of them!
Editor's note: This post is part of a series that follows the progress of specific families, starting at the beginning of their work with Heifer. Our team in China has chosen one family in each region where we work and is sharing quarterly updates as these families work to better their lives with Heifer's help. You can read our first post about Zhang Hui and his family here.