Story and Photos by Aram Petrosyan | Project Coordinator | Heifer Armenia
Translated by Liana Hayrapetyan | Communication and PR Coordinator | Heifer Armenia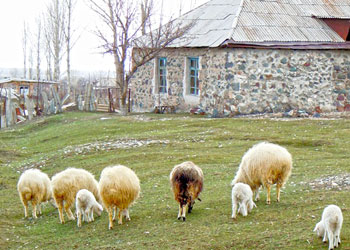 The gift of five sheep from the Virabyans to the Ohanyans in a Passing on the Gift® (POG) ceremony also passes on hope in a seemingly hopeless situation in Lernantsk village, located in Armenia's Lori Region.
Project participant Martik Virabyan said, "In the fall of 2010, Heifer assisted 24 families in our village of Lernantsk. Each family received five pregnant sheep. Our family was among them. Our family and many other project participant families passed on five sheep to other needy families in two years' time. Due to this successful POG methodology, 21 additional families were provided with the opportunity to start their small family sheep farms. These pass-on recipient families also became members of Heifer's big family. I passed on five pregnant sheep to a very needy family from our community: the Ohanyans, a diligent family which is indeed in need of assistance."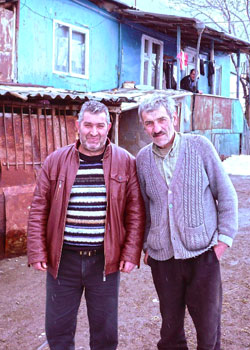 The Ohanyan family consists of six people. Hovhannes and his wife Shaghik, live with their son Saro, daughter-in-law Hermine and two grandchildren. Hovhannes and Shaghik are pensioners, while Hermine takes care of the children and runs the household. Saro, the only employed family member, works as a guard in a pine tree nursery established by his great-grandfather.
We received a very nice welcome when we visited the Ohanyan family. Grandpa Hovhannes happily talked about their success and hope. "Our sole hope for a better future is our small sheep farm. Year by year we get less and less harvest from horticulture because of unexpected changes in weather conditions. Our piece of land is too small to get enough harvest to live on. About two years ago there were only 80 to 90 sheep in our village. Now, due to Heifer's assistance, more and more families become engaged in sheep farming. Now there are about 210 to 220 sheep in Lernantsk."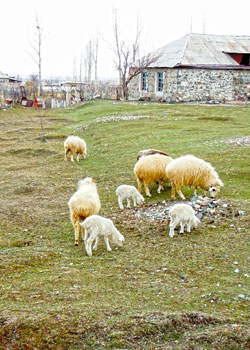 Hovhannes said the results are indeed tangible. Before Heifer's gift, he owned just two sheep. Now he has nine sheep and eight lambs. This is excellent progress. According to Hovhannes, "It is the result of our good care and quality feed. My sheep's milk is very tasty and fatty. My wife Shaghik prepares tasty cheese and matsoun (Armenian yogurt) out of it. When my family farm enlarges a little more, I'm planning to sell the milk and cheese to get additional income."
In 2010, Heifer Armenia started the Agricultural Development Project in Spitak and Lernantsk Communities project in Armenia's Lori region, which aims to improve the socioeconomic situation of needy families through the smallholder farms that feature sheep- and pig-breeding activities.
"Heifer's assistance to us and to our community is indeed invaluable," Hovhannes said. "The whole village is the witness of it."