Passing on Compassion in Xiliujing Village
Story by Zhai Wenqiang | Heifer China Project Partner
Photo by Gao Yi | Beijing Regional Program Officer | Heifer China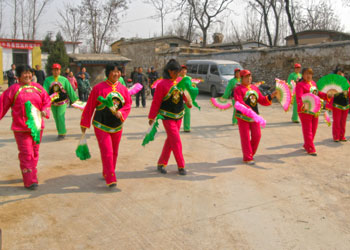 More than 150 families gathered in Xiliujing Village early on April 1, 2013, for a grand Passing on the Gift® (POG) ceremony. While waiting for the ceremony to begin, and spurred on by the community coordinators, a group of women came out and began a fitness dance, and soon everyone exploded into a burst of cheering and applause.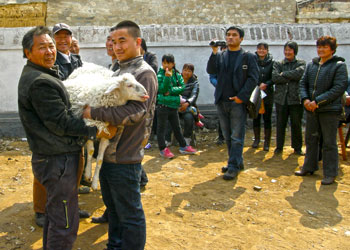 The township's government leader and the county's Rural Bureau began the ceremony with a speech, pointing out that Heifer's project has been active in this village in Yi County, Hebei Province, for almost two years. In that time, it has established mutual-aid groups, brought participants closer to one another, promoted communication and dialogue and changed the face of Xiliujing's community spirit. Heifer's project results not only were beloved by the majority of participants, they also received official approval from county officials and county government.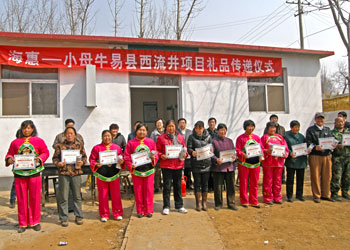 After the speech, 35 new recipients received 175 animals as gifts, with sheep being personally presented to them.
New recipient and project participant Li Dongsheng said, "I feel very honored. Heifer's projects aid us in learning the scientific skills for raising sheep. They brought me to study artificial insemination techniques and disease prevention techniques in sheep. I definitely won't disappoint Heifer's project support and training, and will use the techniques I've learned to aid others in my village. I will strive to be Xiliujing Village's model of cultivation and Xiliujing Village's example by lifting myself out poverty and becoming rich. We new participants must look at the example set by the older participants; we must pass on this compassion and use the POG activity to develop ourselves."