Six weeks after the massive 7.8-magnitude earthquake, Nepal is on the long road to recovery. Aftershocks are subsiding, and people are rebuilding.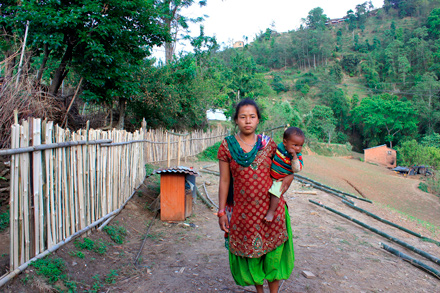 Since the initial quake on April 25, and in the days following the second quake on May 12, we received stories recalling what Heifer participants experienced, how they're coping and what lies ahead. Here are a few that paint the picture of life in the devastated areas of Nepal.
Salina Tamang, a project beneficiary and young mother barely in her 20s, was sleeping inside her house with her toddler and niece. When the earth started shaking, she held her baby in a tight embrace with one hand, held her niece with the other and jumped out of the window of her two-story house. In an attempt to save her loved ones, she injured her leg. She's now on the mend, but without a home.
The earthquake likewise turned Kanchi Tamang's life upside-down.
"There is nothing left now. My house has turned into rubble. The walls fell over my goat shed, burying four nanny goats and two billy goats. I still have not been able to retrieve their bodies."
Tupache Village, in Nuwakot district, was also severely affected by the disaster. What used to be a vibrant community now seems like a war zone, with rubble stretched out for miles and miles. When you look inside the broken windows and fallen walls, you can picture the people's lives before the disaster destroyed their community.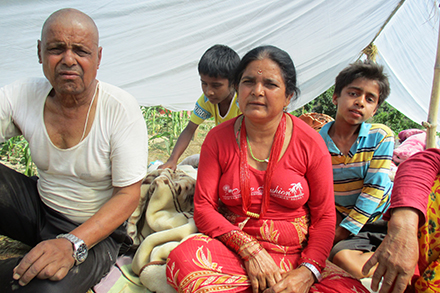 Uma Nepal, 41, belongs to Suryamukhi Women's Group. This past year, her family earned about $1,000, by selling livestock and agricultural products. Since the quake, she has been camping out on her farm under a plastic sheet with four other families
The plastic heats up during the day and, without proper ventilation, can be suffocating. But she is grateful that her family is protected against the rain. The quake took her house and livestock, a water buffalo and a breeding buck, which provided the majority of her family's income.
"The earthquake has destroyed the irrigation canal that provided services for 600 farming families in our village," Uma said. "The corn is drying out in the fields, as we cannot water them. Rice planting season is coming up. How are we going to water them? What are we going to eat?"
For Buddi Khatri, Heifer Nepal's senior program manager for training, the earthquake realized a nighmare.
Khatri was in Ecuador facilitating a training, when he awoke on April 25 with a terrible feeling.
"On the screen they were showing Kathmandu completely devastated, heritage sites destroyed, buildings and roads collapsed. I struggled to understand what was happening. A massive 7.8-magnitude earthquake had struck my country, Nepal, with the epicenter in Gorkha district—my hometown. I went numb. They continued to give updates on the number of dead and injured and the damaged infrastructure. My thoughts drifted toward my family, my ancestral home in Gorkha and to all my fellow citizens who were suffering immensely. My colleagues attending the training had also heard about this and provided me much needed emotional support. But I couldn't continue with my training. I couldn't sleep that night. With a heavy heart, I decided to return back to my country. It was the longest journey of my life."
Khatri has been camping under a temporary shelter since May 12.
Help Nepal Recover
Your donation will make a major impact in the lives of the families that need assistance. Please give now so that we can help our project participants begin the long recovery process. The total amount of your contribution to the Nepal Earthquake Relief & Recovery Fund will be used to assist families in Nepal.
In the immediate aftermath, Heifer focused primarily on providing housing materials including tents, tarps, foam mattress rolls and ropes, and other temporary supplies so that families will have shelter to last through the monsoon season that typically lasts from June through September. Supplies went to approximately 22,000 families.
It was Heifer Nepal's first experience providing relief support. But because of it's reach and influence, Heifer was able to effectively and efficiently mobilize its self-help groups, Project Management Committee members, local youth groups and stakeholders in the relief distribution process.
Now, because of the wide range of needs, Heifer Nepal has established a revolving fund for communities in four districts that saw the worst damage. This approach will allow the communities to identify the most immediate needs and make joint decisions about how to best distribute funds.

The revolving fund will support pre-approved activities that will be co-created by Heifer and the communities. The fund is interest-free for two years. Participants will begin to pay back the funds 12 months after the initial period, and all money will stay in the community to provide continuous support in the future.
And though full project work in the earthquake-affected areas isn't expected to resume for some time, project participants are pulling together to care for one another and their communities.
The earthquake damaged much, but not the spirit of our project participants. In the middle of chaos, hope remains.