Environment
Better Mardi Gras Beads for a Better World
In This Article
Beads are an iconic part of NOLA Mardi Gras celebrations.
But, once the party is over, these plastic beads end up in New Orleans gutters and, eventually, rivers.
NOLA natives and Mardi Gras enthusiasts alike are thinking of sustainable alternatives.
Mardi Gras, also known as Fat Tuesday and/or Carnival depending on where you are, is a celebration of plenty that signals the beginning of Lent. And wherever it's celebrated, it means a week of food, masks, costumes, drinking, parades and ...beads. Lots and lots of Mardi Gras beads. But what happens to all those beads after the party's over?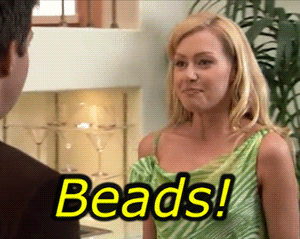 Throwing Mardi Gras beads is undeniably fun. "Throws" have always been a part of the Mardi Gras tradition, but they weren't always plastic beads, cups and medallions like they are today. In earlier days, krewes would toss gold-painted walnuts and coconuts to parade viewers. These throws were also once a rare treat for spectators as opposed raining from parade floats like tears from heaven like they do now. Plastic beads made their way onto the Mardi Gras scene in 1966 and the situation, well, got out of hand.

Every year, an estimated 12.5 tons of Mardi Gras beads are thrown from parade floats to eager spectators. A huge percent of these beads end up in landfills. In January of 2018, 93,000 pounds of Mardi Gras beads were found in a 5 block stretch of the popular St. Charles Avenue, the main Fat Tuesday parade route.
Throwing beads doesn't have to end, though. Mardi Gras' most iconic accessory needs a sustainable makeover, and many are stepping up to deliver.
Some New Orleans nonprofits are attempting to limit the need for krewes to purchase new beads by collecting discarded strands, rewashing and then redistributing them. However, many say that this doesn't address the real root of the issue: the fact that the beads are made of plastic to begin with.

Naohiro Kato, a biologist and professor at Lousiana State University, has developed "green" Mardi Gras beads and doubloons from algae.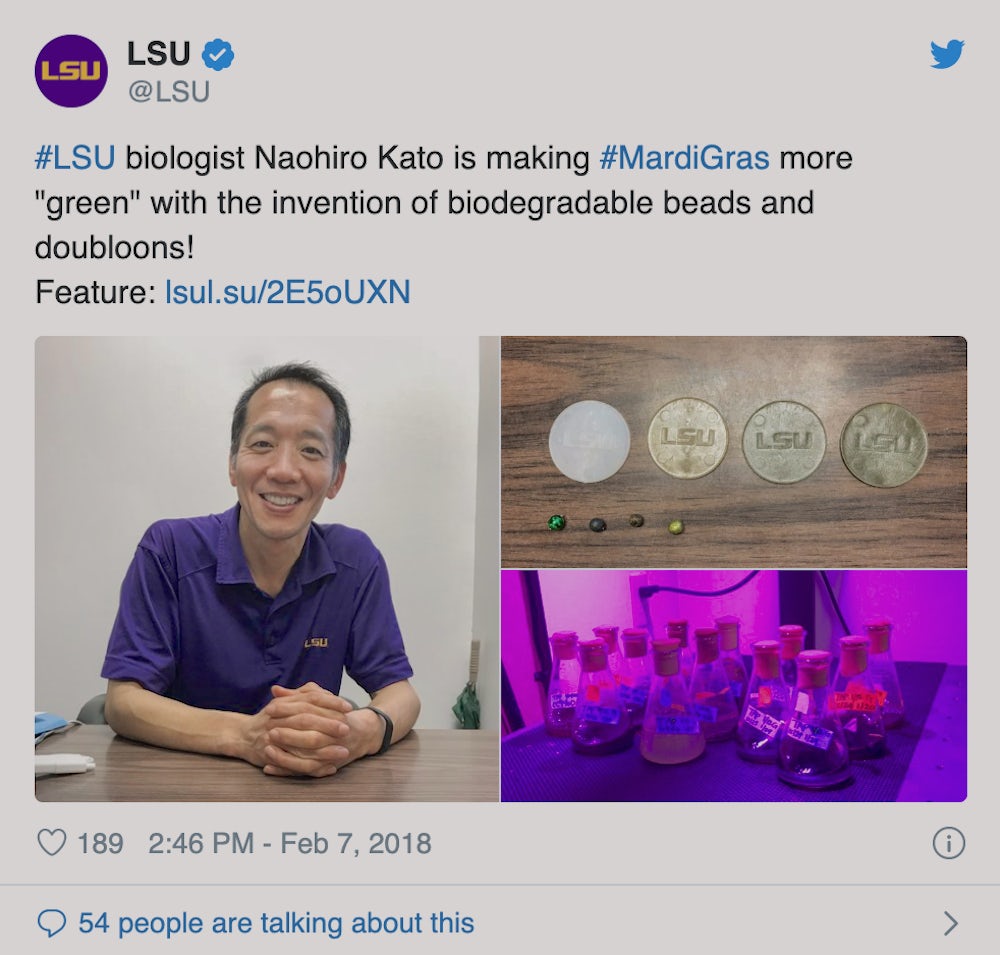 New Orleans native Holly Groh and her husband founded Verdi Gras, a company dedicated to making Mardi Gras celebrations more sustainable by placing a recycle float in parades and helping recyclable trash make its way there.

Cheers to those finding ways to make the world a better place, one Mardi Gras at a time. Laissez les bons temps rouler!