Anyone with an arsenal of pointy needles and a yarn addiction knows Clara Parkes, editor of the beloved Knitter's Review and author of New York Times bestseller Knitlandia and her most recent work Vanishing Fleece: Adventures in American Wool. She stays exceedingly busy designing patterns, baking, writing, teaching classes and spinning wool, so we're grateful Parkes fits fundraising for Heifer into that packed schedule. Last year, the Knitters Review Team Heifer page raised more than $30,000.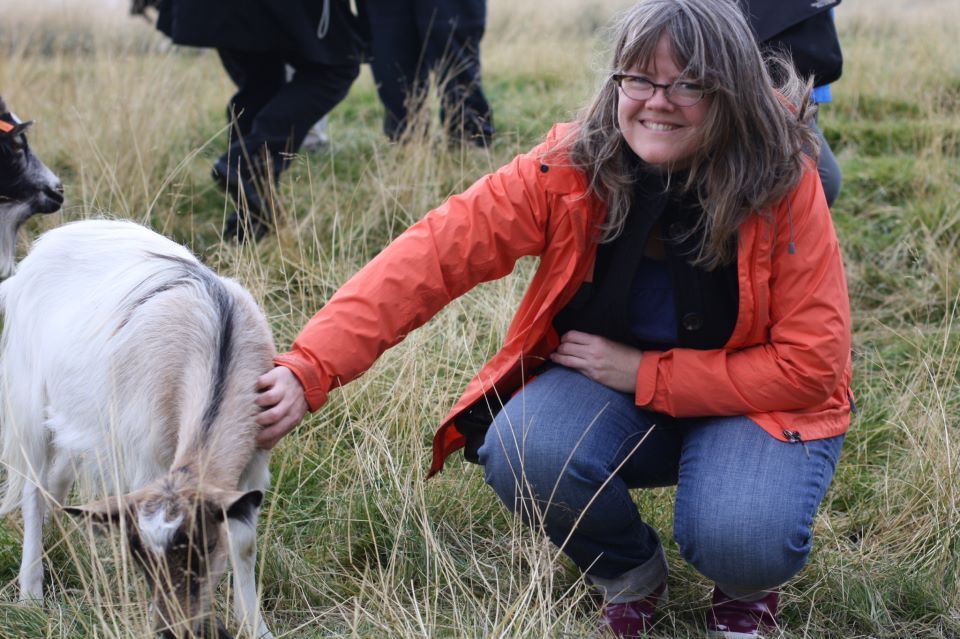 WORLD ARK: You've built a successful career on baking, knitting, traveling and writing. Best job ever! What, in your opinion, is the secret formula for success?
PARKES: It's a combination of luck, hard work and a congenital aversion to working for other people. All three have fueled a decade and a half of creative endeavors. Of course, I've made myself totally unemployable by anyone else. So I have to make it work! I have about six jobs. I run a pop-up artisanal yarn company, I run an online knitting magazine, I write books, I run an annual event, I write freelance articles, and I travel to teach and speak. I haven't had a proper vacation since I don't know when, but I love it and wouldn't have it any other way.
When I launched Knitter's Review in 2000, I had no idea it would become my work or my life. I simply had to write about a topic I loved—namely yarn—and I saw that other knitters had a need for this information. Little did I know that I was there at the very beginning of perhaps the greatest boom in knitting history. As Knitter's Review grew, I had to make that scary decision to let go of my day job and leap into this full-time. And just a year later I got a call from Random House, which led to five books, 39 television episodes, hundreds of yarn reviews, thousands of pounds of wool, and—in the kitchen—more sticks of butter than I care to count.
You have to do a lot of juggling to make this kind of life work. There is no model, no set career path to follow. You're making it up as you go along. You also have to have faith that it's all going to work out. It's not the life for everyone. But when you're 100 percent in it for yourself, when you're the sole captain of your ship, your focus and commitment are so much greater, and the victories are that much more gratifying.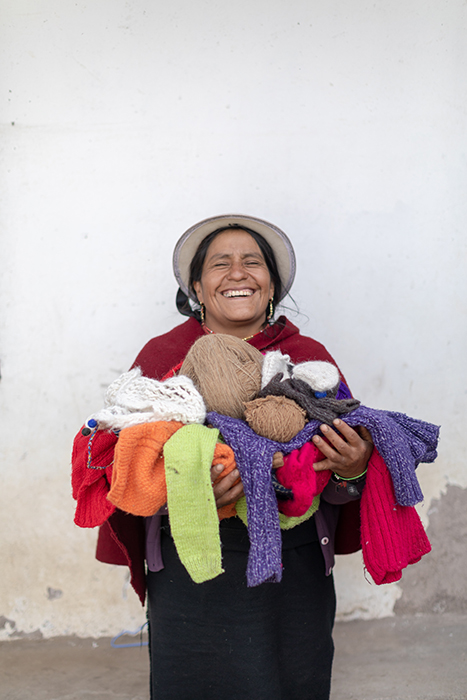 How did you learn about Heifer International? What made you decide to become a donor?
I forget how I first learned about Heifer, I just remember being very excited as soon as I understood what you were doing. It's one thing to throw bags of aid money at people, interrupting the context and scope and scale of their daily lives, and then wonder why their world hasn't changed overnight. It's like delivering a truckload of cars without bothering to find out if the community has roads or knows how to drive—or if cars are even what they most urgently need.
But Heifer gives people the means by which to work themselves out of poverty, in a context that is relevant and appropriate to their culture and community. Heifer offers an education on how to care for these animals, how to be proper stewards of these lives. And perhaps my favorite part of all is the commitment to pass the first female offspring of your livestock to another family, the Passing on the Gift. It's beautiful and ingenious in its simplicity.



What have you learned about people from traveling that you couldn't have learned if you'd stayed home?
It's so easy to think of the rest of the world as a great big scary, foreign "other." Obviously there are differences. Geography, climate, architecture, economy, politics, cuisine, religion… but when you venture forth into the world, eyes and soul wide open, you immediately see how alike we are on a fundamental level. For me, travel underlines the universality of the human experience. That awareness is deeply comforting.
I also love how travel reveals different ways to live, different possible daily rhythms, even the different and often ingenious solutions people have found to common challenges. Which architectural techniques did we employ to build our village on steep hillsides? Where did we put the train station in relation to the rest of town? What are our morning rituals? What hot beverage do we sip in the morning, where and with whom? What do our markets look like? How do we get around? Each new place I visit allows me to see and celebrate this ingenuity and pick and choose what pieces I'd like to bring home and incorporate into my own life.
I have discovered that knitting, in particular, offers an ideal way to experience the world. It gives you an instant opening. People see you working the very same motions they may know how to make, that they watched their mothers and grandmothers make, and the crosscultural inhibitions evaporate almost instantly. I can't count the number of wonderful encounters I've had that were sparked by yarn and needles. People trust you, they open up. My new book, Knitlandia: A Knitter Sees the World, celebrates some of my favorite such journeys and encounters, from Iceland and Paris to Edinburgh and Columbus, Ohio!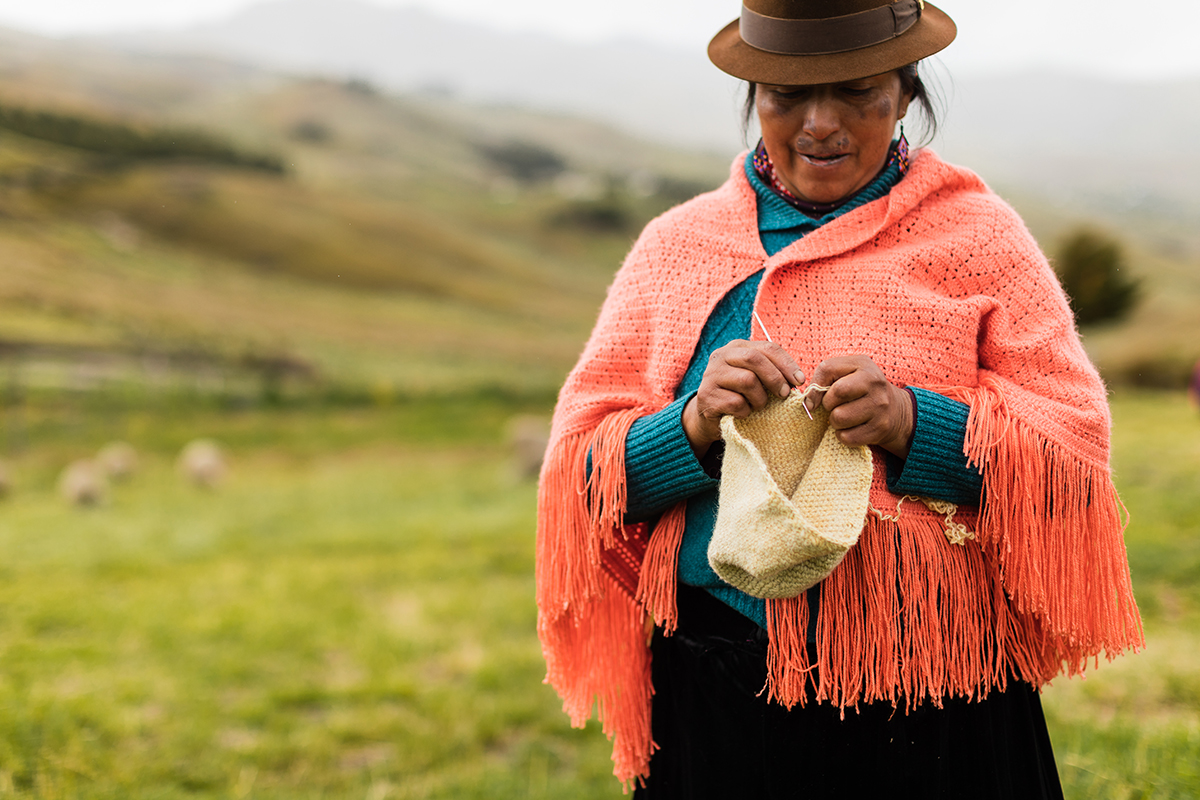 What do you hope your contribution to Heifer will accomplish?
I am particularly attracted to the longevity of a Heifer contribution, its multi-generationality. I'm a firm believer in small changes, the baby steps we take on a daily basis that a powerful cumulative effect. The ripple of a Heifer gift grows larger and larger over time, from animal to flock, from generation to generation, family to family, community to community.
As a lover of wool, I was naturally excited to hear that Heifer included sheep in its program. I know firsthand how significant a difference one sheep can make in terms of its fleece. One year's fiber growth can keep a person clothed and warm all winter—not to mention the pleasure it brings to the person who gets to make the clothes. Multiply that times the thousands of sheep Heifer has placed in communities over the years, and the impact is staggering.
Of course, wool is only a portion of what sheep contribute to a community. Depending on the breed, the wool may not play into the equation at all. Sheep's milk and meat are equally significant components of any economically viable flock. Not only do lamb and mutton provide an excellent source of protein, but they're also high in vitamin A, riboflavin, niacin, vitamin B12, copper, selenium, iron, phosphorus and zinc. My job as a yarn maker and reviewer is to increase demand for all kinds of wool, even the heartier stuff produced by meat breeds, so that farmers are more inclined to keep their animals longer before sending them off to the great meat locker in the sky.
I also love that Heifer includes honeybees in its program. The more I learn about the current threats to their viability and the more I witness their miraculous work firsthand in my own garden, the more grateful I am to these industrious creatures.
If you could visit a Heifer project in any country, where would you go? What would you do?
As a proud graduate of a women's college (Mills College in Oakland, California), I am pleased to see Heifer take such a strong role in championing the rights of women worldwide. Giving women access to education, providing training in gender equality, leadership skills, money management and basic small-business skills, those are such valuable tools—not to mention the women's self-help groups. You're facilitating a safe environment in which women can speak up and be heard, find community and support among their peers and effect personal and collective change.
I would love to travel to Nepal or India and sit in on one of these meetings. I realize I'd miss a lot between the cultural differences and the language gap. But who knows? Maybe if I pulled out my yarn and needles, we could break down a few barriers and find common ground.