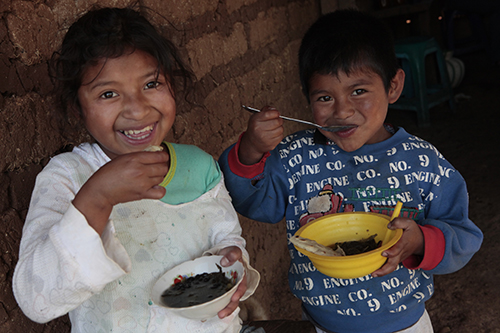 I heard the bells on Christmas Day
Their old, familiar carols play
And wild and sweet
The words repeat
Of peace on earth, good-will to men!
-Henry Wadsworth Longfellow
The ringing of bells is associated with celebrations as well as times of great sadness and reflection. During the holiday season at Heifer International, employees ring cowbells to celebrate the receipt of donations from individuals, families, congregations, schools, businesses, civic organizations, and countless others who invest as partners in Heifer's mission to end hunger and poverty.
Statistics on world hunger can sometimes seem daunting. The State of Food Insecurity in the World 2012 reports that one in eight people in the world are considered undernourished. But because of generous assistance from donors like you, Heifer's program model continues to make a difference.
The sound of the cowbells represents dinner bells ringing in the almost 40 countries where Heifer International works around the world. Heifer International has assisted 22.6 million families. That's a lot of dinner bells.
Your continued support brings Joy to the World this Christmas – and beyond. Your investment continues to multiply through generations of pass-on placements of animals and training. You can see this joy in the faces of Daisy Roxana Najera Gonzalez and Cary Rubelse (above) eating lunch together in Guatamela last July. And you can feel the joy expressed by Gayang project group members in the Philippines, who rewrote lyrics to the tune of a local Christmas song for a Passing on the Gift (POG) ceremony this November:
Gayang's Song
The wind is softly blowing
Giving a happy feeling
Even if it is cold
It sings of POG that has to be told.
That is the beauty of Heifer and Igorota
Who are always there with us
They give hope to make the people happy
Hope that translates to peace and prosperity.
The wind is blowing whispering about POG
The wind sent by Heifer gives blessing continuously.
The roosters are crowing
The pigs are smiling
They are very happy
Because they are being passed on as blessings.
Merry Christmas, and a happy new year from Heifer International!
Reporting by Karla Narcise-Rodulfo, Heifer Philippines