Heifer's Heart: Meet Salma Akter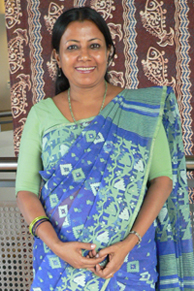 Name: Salma Akter
Title: Finance Manager
Location: Bangladesh
How long have you worked for Heifer? 3 months
What attracted you to work for Heifer? To work with an independent and very unique project approach.
What has been the most memorable experience you have had while working for Heifer? Working in Headquarters.
My education includes: Masters in Accounting, Masters of Business Administration (Major in Finance)
My hobbies include: Reading, Watching Cricket and Tennis
My family consists of: My parents
Something about me that you might not know: I am still single and am an independent woman looking for someone who really respects me and my work! I am workaholic, which is why coworkers may sometimes misunderstand me about my working time and deadlines.
What is the best thing about working at Heifer Bangladesh? The working relationship I have with fellow staff members and the work we do with project participants to implement a unique project model.