Heifer Shows Valued Presence in Nepal Agricultural Development Strategy Preparation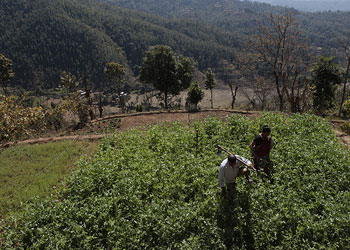 Project participants work in their garden in Pokharathok village, Nepal
Story by Heifer Nepal Staff
Photos by Russell Powell, courtesy of Heifer International
Heifer Nepal Country Director Shubh attended the Agricultural Development Strategy (ADS) Action Plan and Roadmap national workshop organized by the Ministry of Agriculture Development on March 24, 2013. Honorable Minister of Agriculture Development Tek Bahadur Thapa Gharti inaugurated the event, while Vice Chairperson of the National Planning Commission Deependra Bahadur Kshetry was chair.
A project participant displays her ginger crop in Baugha Gumba Village, Nepal.
ADS is a 20-year plan designed to ensure the progress of farmers and rural communities to develop a self-reliant, sustainable, competitive and inclusive agriculture sector that drives the economic growth and contributes to improved livelihoods and food and nutrition security.
Heifer Nepal has been consulted throughout the various stages of the ADS preparation, and the final draft was presented at the workshop, followed by discussion with the invitees. It has been a matter of pride for Heifer Nepal to be invited for consultation during the ADS preparation. This has also presented a window of opportunity for both parties to work together toward driving the country out of poverty.
With this action plan, Heifer has had an excellent opportunity to raise its advocacy issues on a national level. Heifer has been working to create enabling environments in which to grow smallholder farmers, especially women farmers, with a goal of promoting the stake of farmers at a national policy-making level for sustainable development of the agriculture sector, which results in increased incomes of farmers and improved food security.
The ADS Action Plan and Roadmap Report for Technical Assistance on Preparation of the Agricultural Development Strategy are supported by:
Asian Development Bank (ADB)
International Fund for Agricultural Development (IFAD)
European Union (EU)
Food and Agriculture Organization (FAO)
Swiss Agency for Development and Cooperation (SDC)
Japan International Cooperation Agency (JICA)
Denmark Agency for International Development (DANIDA)
World Food Program (WFP)
United States Agency for International Development (USAID)
Department of International Development (DfiD)
World Bank
Australia Agency for International Development (AusAID)
United Nations Entity for Gender Equality and the Empowerment of Women (UN Women)