Heifer Romania and Purdue University Enjoy Fruitful Partnership
Story and Photos by Alina Rus | Training Coordinator | Heifer Romania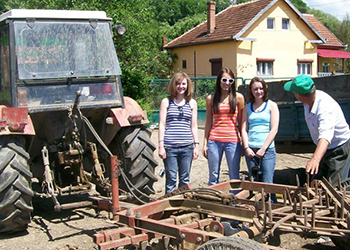 Students from Purdue University and the Agricultural University of Timisoara in Romania came together for a week-long training session in Heifer project communities, a result of a collaborative relationship Purdue has developed between animal science majors and the project communities.
In the last four years, Purdue's Department of Animal Sciences has developed this relationship, which has led to sustained efforts in building and renovating animal housing and livestock welfare environments in Romania. This, the fourth training session, was held from May 16-24, 2013, in Vata de Jos, Hunedoara County, Romania.
The students, 16 from Purdue and six from the Agricultural University, were led by Purdue's Extension Horse Nutrition and Leadership Development Specialist Mark Russell and Associate Professor of Animal Sciences Paul Ebner, as well as Alexandru Indrea, president of the Livestock and Poultry Breeders Association in Hunedoara, Romania.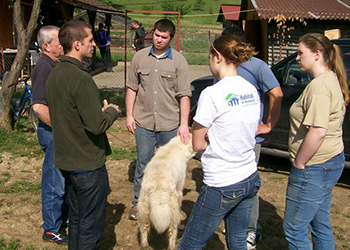 The students divided into six groups and lived in different farmers' households for the first part of the week. They spent their days helping the farmers with daily duties such as milking cows, collecting fodder, helping with medical treatment for the animals, and even exchanging traditional food recipes.
They came back together the final four days at local boarding houses to participate in a centralized training. At a formal meeting on May 21, the students met with Heifer Romania Director of Operations Alin Tekonczia and Training Coordinator Alina Rus, as well as representatives from local authorities and Calin Marian, director of the Payment County Office for Rural Development and Fishing. They learned more about the work of Heifer Romania and developed next steps, including joining with local farmers to create a survey to be used in designing an action plan that will directly benefit area farmers. The action plan covers topics such as the best way to capitalize on dairy products.
Russell was determined to return next year with another group of students and spend a longer time in the community so that their expertise and best practices can have a major impact in the lives of the farmers.
Abigail Borron, assistant professor of youth development and agricultural education at Purdue, plans to visit Heifer Romania next month to explore the potential for further research and student collaboration related to communication and extension education issues. We will work together to design assessment interviews and focus study groups to assist Heifer communities. Borron works with Purdue's Agricultural Communication Program and is co-advisor to the Agricultural Communicators of Tomorrow (ACT) student organization. Her research focuses on communication, particularly regarding culture, low-income and marginalized audiences, university engagement and risk communication. She teaches courses on agricultural communication and interactive web strategies in agriculture at Purdue.
Learn how you can help Heifer project communities to improve their lives.