Women & Girls
USAID Grant Helping Heifer Nepal Expand Work after Earthquake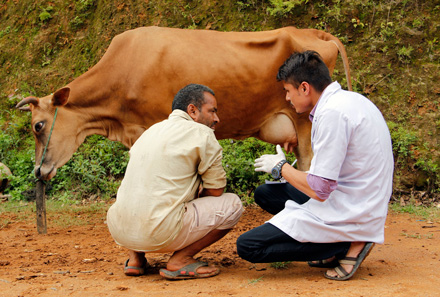 Heifer International recently made an $885,285 agreement with USAID and their Office of U.S. Foreign Disaster Assistance to help implement a project that will allow thousands of smallholder farming families to receive veterinary attention for their livestock since the services were disrupted by April 25 earthquake and subsequent aftershocks.

The project, Helping Earthquake Affected Livestock in Nepal (HEAL-Nepal), will allow families in five of the most heavily damaged districts to obtain vaccines, dewormings and other healthcare for their animals. The families in this project are both Heifer beneficiaries and families who do not work with Heifer. USAID is providing $750,007 for the project. Heifer is making up the remaining $135,278.

The project is employing approximately 180 Heifer-trained community animal health workers, eight veterinarians and vet technicians who will travel to the districts to provide necessary veterinary services so that families can rebuild their livelihoods. It will indirectly benefit approximately 150,000 families. Heifer Nepal will be working in close collaboration with the Government of Nepal on this project.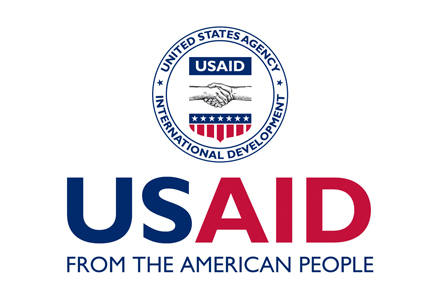 Just 12 days after receiving the grant, Heifer Nepal, in partnership with the District Livestock Service Office of Kavre, helped organize and run an animal health camp in Mahadevsthan. The United States Ambassador to Nepal, Peter W. Bodde, was on hand to see the camp's operations, and was accompanied by USAID/OFDA's Principal Regional Advisor for South Asia, William Berger, Development Program Assistant in the Disaster Risk Reduction Office, Bal Krishna Parajuli, and other Program Officers from USAID.
With almost 90 percent of the houses and sheds destroyed in these districts, farmers have placed their animals under tarpaulins. The lack of shelter and unhygienic conditions have exposed livestock to parasites and cold.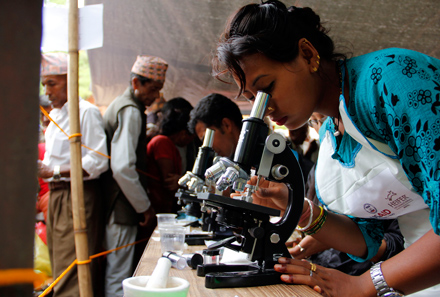 At the camp, a total of 250 large animals and 63 small ruminants were treated against parasitic infestations, wounds, skin infections and infertility, among other problems. A total of 193 smallholder farmers from Mashadevsthan and the neighboring village development committees brought their animals to the camp. The team of technical experts, led by Dr. Sharan Pandey from District Livestock Service Office (DLSO) and Dr. Keshav Sah from Heifer International Nepal, provided services. Heifer also collaborated with the Himalayan College of Agricultural Sciences and Technology to recruit veterinary interns to volunteer during the health camp.

The farmers were happy to receive the quality health service for their livestock without having to travel far from their homes.

Dipak Poudel, a local farmer and member of the Central Dairy Cooperative Association of Nepal, said that the Mahadevsthan village development committee supplied more than 6,000 litres a day of milk to major markets like Kathmandu. Since the earthquake, their output had decreased by 50 percent. Poudel said the HEAL project was going to bring much relief to the people of Mahadevsthan as a majority of them depended on livestock for their living.

Ambassador Bodde walked around the camp observing the activities including the registration of farmers and animals, the recording of problems, and watched veterinary technicians perform check-ups. He interacted with the veterinary technicians regarding treatment procedures and medicines.
The ambassador expressed his interest in helping disadvantaged and vulnerable women and children and said USAID/OFDA is happy to work with Heifer International on HEAL-Nepal. He expressed his appreciation for Heifer's strong work in reaching out to communities in need globally, and shared that Heifer was one of the most reliable partners for livestock projects.
Heifer Nepal Country Director, Dr. Shubh N. Mahato said that the program had been a success.

"In our projects, we collaborate with government bodies at local level and engage stakeholders for effective implementation of our work and ensure that the community takes on equal ownership of the project. This is the best part of what we do and we were able to show this to our guests by organizing a health camp of this large scale so quickly and in an organized way where all stakeholders played an equally important role."

-----
The U.S. Agency for International Development administers the U.S.foreign assistance program providing economic and humanitarian assistance in more than 80 countries worldwide.
This blog post was made possible by the generous support of the American people through the United States Agency for International Development (USAID). The contents are the responsibility of Heifer International and do not necessarily reflect the views of USAID or the United States Government.