Heifer Cooking Lesson from Heifer International on Vimeo.
I swear I'm more competent in the kitchen than I seem to be in this video.
But, clearly, I am not as competent as the head chef at the Martin Pescador, Ms. Maria Angulo. Maria cooked circles around me (literally, she was a whirlwind!)—all the while correcting my performance and (mostly) suppressing the urge to roll her eyes.
Maria is from Esmeraldas, Ecuador, where her family has fished and collected shellfish in the mangroves for generations. But the resources of the mangrove ecosystem—trees, fish, shellfish—are disappearing due to decades of irresponsible practices from large shrimp farming companies, and families that have lived there for generations are finding it hard to make a living.
That's where Heifer comes in. Heifer International Ecuador is working with thousands of mangrove families to preserve and reforest the mangrove, a diverse and important ecosystem. Heifer also ensures families produce food for themselves and connects the families to markets so they can profit from surplus. Training and support is provided so families can work together to reclaim land that may have been taken illegally by shrimp companies.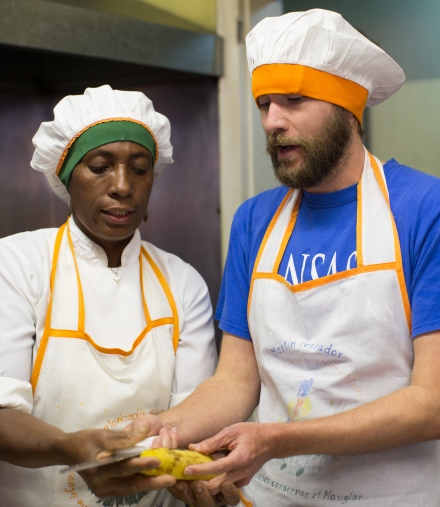 One of Heifer's partners in this effort is the National Coordinating Body for the Defense of the Mangrove Ecosystem, or C-CONDEM, and it's the organization that owns and operates the Martin Pescador.
Centro Martin Pescador isn't just a restaurant. Located in Quito, Ecuador's mountainous capital, far removed from coastal life, the center celebrates mangrove culture and educates the urban population about the ecosystem's importance (the center's slogan is "You can conserve the mangrove!").
The restaurant is the main attraction, though. The seafood is always fresh, and it's transported in a freezer truck six hours to Quito daily from C-CONDEM's projects, some of which are partnerships with Heifer Ecuador. The dishes are all typical recipes from the coast, and they are prepared by seasoned mangrove chefs like Maria.
Maria left Esmeraldas for the kitchen of the Martin Pescador four years ago. She was an ideal candidate for a job there because she has always cooked traditional mangrove dishes at home and for a living.
The same cannot be said about me. She told me the dish—arroz marinero, or "seafood rice"—would be easy to prepare, but after she brought fish, shrimp, shellfish, sea snails, squid and crab pinchers to the preparation table, I had my doubts.
In about 20 minutes of kitchen time, I managed to stir too slowly, I failed to break up the frozen crab pinchers ("Don't worry, it's already dead," she told me) and I managed to smash the plantains too much and also smash the plantains not enough.
My favorite moment came when Maria asked me to use a massive knife to slice a plantain, nestled in my hand, from the top of the plantain toward my palm—exactly how my mother taught me not to. I worriedly and awkwardly hacked a terrible and visually unpleasant plantain chunk.
Hopefully, I asked, "Is that is OK?" Maria and I answered my question simultaneously, shaking our heads: "No, that's not OK."
However, through Maria's patient supervision, the dish turned out to be delicious. Just don't ask me to make it again… for some reason, I don't think it will turn out the same.
Try it at home!
Arroz marinero (seafood rice)
Seafood: fish, shrimp, shellfish, sea snails, squid
Crab pinchers, frozen
Chillangua (similar to cilantro)
Bell peppers
Onions
Carrots
Mix of garlic, cumin
Achiote (for red coloring)

Sunflower oil
Lime
Pinch of salt
Dab of butter
Herbs
Coconut milk
White rice (cooked)
Garnish: Tomato, patacones
Put the onions, peppers and carrots in a pan coated with sunflower oil. Crumble a chillangua leaf (or just add cilantro) into the pan, followed by the garlic/cumin liquid mix. Add the achiote and a couple of pinches of salt. Squeeze half a fresh lime over the pan. Add the fish, snails, squid, shrimp and crab pinchers into the pan and stir over high heat. While stirring, break up the crab pinchers with your spoon. Add one ladle of coconut milk and stir.
Move the crab pinchers to the middle of the pan (so they cook better), then leave to cook for a few minutes. (Now would be a good time to take care of the patacones.) Add the shellfish and stir. Stir in butter and a sprinkle of herbs. Add in the white rice and a little oil to give a glossy appearance. Squeeze the other half of the lime over the dish, add a tomato, another lime and patacones as garnish, serve while hot.
Patacones (fried plantains)
Plantains
Sunflower oil
Salt
Heat pan coated with oil. Slice plantains and place in the pan. Flip after a couple of minutes. Remove the plantains from the pan and smash flat on a cutting board or other flat surface. Put flat plantains back in the oil for a few minutes and cook on both sides. Remove from pan and sprinkle salt on both sides (optional). Serve with arroz marinero.