Ganga Hopes to Make Daughter's Dream Come True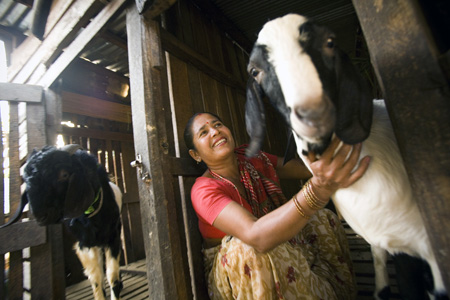 Ganga belongs to the Gurung ethnicity of Chhang Village, Tahanu. The Gurung have a proud heritage and are famous for their bravery during their service in the Nepalese and the British Army. They are quite and helpful and like to keep to themselves. The women are more introverted than men and keep themselves busy in farm and house work.
Ganga has emerged as a strong leader in the village. Her leadership in the local school's management committee is exemplary. She is also sought after for advice on goat keeping and vegetable farming by all men and women in the village. Ganga's eldest daughter Yamuna Ale just finished her 10th grade. She wants to become a nurse and Ganga aims to fulfill her daughter's dream. In the past three months Ganga has earned seventeen thousand rupees from the goats which will come in handy in paying Yamuna's tuition.