For the Love of the Children: Lessons Learned in Vietnam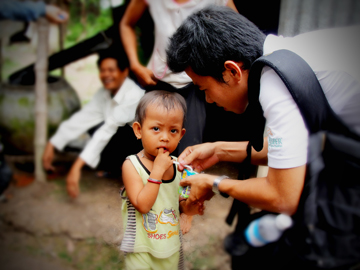 Story by: Maggie Thomas, Program Assistant for Asia/South Pacific Program, Heifer International
Photo by: Nguyen Xuan Quyen, Communication and Networking Officer, Heifer Vietnam
I always expect to see new things and meet interesting people when visiting a project in the field. I was not disappointed during my recent visit to Vietnam. As we visited the homes of our project participants in Soc Trang Province last week, we noticed a young man in our group quietly reaching into his bag, bringing out small boxes of milk and giving them to the children of the family. He bent down to their level and spoke sweetly to them as he helped them open the straw and put it in the cardboard carton. After seeing the attention and compassion that this man showed with the children of the community (especially when most people would be focused on the "foreign visitors" rather than paying attention to the children), we decided that we had to know more about this man and what drove him to do what he does.
We learned that he was 23-year-old Nguyen Thai Loc, Community Facilitator for project 22-0775-28, Improving farm households' capacity in Long Phu district, Soc Trang province. As Community Facilitator, Loc is project-based staff of Heifer's project partner, the local authority of Soc Trang, and his job is to walk hand-in-hand with the community, supporting them in their transformational journey. He is the front-liner in working with six self-help groups, or approximately 120 families, in this community. (This amount will double when the original six groups pass on the gift.)
Normally, Loc spends his afternoons and evenings visiting the project families when the farmers come back home from working. He discusses the families' health, gives support on their animals and enterprises, and encourages their increased participation in the community initiatives during these visits. Loc is also intensively involved in the monthly meetings and various trainings of each self-help group. He arrives for each event a couple of hours early to prepare, facilitating some trainings himself and inviting experts for technical topics. Loc feels a great deal of fulfillment from these trainings. He loves to see the groups light up with understanding of the topic, develop their action plans, and eventually see their visions realized. Once he completes his education, he plans to work for the local authority so that he can continue to serve these families and help them transform their community.
Most of the families in this area are from the Khmer minority, uncomfortable speaking Vietnamese, and thus isolated from the mainstream culture of the country. However, though Loc is not Khmer, he is from the project community and can easily relate to and communicate freely with the families in their own language.
Loc purchases the milk that he distributes with the money from his own pocket, though he is currently a college student and his salary is modest. When we asked why he does it, he told our translator matter-of-factly, "I love those children, but they are very poor and have nothing." Loc has earned the trust and respect of their parents by showing his love for their children through his small acts of compassion.
I learned a lot from my brief observation and discussion with Loc about what it means to effectively work with communities. I had known already the importance of both talent and passion in my work. I learn from Loc that this passion must not only be for the job or even for the mission. Whether working in the field like Loc or working at my desk at headquarters, my passion should also be for the people, the families we serve who are striving to pull themselves out of poverty and build better communities.