Indiana Event Honors Heifer's Living History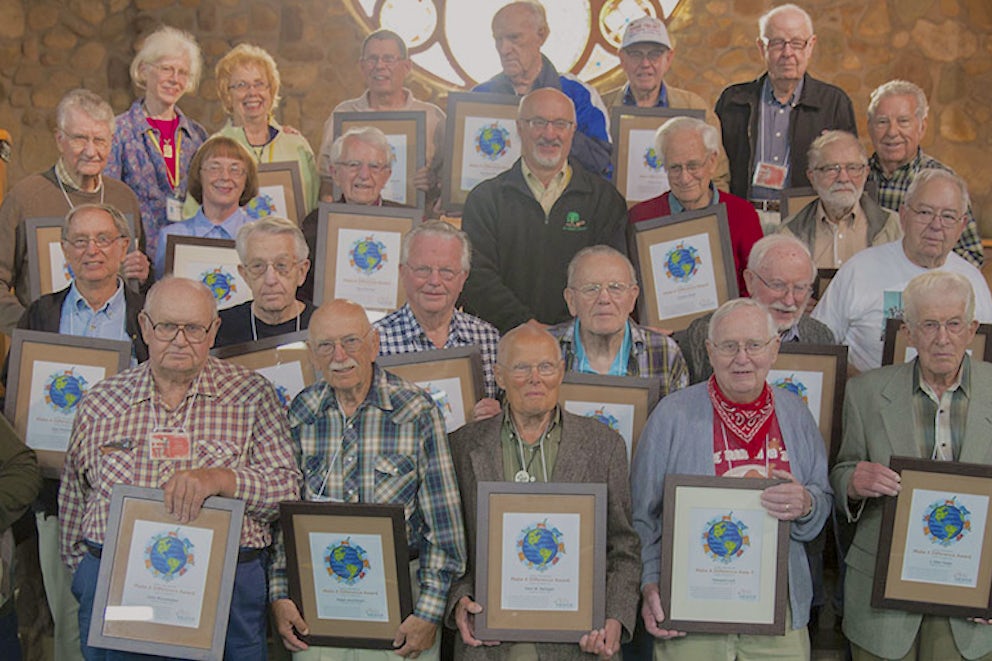 1945: Just seven months after fighting ended in Europe, the SS Santiago Iglesias delivered animals to war-torn Polish families. These animals transformed the lives of families who received them, but the transformation may have been even more profound for those who volunteered to cross the ocean and make the deliveries.
2014: In Milford, Indiana, just miles from the hometown of Heifer's founder, Dan West, a celebration took place to honor those "seagoing cowboys" who made the first animal deliveries and helped ignite the legacy of Heifer International: Promoting peace and ending hunger.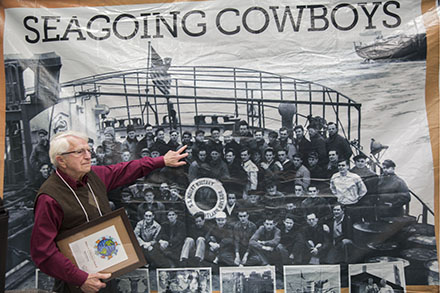 The three-day event took place last weekend at Camp Mack, a Church of the Brethren retreat center located on 200-plus acres on the eastern shore of Lake Waubee in northern Indiana. The cool, fall air was thick with shared memories and tradition as guests vied for conversations with Dan West's children and the seagoing cowboys. Kids lined up with their Heifer books, like "One Cow and Counting," for the cowboys to sign.
Many guests and volunteers at the event knew Dan West personally here at the place where Heifer took root. Memories of West and his wife, Lucy, were shared over coffee and donuts while photos of the earliest days of Heifer flashed on screens around the room. Booths were set up by individual cowboys and cowgirls with scrapbooks, photos, published works and a chance to visit—and reminisce—with each other.
Peggy Reiff Miller, an author, historian and archivist is actively interviewing as many cowboys as she can find for two books she has in the works and for her website, seagoingcowboys.com. Miller helped organize the gathering, which is part of Heifer's yearlong celebration through events called "Communities of Change" to commemorate its 70 years of impact.
Just a short conversation with any one of the seagoing cowpokes reveals deep experience and perspective. One cowboy spoke of meeting a young German man in Poland when they made deliveries there in 1946. The young man was stranded in a still hostile area of Poland, so the cowboys decided to smuggle him aboard their ship and return him back to Germany on their return after the animals were delivered.
In Germany, another cowboy met a young girl on the same Poland expedition. She hid deep inside bales of hay when the soviet army came through and pummeled her community. Upon meeting the dashing cowboy in Poland, they decided to get married and she traveled back to America on the ship.
Other memories were less joyous. I asked each cowboy to share their "Favorite memories as a Heifer cowpoke:" Robert O. Epp travelled on the USS Clarksville Victory and reflected that "I remember the terrible storms we ran into while on the ocean. 'Favorite' suggests something pleasant. The memories seared into my mind are the destructiveness of war. The rubble in Gdansk, The dead German soldiers still lying on the ground. We were the second ship into the Gdansk harbor after the war ended. The first US military ship was still there when we arrived."
It is amazing to recall just how soon after one of the world's most deadly wars that the foundation for Heifer's work began. At the Milford event, reminders of those nearly 7,000 young men (and a few women) who took to the high seas to deliver livestock were celebrated.
Northern Indiana is rich Heifer country, in more ways than one. Generations of families, churches, volunteers and donors have dedicated their dollars, legacies and service to the work of Heifer International. Formerly a Heifer regional office location, scores of volunteers were recruited to help organize the multi-faceted event that included a hog roast, campfire sing-a-long, breakout sessions, Dan West Fellow award presentation, tours, videos and a keynote address by Heifer's president and CEO Pierre Ferrari.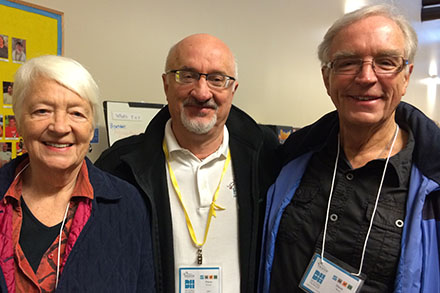 The event raised money and drafted new supporters for Heifer, but mostly it created an almost sacred space and conversation for the "greatest generation." Steve West, son of Dan West, shared it best in a quote, "When you cross a river alone, you just get across. When you help someone cross a river, you both get across. That is what Heifer is about: Bringing folks along this journey of life with us."