Double Your Impact To Multiply Income
This month, you can double your impact with a donation for families like Maria Elsa's in Honduras.
Maria is the President of Empresa Asociativa Maranonera del Sur (Southern Cashew Enterprise Association) – a project promoting entrepreneurial activities and providing rural women with additional income. After working on their own for 21 years, the women saw things begin to change in 2005 when 22 families received heifers from Heifer International. In 2009, they received chickens and have completed two rounds of Passing on the Gift®.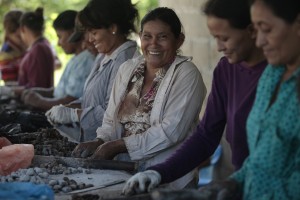 Photo by Russell Powell, courtesy of Heifer International
Seeing the positive results from these first two projects, the women wanted to try something a bit more ambitious. "We wanted something more to do to generate more income," Maria said. From this, the Southern Cashew Enterprise Association was born. Heifer provided the materials and hired builders to construct the storage rooms and ovens for this cashew enterprise, while the community provided the labor. Heifer provided 200 cashew tree seedlings, and helped the women to market their cashews.
In 2012, a drought destroyed most of the corn harvest. The cashew business, however, along with the ability to sell eggs and milk from their livestock, provided additional income for the families in Maria's village. Maria gets almost four gallons of milk a day; she uses one gallon for her family and sells the rest.
The family is grateful to have received the cow. Victoriano Gonzalez, Maria's husband, said, "I never expected to see a cow in my yard and now we have four."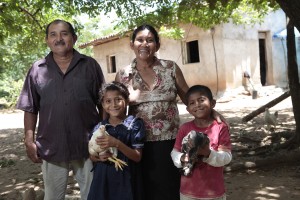 Photo by Russell Powell, courtesy of Heifer International
Along with the animal gifts, project participants received a variety of trainings including marketing, gender equity, jelly production, chicken and cattle feed production and Heifer's 12 Cornerstones for Just and Sustainable Development. Now, while the women work, their husbands have taken over more of the household chores.
"Now our husbands bring us food while we are working," Maria said. She's excited about the opportunity to pass on her training and her animal's first newborn to another community member. "Passing on the Gift® is a chain that multiplies and won't be broken. I was so happy when I received my cow. I imagined that other women would feel the same."
For Maria and her family, the biggest improvement has been to their diet. Before becoming involved in the Heifer project, their typical meal consisted of beans and rice. They could only buy eggs twice a week. "Now we have more chickens so we don't have to buy eggs," she said. Milk was also hard to get, but now they have milk and can use it to make cheese.
Maria, whose children are grown, lives with two of her grandchildren. "They help feed the chickens, carry water and clean the pens," she said. Maria and Victoriano hope their grandchildren have a better life. "I want them to continue their studies until they are professionals. They are very intelligent."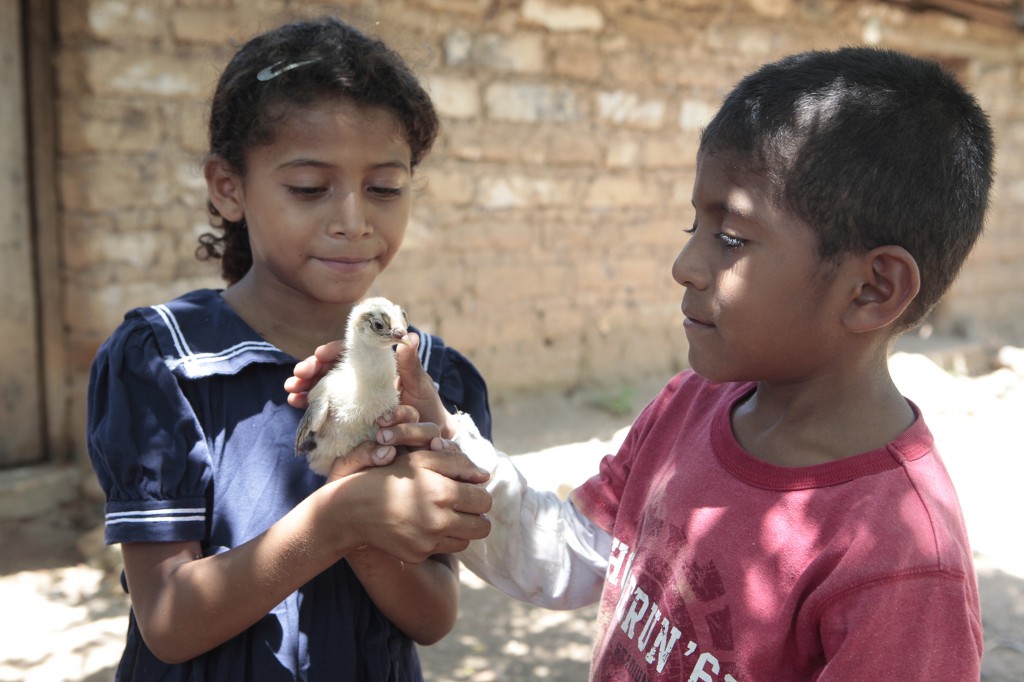 Maria's grandkids, Elmer and Lisbe, help take care of the animals.
Photo by Russell Powell, courtesy of Heifer International
Heifer's past successes show that projects like this make a widespread and lasting difference. In 2008, Western Michigan University Evaluation Center conducted an independent evaluation of Heifer's work in Honduras. It said that Heifer International in Honduras has had a significant positive impact on the communities in which it operates, empowering people at the family and community level.
Your donation this month will be matched dollar-for-dollar to support food security, better nutrition and women's empowerment for a new project in Lempira, Honduras, thanks to a generous benefactor and international partners. To maximize this match, we need to raise at least $831,000 from generous supporters like you.