Leónidas Colque, 62, lives with his family in Bolivia's Pairumani community. Leónidas is married to Bertha Dorotea Baldelomar García, and together they are raising 16-year-old daughter Noemí and 12-year-old Janeth. Leónidas' neighbors revere him as an exemplary leader and one to emulate in community development.

Pairumani is part of the Tiraque municipality, located in the Koari region of the department of Cochabamba. This area is plagued by cold weather year-round. Due to the effects of climate change, the freezing conditions worsen each year.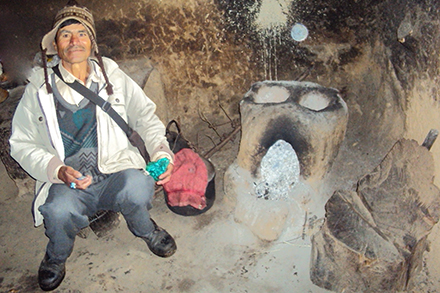 Leónidas in his old kitchen.
Before Heifer Bolivia started a project in his community, Leónidas had no way to irrigate his crops, so he only planted potatoes and wheat once a year. The harvest barely fed his family. In the rainy season, he grew onions and carrots and fed leftover wheat hay to his animals, most of which he lost to starvation.
Dinner for this family of four rarely included meat. They just couldn't afford it. They subsisted on the few staples that grew on their land: potatoes, onions and carrots. When they cooked, it was on a wood stove that filled their small kitchen with noxious smoke. They were constantly sick from breathing in the polluted air.

Since joining the Heifer project, Leónidas has made some dramatic changes on his land. He learned how to use falaris grass to build terraces. The terracing method provides live barriers that prevent wind and water erosion, keeping his crops intact. In addition, he has built an irrigation system with an atajado, or watering hole, to collect rain water. Now that Leónidas can irrigate approximately 19 acres of land, he is able to diversify his crop production. And, with water available all year long, some of his crops enjoy three harvests a year.

His colorful, and bountiful yield now features medicinal plants, apples, strawberries, different types of potatoes, wheat, quinoa, lima beans, onions, carrots, beets, lettuce, turnips, radishes, cabbages, and a variety of other vegetables. He uses organic fertilizer and produces so much food that his family now has plenty to eat and plenty to sell at the local markets in Tirque and Punata. Profits earned from selling surplus crops makes it easy to buy oil, sugar, salt and other things they don't grow, as well as study materials for the students in the household.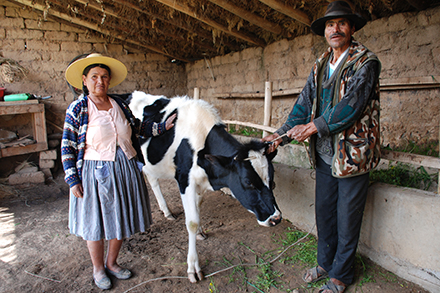 To better protect his sheep and milk cows, Leónidas built sturdy shelters and a stable. They, too, are eating better, thanks to several new irrigated plots of land specifically used for growing fodder. Leónidas pays careful attention to his animals' health. They have an animal health management plan, and each animal receives veterinary medicine when they need it.

Even the family's mealtimes are more pleasant since Heifer arrived. "With the improved kitchen that we built and are using for cooking, I no longer have smoke inside my kitchen," Bertha says. "We use very little wood compared to what we used before." In the old kitchen, it took 66 pounds of wood a day to cook the family's meals. Today, they only need 22 pounds. Moreover, the renovated kitchen features built-in shelves and storage spaces for glasses, plates, utensils and cookware. Plus, the extra storage protects vegetables from flies and mice.

The valuable training Leónidas gained through the Heifer project benefits his entire community as it is shared from farmer to farmer through Passing on the Gift® (POG). He has already participated in four POG ceremonies, during which he gifted smaller animals to his neighbors. He looks forward to giving sheep and heifers in to another family in 2015.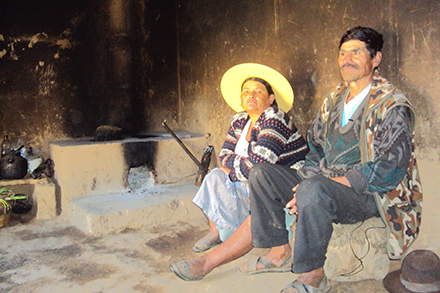 Leónidas enjoys teaching others how to improve their farms and lives by sharing what he has learned through his participation in the Heifer project. He can be seen regularly promoting and volunteering training events.
Leónidas and Bertha's enthusiasm is contagious and effectively motivates others. Other farmers are naturally drawn to Leónidas and his generous, problem-solving nature. Residents and local leaders alike are grateful to this couple for their support to the community.

You can make a difference in a family's life today.