In This Article
As a renowned chef, food critic and writer Ruth Reichl has vast amounts of experience with the U.S. food system.
Reichl takes a moment to chat with Heifer's CEO Pierre Ferrari about the COVID-19 pandemic's affect on the food we eat and the people that grow and prepare it.
You can watch the chat in its entirety in the video below.
On her most optimistic days, renowned chef, food critic and writer Ruth Reichl can see rays of hope for the United States food system, even during this time of global crisis. Americans are cooking at home, families are sitting down to eat meals together and consumers are starting, once again, to show an interest in buying sustainably grown, local food. On pessimistic days, though, she fears that the coronavirus pandemic sweeping the globe will level small farms and independent restaurants for good, leaving a completely industrialized food system in its wake. Either way, she posits, there's no going back. "I know that one of these two things will happen," said Reichl. "What this pandemic is doing is changing, forever, the way America eats and cooks."
During her #HeiferTogether discussion with Heifer CEO Pierre Ferrari on July 8th, Reichl discussed some of the failures of our food system that COVID-19 has laid bare:
The United States' obsession with cheap food has meant that farmers aren't paid well. Our dependence on large, industrial processing facilities has meant that local processors are almost nonexistent. Local processors are able to serve small-scale farmers in a way that megacorporations are not and can provide products that farmers can sell for year-round income.
One of the things that we're realizing in this pandemic is that the U.S. restaurant model is untenable. The solution? We need to start normalizing paying more in restaurants.
Not only is the U.S industrial food system harmful for consumers and the environment, it's also dangerous. "What I don't think most Americans realized before this is that we have made a dangerous food system," Reichl said. "The way that we pack meat, the way that the farmworkers work, the result of this cheap food is, in this moment, being revealed to be incredibly problematic. At this point, you can't turn away."
The key takeaway? It's time for us to care about what we eat and where it comes from. If we don't, we may lose the small farms and independent restaurants that we so desperately need. The choice is up to us.
"Pay attention to food," Reichl said. "Really pay attention, understand what the system is and agree that you're willing to pay what food actually costs. I think that's the biggest message."
The conversation with Reichl is a part of a speaker series, #HeiferTogether, which is about the state of farmers around the world during the COVID-19 pandemic. In the live, 20-minute virtual conversations, Ferrari talks to experts about the present and future of our global food and farming systems, small farming in the United States, tech in agriculture, farming as it relates to the environment, and more.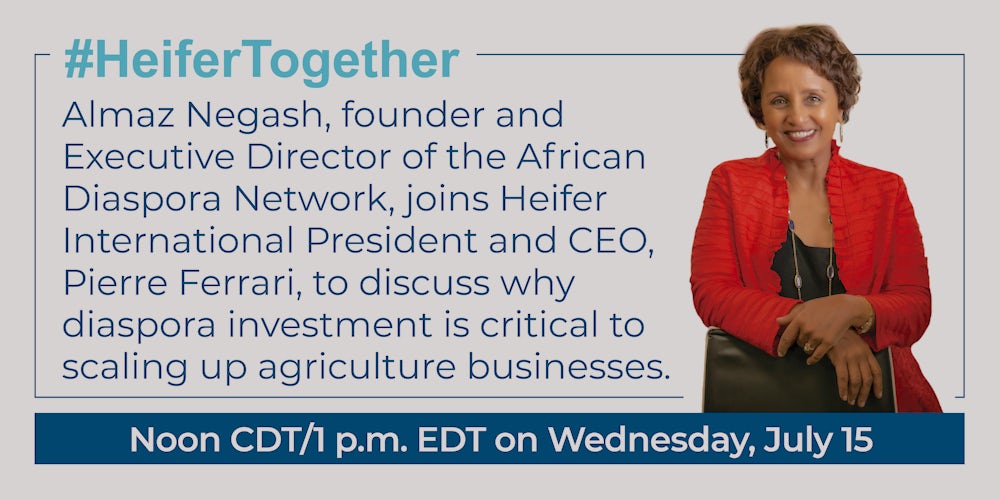 Upcoming webinars include conversations with Almaz Negash, founder and executive director of The African Diaspora Network, on July 15 and Karen Washington, founder of Rise & Root Farm and co-founder of Black Urban Growers, on July 24.