Editor's note: A generous donor has pledged $30,000 to match funds that students raise for the East Africa Dairy Development project with Read to Feed. That means the students' contributions to Heifer will be DOUBLED! This campaign is only available this spring, so please share this opportunity with the teachers you know!

Developing literacy skills and interest in lifelong learning is the most essential task of every elementary school teacher. While text and story is central and timeless to the work of a teacher, the information age has brought more visibility to other kinds of stories unfolding across the globe. These are the stories of other children and adults in need of our support and agency to make a difference. As children become aware of these stories and experiences of others in our world, our new responsibility as educators is to help students not only understand, but provide opportunities to make a difference.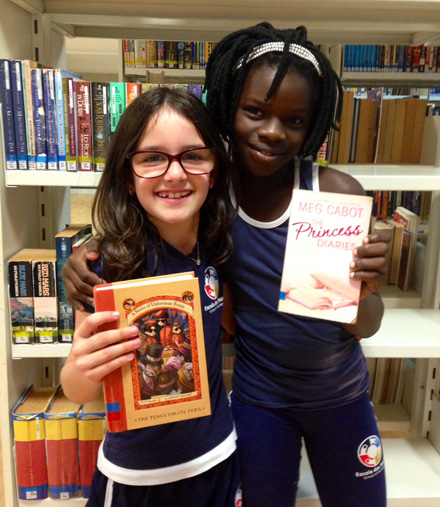 When I first encountered the Read to Feed® program, I was looking for a way to keep our reading self-motivated and meaningful, as well as provide an opportunity for my students to deepen their capacity for cross-cultural empathy. Read to Feed was a great fit. As our school has a character education curriculum, the program was easily integrated into our classroom inquiry on gratitude and natural resources unit in science.
After the conclusion of our work with Read to Feed and gratitude, we found in order to be grateful, we must understand everything we already have. After comparing all that we have to people elsewhere in the world, we understood with greater awareness how lucky we are and how that awareness is the foundation of true altruism and service to mankind.
Through using the program, I found it only slightly shifted my students' motivation to read, but it greatly shifted the depth of conversations my students had inside and outside of the classroom. I was impressed by my students' growth and commitment to the program. It certainly opened some new doors for many children in my classroom.
6 Tips for a Meaningful Read to Feed:
Weave it into a unit which already has themes of multiculturalism, globalism or sustainability at play.
Use the program as a tool to investigate your own students' cultural relationships to money and consumption practices.
Use a Read to Feed event to build local community. You could invite parents in for the launch or conclusion event, or center the program around Earth Day or the holiday season.
Use the program to introduce a wide range of multicultural texts that come from all around the world. Explore the languages and texts of the communities in need.
Use the program alongside a character program to discuss deeper aspects of empathy and altruism, friendship or any character value you can draw from the program.
Use this program as a gateway to launching a sustainability movement in your classroom or school.
Lisa Goochee is an elementary school teacher based in Brasilia, Brazil.