Rural, small-scale farmers in four states in Southern Mexico will soon gain market access to a large-scale consumer base in a new groundbreaking project. This initiative will provide economic stability to communities in need, while meeting growing market demand for high-quality, sustainably sourced food.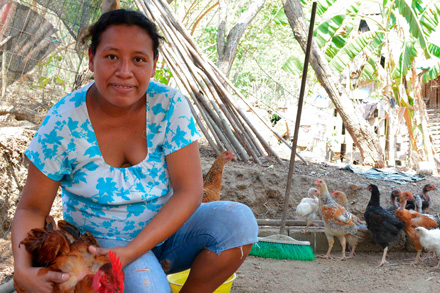 The two-year project, "Rural Entrepreneurs: Connecting Field to Table" is led by the nonprofit Heifer International and made possible by a grant from Walmart Foundation. The Walmart Foundation undertakes place-based investment approaches to support initiatives that address systemic barriers — such as a lack of access to quality infrastructure for example — to unlock formal market access opportunities for smallholder producers.
The project seeks to provide 6,125 farmers in Chiapas, Oaxaca, Puebla and Yucatan states with living incomes, as well as to guarantee a consistent supply of high quality for the local egg, beef and honey industries in the country.
"The possibilities for what this opportunity means for the farmers is exciting," said Victor Garcia, country director for Heifer Mexico. "We know the key to long-term sustainability and living incomes for farmers is diversification and supply chain optimization. Through this project, Walmart Foundation is helping us make changes to practices and systems, so we can work with smallholder producers on a much larger scale."
While previous initiatives seeking to improve farmer livelihoods have primarily focused on increasing production to improve food security, this project is more holistic in its approach. Farmers will be trained in integrated farming methods, given new technologies and capital. They will also undertake a series of trainings that include management skills to build trust and solidarity, fostering cohesion among community members.
Garcia said Walmart Foundation's support shows retail-supported philanthropy can be leveraged to catalyze farmers and farmer-owned enterprises to be more closely connected to clients and consumers, as well as share in the more profitable aspects of the value chain.
The Walmart Foundation believes in driving shared value for business, society and consumers, including through direct farm sourcing into the formal supply chain. The Walmart Foundation uses philanthropy to support farm systems development and markets access opportunities for small producers to reach beyond Walmart's own supply chain.
Ultimately, this kind of market-led approach will help forge long-term relationships between these farmers and consumers, creating a positive cycle of higher incomes for farmers and better access to nutritious food.
ABOUT HEIFER INTERNATIONAL
Heifer International's mission is to end hunger and poverty while caring for the Earth. For more than 70 years, we have provided livestock and environmentally sound agricultural training to improve the lives of those who struggle daily for reliable sources of food and income. We currently work in more than 25 countries, including the United States, to help families and communities become self-reliant. Our goal is to help families achieve living incomes, which will allow them to feed their families daily; educate all their children; and have proper housing, water, hygiene and other essential resources. For information, visit Heifer.org, read our blog, follow us on Facebook, on Twitter or call 888.5HUNGER (888.548.6437).