Women & Girls
Unique Exchange Helps Women REACH Each Other
Jean Pierre Venette is feeling empowered these days. She belongs to Heifer's Rural Entrepreneurs for Agricultural Cooperation in Haiti program, better known as REACH, and as such is also a member of Asosyasyon Fanm Peyizan Lagoun (AFPL)–an affiliate of a large federation of women's groups in Haiti called Federation des Association de Femmes de Maissade (FAM).
Venette is the president of her AFPL group. Prior to joining Heifer and AFPL, she had a difficult time providing healthy food and a consistent income for her family, a common problem for the women in her group and one that can be attributed to a variety of issues, including unpredictable weather patterns, insufficient basic animal husbandry knowledge, a lack of proper farming skills and techniques, and an overall absence in opportunities in Haiti for diversifying sources of income.
Venette shares a very important long-term goal with her fellow group members: to have a constant source of income that will allow her to support her family with nutritious meals, proper health care and better education. As the leader of AFPL, she is committed to the urgent obligation of steering the other women in her group to find permanent solutions for their own income problems.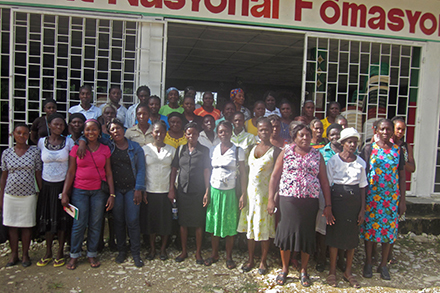 Venette's group recently visited the Peasant Movement of Papaye (MPP) a community-based organization in Hince, about eight miles from their community. This visit, made possible by REACH's exchange program, allowed the women of FAM and the women of MPP to meet, share stories and learn from each other. Eight miles may not seem like a long distance, but coordinating this exchange took a lot of planning. With limited means of communication and poor road conditions, eight miles can seem like an insurmountable distance.
You can help women farmers like Venette improve their income while supporting sustainable farming.
During the exchange, the women were introduced to several new agriculture techniques for small-scale farming and agroforestry. The "planting box," for example, allows trees to multiply without seeds through vegetative propagation. Vegetative propagation, or vegetative reproduction, helps plants develop in such a way that they are identical to their parent plant. This process is important for the sustainable domestication of native fruit trees.
The women saw tire gardens, which make farming possible for women who do not have land. MPP women plant organic produce in tires, which require a minimal amount of space. From these little tire gardens, the women harvest an abundance of quality, healthy vegetables to feed their families and sell at market.
At an MPP fish farming project, the FAM women learned about techniques being used to maximize fish production. "Heifer's farmer exchange visits are intended to benefit all participants through an open exchange of ideas, knowledge and sound practices," said Ewaldy Estil, Heifer Haiti's northern region project coordinator. "The host organization should expect to gain as much from the experience as the visitors, if not more." Estil explained that these visits improve project quality and effectiveness for families and communities by providing opportunities for shared learning.
With exchange visits like this, Heifer Haiti offers relevant and supportive technical assistance through on-the-ground experience sharing, enabling women to grow personally and as a group. Consider it a way of Passing on the Gift® of experience and knowledge.
After the visit, the women reflected on what they learned and identified innovations they wanted to try at home on their own plots of land. They decided to replicate organic tire farming and use the box method to grow Moringa tree seedlings.
Before saying goodbye, the women shared their ideas on animal production and self-help groups. They also talked about potential partnership opportunities. Each woman expressed a strong commitment to continue working together to promote better crop and animal production and promised to keep in touch as their groups evolve and grow.
"It was interesting to see all of the things we learned," Venette said. "It encourages me to see that it is working, as they are now able to take care of their families year-round. I am going to practice what I have learned and support our members so that each person in the organization will become a thriving farmer and businesswoman."

During this year of International Family Farming, give gifts that help family farmers thrive.

Photos courtesy of Heifer Haiti