As part of our celebration of World Food Day, throughout October Heifer has been highlighting "Sustainable Food Systems for Food Security and Nutrition." Earlier this month, Pierre Ferrari, Heifer's CEO, shared with you the importance of livestock and animal-based foods. In his post he asks "Why livestock?" And "Why animal-based foods?"
Well, here is why: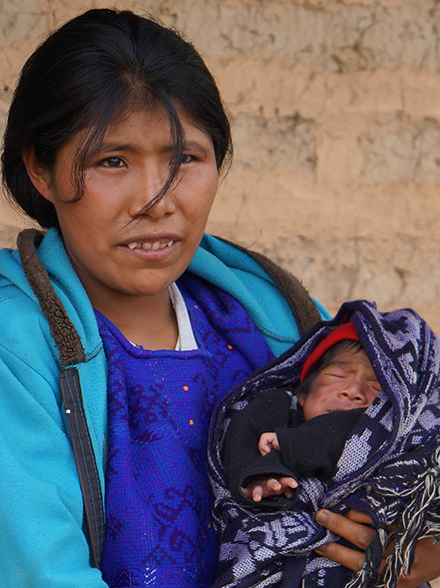 Nineteen-year-old Juana Hernandez lives in San Juan Atitlan, Guatemala, deep in the western mountains, far from reliable medical care—where it can take many hours and sometimes days to reach the nearest doctor. The Area Development Program run by World Vision identified her small community as having the highest rate of children´s chronic malnutrition at a staggering 92.6 percent.
Before Heifer partnered with the community, Juana drank powdered milk. This was expensive and, unfortunately, dangerous for Juana. During pregnancy she suffered painful headaches and other major complications, which the doctors later attributed to chemicals in the powdered milk and an absence of healthy proteins in her diet.
Then the Heifer project arrived. Through the Dairy Goats Pilot Project, Juana and her husband received a dairy goat, which can produce 3 or 4 quarts of milk every day. After just a couple of months and with the support and training that Heifer provided, their goat produced a kid. Now they have two goats and more milk than the family can consume.
According to the National Association of Child Development, goat's milk is one of the "best tonics available" because of its chemical properties and composition, "containing all 16 vital elements and in quantities closely paralleling that of the human body."
Goat's milk requires the same attention to cleanliness as any other milk—but is much more easily digestible than cow's milk. This makes it ideal for people who experience lactose intolerance, especially pregnant women, for whom adequate nutrition is critical. Now she no longer gets headaches and her baby and all of her children drink the goat's milk every day. In Juana's second pregnancy, she drank goat's milk twice a day and had zero headaches and zero problems with her pregnancy. Juana shares, "I have renewed energy. I was able to work throughout my pregnancy. The headaches are gone. All thanks to the goat that Heifer gave us."
Now, of the 92.6 percent of malnourished children in San Juan Atitlan, Juana's children aren't among them. And it isn't just milk that is changing their lives. The goats' manure provides fertilizer and they are able to sell it, as well as surplus milk, for extra money.
And because of Heifer's time-tested model, more children in the community will benefit from goat milk because Juana and her family will soon be Passing on the Gift® of another goat to someone else who needs it.
So, "Why livestock?" And, "Why animal-based foods?"
Ask Juana Hernandez. She'll tell you why.

Give the gift of nutrient-rich goat's milk to another family in need.