What if there were a club to end hunger for good? As of today, there is. It's called Community for Zero Hunger, and we are excited to announce Heifer International, through CEO Pierre Ferrari, will participate.
According to Community for Zero Hunger,
There are more than 870 million people who are hungry and malnourished around the world. As we look toward 2050, we will have a third more mouths to feed. Building sustainable, specific, and multi-sectoral responses to ending hunger in our lifetimes, and creating a food- and nutrition-secure world are urgent. In 2012, United Nations Secretary-General Ban Ki-moon called upon all sectors to step up the fight against hunger and malnutrition. In response to that call to action, the Community for Zero Hunger was launched today.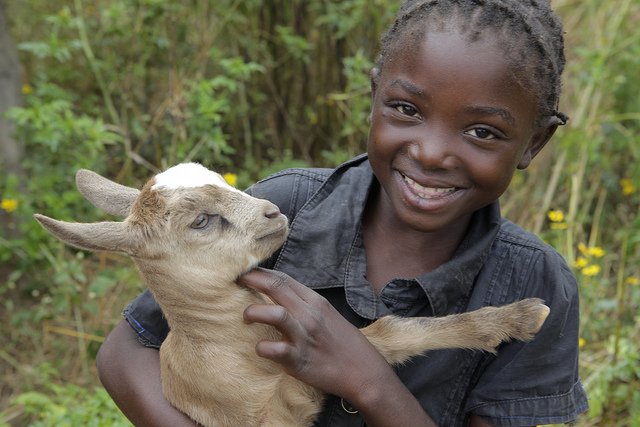 Machila Chali (7) holds a goat in the Willie Mulenga village, Zambia. Photo by Russell Powell, courtesy of Heifer International.
The United Nations Zero Hunger challenges means:
100 percent access to adequate food all year round

Zero stunted children less than 2 years old
All food systems are sustainable
100 percent increase in smallholder productivity and income
Zero loss or waste of food
"The Community for Zero Hunger is an independent, community-driven initiative to identify the greatest gaps in successfully tackling hunger and malnutrition, and leverage private-sector experience to help fill those gaps at scale," said Nabeeha M. Kazi, Chairperson for the Community for Zero Hunger. "There is widespread recognition that deeper, strategic, and more specific collaboration among civil society and public and private sectors is needed if we are to build sustainable hunger-alleviation pathways."
Hunger can be eliminated in our lifetime. We are proud and excited to lend our expertise and innovations to the Community for Zero Hunger and to learn from our collaborators ways to better do our work.
Visit the website to learn more about Community for Zero Hunger.