Volunteering for Heifer Through the Years
Editor's note: Today is International Volunteer Day 2012. This year's theme is "Celebrate Volunteering!" Heifer International is supported by many volunteers, in both developed and developing countries. Today we share accounts from some of those volunteers. The following post is by Nancy Handke, a Heifer community volunteer in Clarendon Hills, Illinois.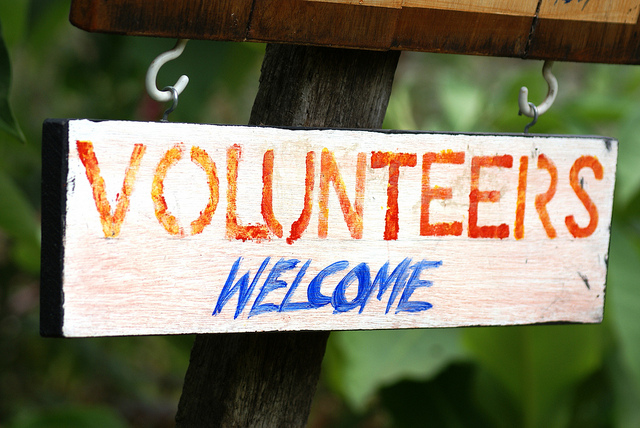 I first became aware of Heifer in the late 50s when my church elected me to be the Heifer representative. When the Chicago office opened, I became a volunteer mainly doing mailings. Soon I began volunteering in the office one or two days a week doing odd jobs plus setting up the computer database. Audrey Veath also was volunteering the same day, and we became dear friends. She suggested we have a quilt auction for Heifer International. Together we chaired the auction, which was held every three years. It became the major fundraiser for the Chicago office.
My church got a new rector, who one day asked me if I thought we could put on something like a Living Gift Market for our community. I thought I had died and gone to Heaven! And thus in 2007, the Family Farm Fest was born. We are a small congregation, but have become a dedicated Heifer church where everyone volunteers for Family Farm Fest. The event is held in our church parking lot the first Saturday of August every year. We have 10 animal booths, each of which has a "hands on" craft project for children and a Heifer volunteer who explains how the animal is used to improve the lives of the Heifer recipients. There are games, food, cake walks, and of course live animals. The llamas and alpacas are a huge hit as they walk around the grounds. In 2011 we even had a camel. We begin working on the Fest in January. A big part of our focus is spreading the word about Heifer. Starting in May we go to all the local and surrounding communities and have booths in their fairs, street dances, Daisy Days, etc. where we handout Heifer material along with a flyer about Family Farm Fest. We attract up to 1,000 + at the Fest and have been very lucky in raising Gift Arks for Heifer.
This past August we had a simulated Passing on the Gift ceremony with a script written by two Heifer volunteers. We also invited the Church of the Brethren, Union Church and a Muslim congregation to join with us, and "man" a booth to make our festival more ecumenical and inclusive of the community. The day after the Family Farm Fest, we had big celebration service in church, where there wasn't a dry eye while everyone rejoiced in the accomplishment of raising Gift Arks for Heifer.
Heifer International is so very dear to my heart. It is the only charity where, in all my 81 years, I have volunteered where I know the money goes where it does the most good and keeps on giving. It is not a one shot deal like so many other charities are. Another benefit I treasure is the many wonderful friends I have made. Heifer volunteers are the best!