In This Article
Join us for International Women's Day (and beyond) as we #LiftAllVoices and share stories of women around the world who are shaping a more equal future for themselves and their communities.
As Uganda locked down to stifle the spread of COVID-19, many farmers were left without vital services.
Leah Amongi, an extension worker in the Dokolo district, refused to be limited by a lack of transportation.
Because of her tenacity, Dokolo farmers are getting the skills and tools they need to thrive, despite the global pandemic.
Nothing can stop Leah Amongi, not even a global pandemic.
Amongi is a 28-year-old single mother who lives and works in Uganda's Dokolo District. "It is not all that easy to find employment [here]," said Amongi. And that's putting it lightly. With more than 70% of its citizens between 18 and 30 years of age, Uganda has one of the youngest populations in the world. It also has one of the highest rates of youth unemployment in sub-Saharan Africa.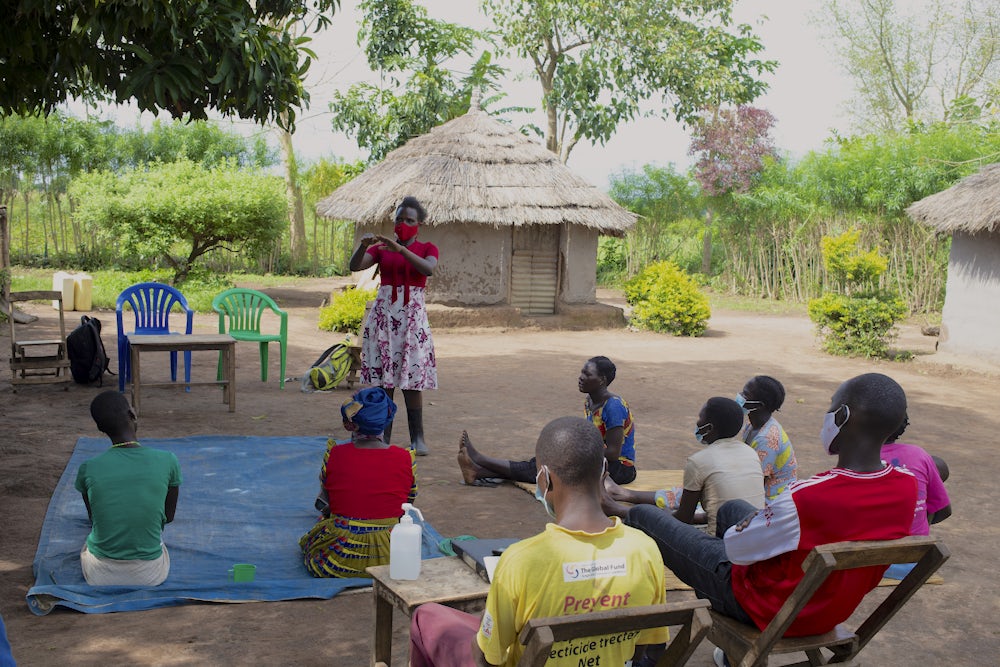 With the help of Heifer Uganda, Amongi is working to give her peers the vital skills they need to change that statistic, and she isn't letting anything stand in her way. In 2019, Amongi joined Heifer Uganda's Learn for Agribusiness project and was trained as a community agri-input entrepreneur. Through the project, Heifer Uganda is working to help young people, many of whom were unable to complete formal educations, to earn a living income through farming.
"COVID-19 is here to stay, and we cannot allow our farmers to starve. I have an obligation to serve even within times of hardship. I look at it like a soldier on a battlefield." - Leah Amongi, community agri-input entrepreneur
As an extension worker, It's Amongi's job to teach participants the essential skills they need to build a sustainable and profitable business in agriculture through improved practices. Her lessons include weed and pest control, sowing good quality seeds, and line spacing, to name a few. Fortunately, that's her passion.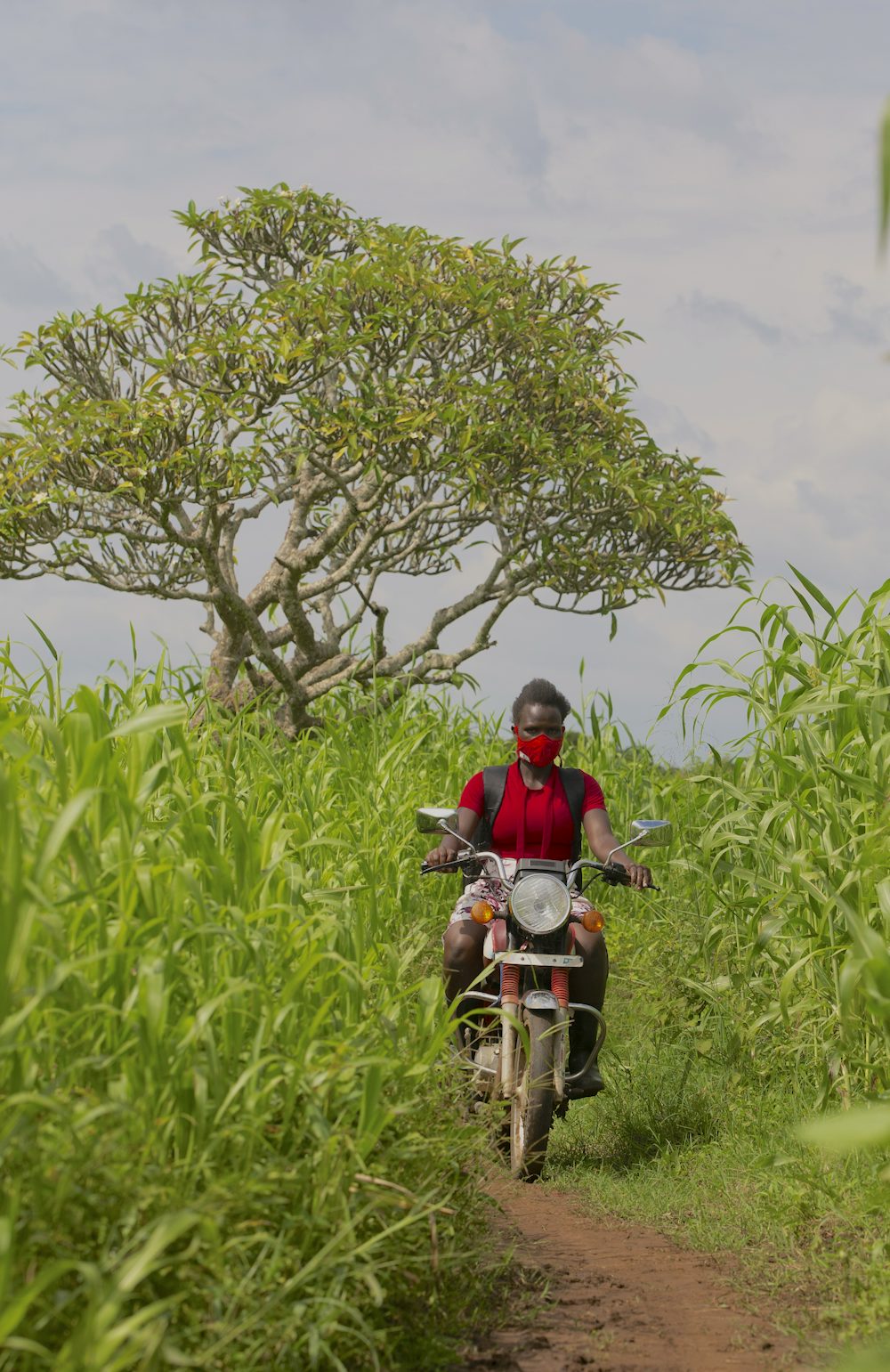 "I joined the Learn for Agribusiess project because I am inspired to work with young people participating in agriculture," said Amongi. "I love the work I do because it enables me to share my technical agricultural skills, which can make a difference in the lives of the community."
With a stop in public transportation, a dusk-till-dawn curfew, and a ban on weekly markets and group gatherings, the lockdown kept Uganda's COVID-19 case count low but made life extremely difficult for citizens, especially rural farmers.
As restrictions eased and boda bodas, or motorcycle taxis, were allowed to operate again, Amongi hired drivers to ferry her to farmers individually or in groups of five or less. Before COVID-19, Amongi paid 10,000 Ugandan shillings or $2.70 per day for a ride to and from the field.
Today, these same rides have easily doubled in price. Unwilling to be gouged and even less willing to leave farmers to fend for themselves, Amongi bought a motorcycle of her own. "COVID-19 is here to stay, and and we cannot allow our farmers to starve," she said. "I have an obligation to serve even within times of hardship. I look at it like a soldier on a battlefield."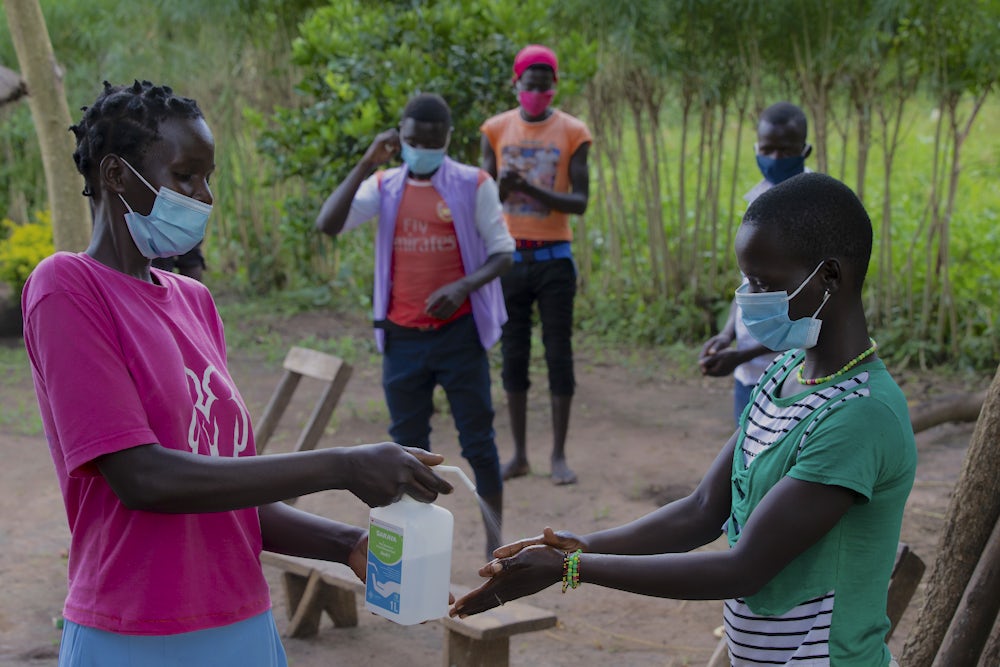 Amongi's new ride allows her to deliver critical farming supplies like seeds, tools, irrigation equipment and fertilizers to farmers who are unable to access them. It also helps her make the most of her time. Now, not only can she reach more people than before, but she can work closely with other extension workers who are, likewise, working hard to keep young farmers afloat during this time of crisis.
Amongi's involvement with Heifer Uganda allowed her to share her talents and serve her community, and it's given her opportunity for growth. "It has built my capacity in so many ways, in getting soft skills on how to communicate, how to mobilize the community and how to interact with them," she said.
With these abilities, Amongi aspires to create and coordinate her own projects, similar to the Learn for Agribusiness project, that help young Ugandan farmers who are struggling to make a living. It's safe to say that, when she's ready, there will be no better person for the job.
Ensure Farmers Receive Supplies Needed to Survive
Your donation helps extension workers like Leah Amongi deliver critical farming supplies like seeds, tools and fertilizers to farmers otherwise unable to access them.