In This Article
Animal service professionals trained by Heifer support farmers in rural Nepal.
Their work has become even more crucial during the COVID-19 pandemic.
Heifer Nepal surveyed a few dozen agrovets about their experiences this year.
For many years, Heifer Nepal has been training individuals in rural communities to become animal health service professionals. Little did we anticipate that these community agrovet entrepreneurs would serve a pivotal role in the resilience of farmers during the COVID-19 lockdown.
Animal health services are crucial for farmers, especially during the lockdown. Community agrovet entrepreneurs not only provide animal health services to farmers, but also motivate and guide them so they can establish themselves as entrepreneurs in the community. While the farming community may suffer a great economic loss because of the pandemic, livestock will certainly play a major role in lifting communities in the days to come. The symbiotic relationship between the animal health specialists, farmers and their animals has never been clearer.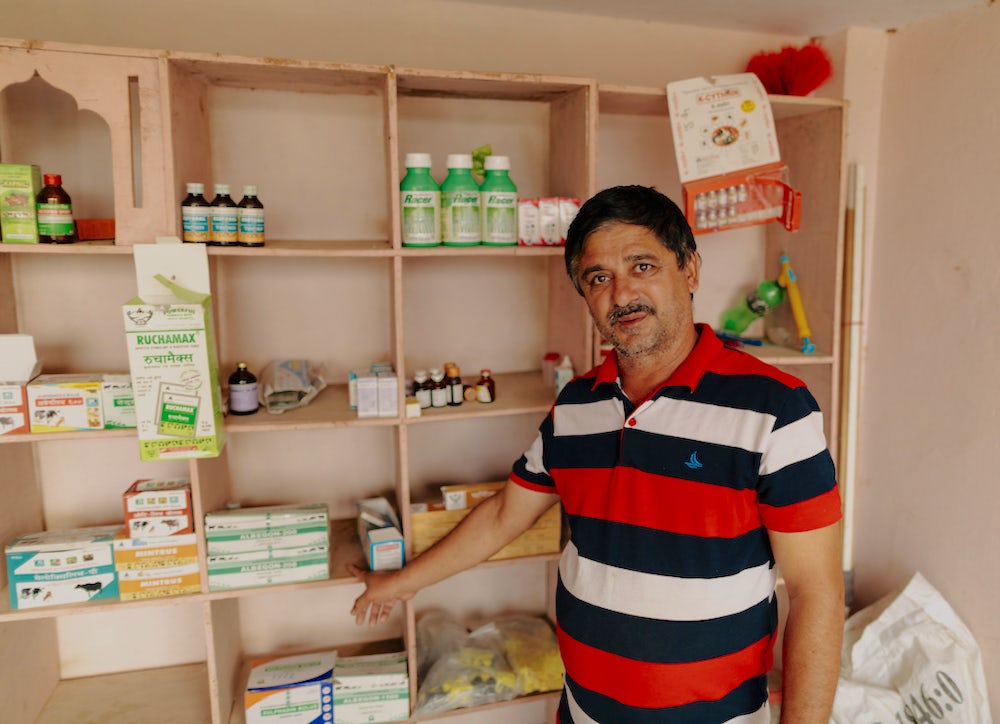 Heifer Nepal staff members conducted a survey of 36 of our agrovets and technicians. They found that the animal health practitioners are still delivering essential services to animals and communities, despite several constraints. Almost 70 percent of the animal health specialists have been providing the same services as before the lockdown and have been traveling to communities while maintaining social distancing norms. Most are utilizing medicines that were stocked before the onset of the lockdown.
Lok Bahadur Shahi, an animal health specialist serving the members of Didi Bahini Agriculture Cooperative in Tanahun, said, "I have been providing services regularly as before, and I am still earning 15,000 Nepali rupees (about $124) a month. I am using the medicines which I have in stock but will deplete soon. I am afraid problems will arise if the lockdown continues."
Similar were the words of another agrovet, Kalpana Pariyar, who said, "Despite the lockdown, I have been providing services to the members of the Adharshila Social Enterprise Women Cooperative, Ltd. I haven't faced the issue of medicine unavailability till now. I have managed to buy some from an agrovet in a nearby town."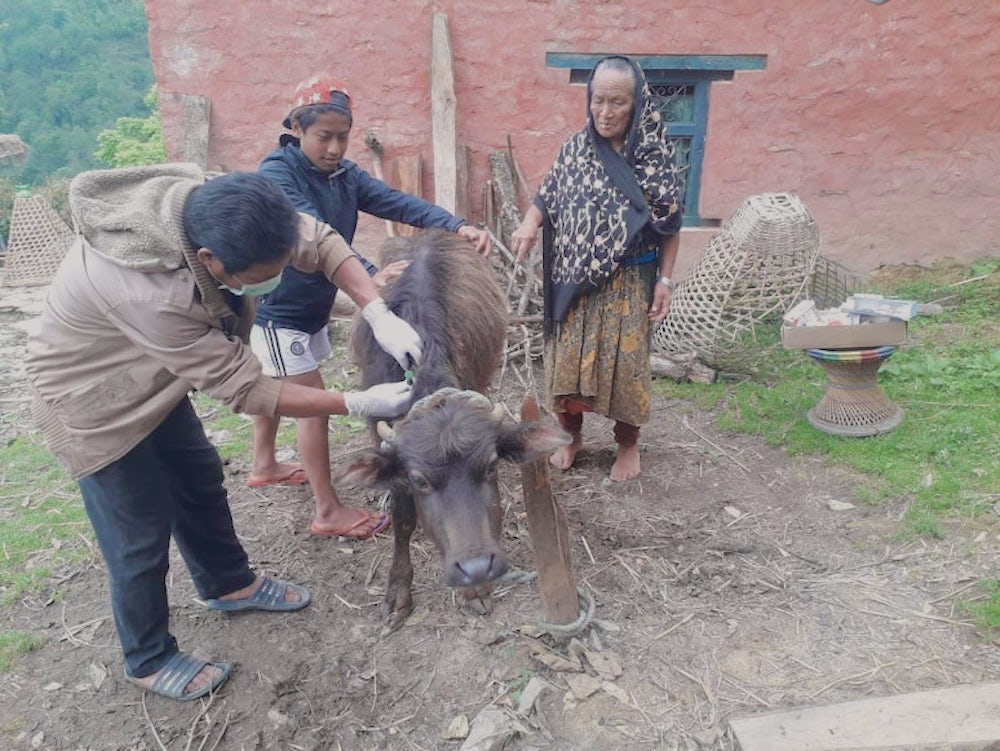 Gir Bahadur Pun, who provides services to the members of Rudratal Social Entrepreneur Women's Cooperative, said, "Movement is limited and frequency of field visits has been reduced compared to before, as this kind of service is demand based. As a result, my earning has also been reduced from 20,000 rupees (about $165) to 13,000 rupees (about $107) this month. Maintaining social distance is the major concern in the community."
Kusumaya K.C. from Sakriya Social Entrepreneur Women's Cooperative in Parbat, said, "Although my monthly income was 11,000 rupees (about $91) per month before lockdown, it has reduced to nearly 6,000 rupees (about $50) right now. I am very satisfied to serve my cooperative members during this difficult time."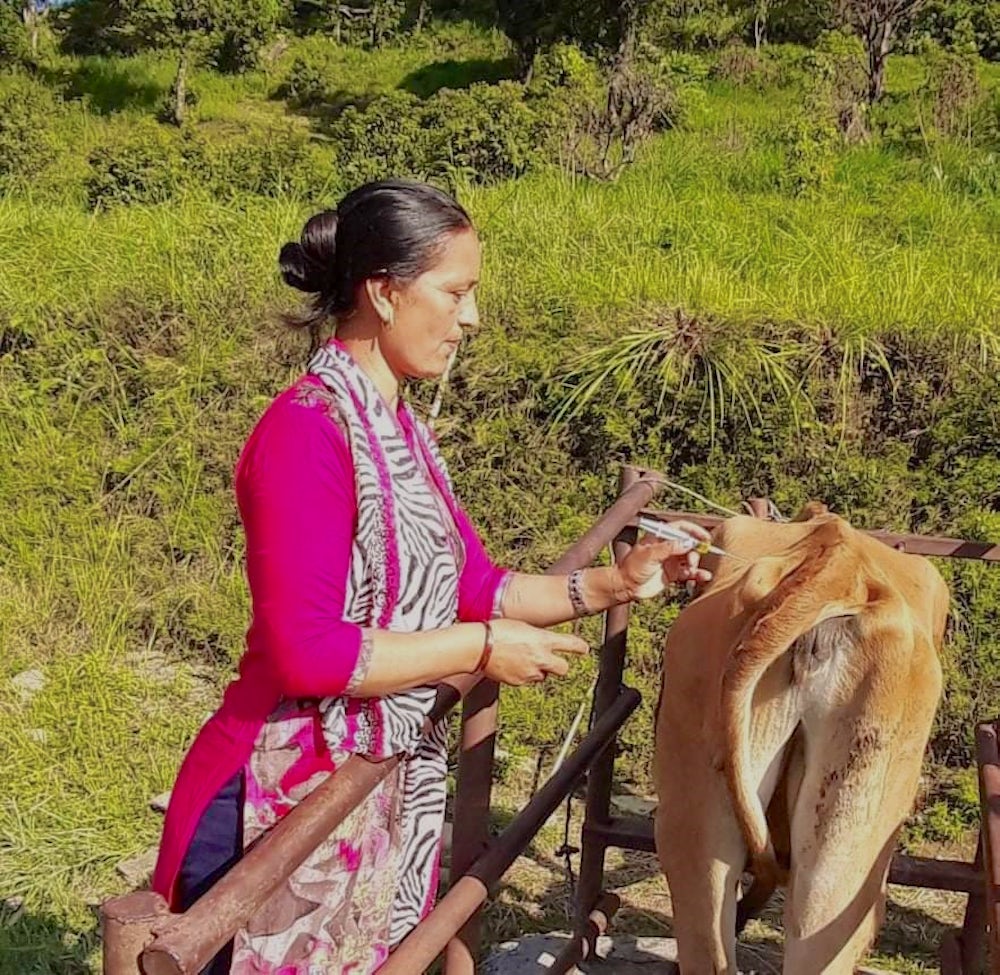 Out of the surveyed community agrovet entrepreneurs, 44 percent have been running their own shops. Among those that have agrovet shops, 88 percent reported that they are currently running their shops. Sixty-nine percent reported to have sufficient medicines in their shop, while 31 percent said their stock of medicines is not sufficient.
It's clear that animal health specialists stand as a major relief to livestock farmers during the COVID-19 crisis when most of the state-run and private vet clinics are closed. The social capital that has been strengthened among the service providers and farmer-owned agribusinesses demonstrates the reach to grassroots levels of the community.
What still needs to be addressed is that there are many agrovets lacking protective gear who cannot offer their services to farmers while adhering to the national COVID-19 health recommendations.
Article by Keshav Dawadi‍ and Regeena Regmi‍