Women & Girls
The Gordons Make Farming Look Easy (But It's Not)
When Brandon Gordon left his job in 2009 to take over five acres of his family farm in Pleasant Plains, Arkansas, he didn't think it would be a big challenge. "I'll admittedly say, I probably went into it a little cocky," he said. "'Oh, I've got a degree in horticulture. I've been working at (a plant nursery). Farming's going to be easy.'"
It wasn't easy. Gordon started Five Acre Farms because he felt like it was a meaningful job. It connected him to his family, it's something he could do on his own, and it gave him an opportunity to produce good food while taking care of the land. But the first year tested his resolve.
"The weeds got out of control," he said. "I didn't have much yield, bugs took over. I didn't know what I was doing yet, so I just kind of went back to the drawing board. It really humbled me."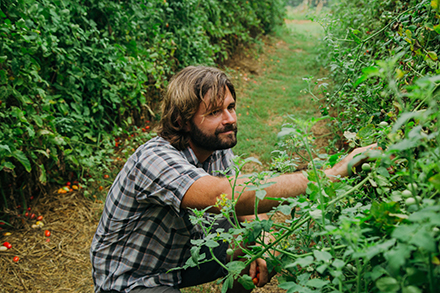 When he was on the verge of quitting and finding another job, Gordon came across the French intensive method, which emphasizes efficiency. "They had this unique way of cramming a lot of plants in a small area," Gordon said. So he decided to give it a try and keep farming. Yields improved enough to encourage him to keep going, but paying the bills was still a struggle.
In 2013, Gordon married, and his spouse joined him on the farm. "I can assure you," Cat Gordon said, "when I first came out here, I was going, 'Do I really like him enough for this?' And it turns out, yeah, I did."
But even with two people working, the Gordons both had to work off-farm jobs to supplement farm income. Joining a Heifer USA-supported initiative changed things for the couple.
Heifer USA supports farmers and helps them sustain higher incomes through the creation of farmer-owned cooperatives. One such co-op, New South Produce Cooperative, sells sustainably grown fruits and vegetables.
"There's nothing to say that we as a group of farmers couldn't do this ourselves, band together," Brandon Gordon said. "But coming up with the capital to do it, at the accelerated rate that Heifer's allowed us to do it? It would have taken us 20 years to do this on our own, to get to this point."
One benefit of being a co-op member is that farmer incomes become more stable. New South buys the produce from the farmer and also takes care of marketing and distribution for the products.
"You know, markets are erratic," Brandon Gordon said. "(If you're on your own selling vegetables) and it rains, you might come home with all your produce. The cooperative adds some stability to a very unstable business. The struggle has really gone down as far as those lean months."
Since joining New South, the Gordons have been able to reinvest money in the farm and start saving money for retirement. And the family's outlook keeps getting better. Next year, they expect to sell more than $100,000 worth of produce, which will net about half that, using only about 2.5 of the 5 acres. With such efficiency the farm has become a model for other farmers in the cooperative. But it's still not easy.
"Starting a farm, there's no way around it," Brandon Gordon said. "You're going to work a lot of hours. A farm, it's like a child. They always need something, you're never going to be done."


Help us assist hard-working, small-scale farmers in the U.S. by donating to Heifer USA and, if you're in Arkansas, by joining New South's CSA.