As the months tick by, Mosammat Sukhita Begum eagerly awaits the holy festival of Eid al-Fitr in Sharishakuri village, Bangladesh. The religious festival marks the end of the holy month of Ramadan and is widely celebrated with people saying prayers and indulging in celebrations with their families. But for Sukhita, the holy festival also marks the end of a year of hard work — and the beginning of a new chapter that promises hope and opportunities.
Every year as the festivities arrive, the demand for food products, vegetables, milk, eggs and meat swells — creating a market for smallholder farmers to sell their produce and earn a major share of their annual household income, ensuring they can meet their families' needs in the months to come. However, a majority of smallholder farmers are unable to bank on this market opportunity. And Sukhita hasn't always been able to, either.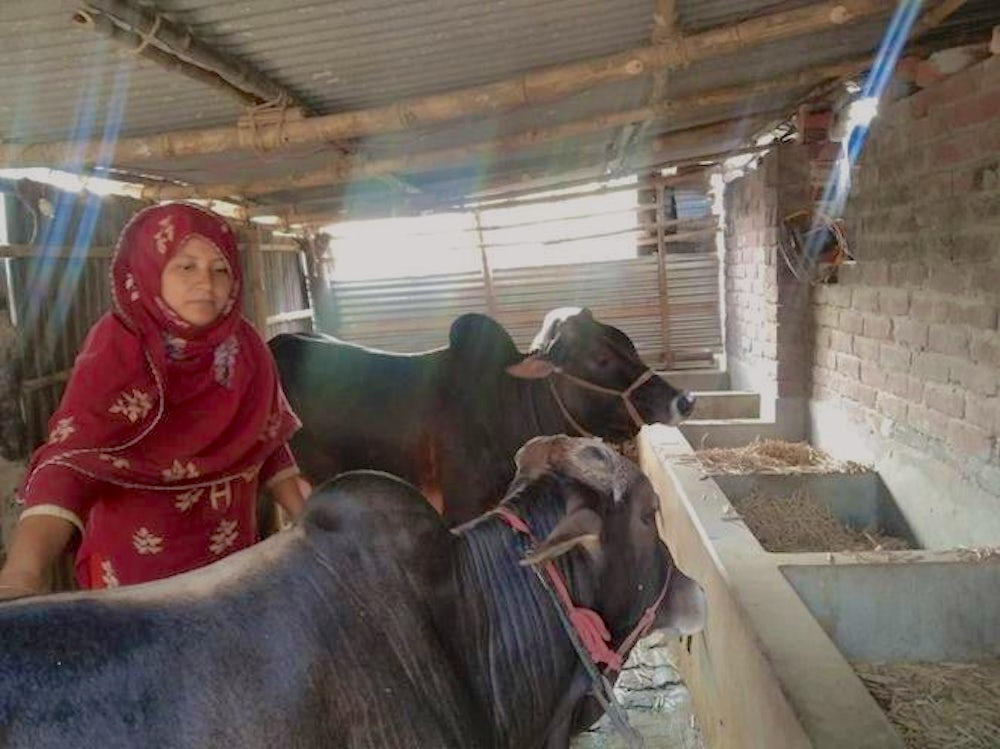 Bangladesh is home to nearly 14 million smallholder farmers, and nearly 20% of the population earns its living by raising livestock. However, lack of knowledge around proper production and insufficient financing to purchase necessary supplies, like shelter, feed and health services, keep producers from earning a Sustainable Living Income and expanding their businesses.
Sukhita used to raise cows to earn a living, but months of daily feeding, watering and cleaning the cow shed would get her just enough income to keep the house warm.
"We did not have enough capital to invest in our farm. We were feeding our cattle improperly and we were not deworming them due to lack of knowledge around cattle [production] practices," Sukhita shared.
To assist farmers like her, Heifer Bangladesh provides knowledge, training and access to affordable extension services, such as vaccination, deworming and first aid, through a project supporting nearly 34,500 farmers to improve their incomes and food security.
As a member of the Heifer-supported Akota farmers' cooperative, Sukhita underwent trainings on business planning, including developing a business plan, marketing and maintaining records of income and expenses, and learned about effective animal management, such as the need to invest in a secure animal shelter, provide good quality feed and fodder and utilize timely health services from animal health service providers trained through the project.
"No doubt that [improved] cattle rearing has improved my income," she shared. "This additional income has improved the financial condition of my family. We eat better food, and our nutrition has improved. … Earlier, we had little to spend on health facilities but now we can afford to visit a doctor."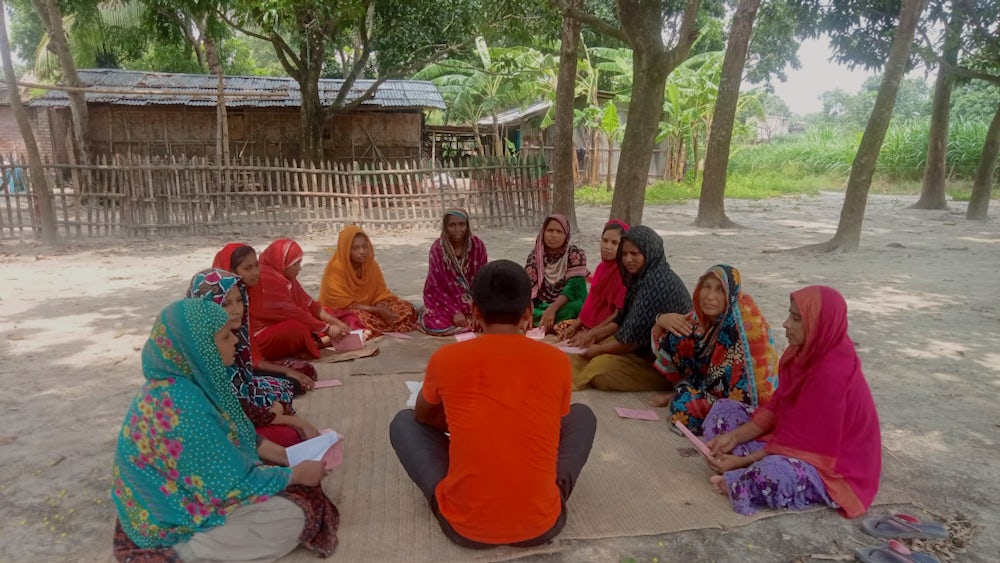 Drawing benefits from her cattle business, Sukhita soon realized the potential to expand her enterprise. However, she needed a loan to increase her herd size.
Many smallholder farmers like Sukhita don't own the land they work on. They either take it on lease or work as agricultural laborers on others' farms. This deprives them of collateral that can help them take bank loans. Most smallholder farmers also do not possess bank accounts and cannot access other formal financial services, like loans, subsidies and crop or livestock insurance.
To facilitate financial inclusion in Heifer Bangladesh's project sites, Heifer Impact Capital, a global impact private investor that provides investment capital to smallholder farmers and cooperatives, signed an agreement with Bank Asia to offer affordable loans to farmers and cooperatives in the area.
Under the partnership, Bank Asia, a leading commercial bank in Bangladesh, committed to provide loans amounting to $500,000 to help agricultural entrepreneurs improve production and expand their farms, against a $50,000 bank guarantee facilitated by Heifer Impact Capital to cover potential defaults.
As part of this initiative, Sukhita received a loan of $578, which she used to improve her cattle shed and buy another cow. She plans to pay off the loan with the income from her farm sales, while also establishing the credibility of her business — and her grit.
"Through this partnership, we have already improved access to capital to over 295 smallholder farmer families while demonstrating financial credibility of our participant smallholder farmers to the financial institutions," shared Pranjit Talukdar, area manager for impact investment in Asia region.
Sukhita's daily labor now means caring for cows that promise income, food security and dignity for her and her family. She eagerly waits for the Eid al-Fitur festivities to arrive, knowing she will reap the fruits of her labor and celebrate with assurance that the joy — and her profits — can last long past the holiday.