Successful Coffee Cooperative Plans to Expand Enterprises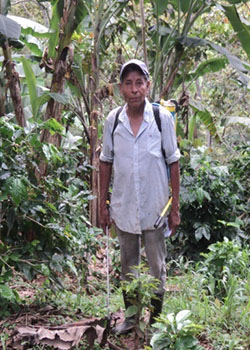 Claudio Hernández Vásquez
Organizational Background:

Previously, I worked in the municipality of San Lucas de Somoto, Nicaragua, in agriculture and livestock. After that, in 1986, I migrated to the municipality of San Juan de Rio Coco, community of Samarkanda, with the objective of working in coffee.

I needed money for my plot of land in 1990, and I decided to join the Teodoro Pérez cooperative. In this cooperative, I didn't see positive results for the improvement of the conditions of the producers. Our coffee was intermediated by an organization that paid low prices for our harvest.

I decided to join the Reynerio Antonio Tijerino cooperative in 1994, which was founded in the same year with 34 partners, and we became a part of the Association of Organic Coffee Producers (APCO). In the same year, I was elected president of the association.

The reason I joined this cooperative was the possibility of having bank credit and getting a better price for my coffee through Fair Trade. I have nine manzanas (6.3 hectares) of land of which 5 manzanas (3.5 hectares) are coffee. The rest is unproductive land. Land yields are very low due to bad farm management because of a lack of technical advice.

Current status of the farm:

I currently live in the community of Samarkanda in the municipality of San Juan del Rio Coco, Madriz. My family is small. I live with a son and a daughter-in-law who help me work on the farm. Thanks to the help of UCPCO, the farm has improved its productivity, and we have temporary and permanent labor thanks to the loans granted by UCPCO.

Expectations for the Heifer-GMCR project:

With the support that Heifer is offering, we will address some of the needs of our home and also help other families who aren't organized through Passing on the Gift. The aim with the project is for families to grow and eat their own healthy food.
Today, we are producers who are dedicated solely to cultivating coffee; with the support of Heifer, we will combine different things (with our coffee crop), such as: basic grains, vegetables, fruits, egg production and raising pigs and poultry. We will also improve the water quality through the construction of mini-aqueduct systems. We will be trained in the management of poultry, pigs, vegetables and basic grains.

Heifer's support will allow funding for our future plans:
Raising poultry and livestock
Improvement of production unit
Improvement and expansion of housing
Improved water quality through mini-aqueduct
Ensure better food for the family
Improvement of beneficio humedo (place the coffee beans are processed)
Technical management of areas thanks to training and technical assistance
Supply at least 80 percent of basic needs in the home
Knowledge exchange with other families within and outside the municipality
Sharing of resources with other families in need.