During the month of October, we will be highlighting Heifer's work to empower women in a series we're calling the Power of WE. The series began Oct. 4, and many of our posts will focus on women who are becoming entrepreneurs in their own right. Today we continue the series by featuring Leontina Giurgiu of Romania.
"I was lucky because I was strong and never give up, so that's the reason I can smile now," said Leontina Giurgiu, a Heifer International project participant in Rasca Ples, Romania.
In the rural mountains of Romania, there are few schools or jobs. During communist times, most people worked on state collective farms. Now they must survive on their own meager potato and vegetable crops, which is barely enough. Many families live in extreme poverty.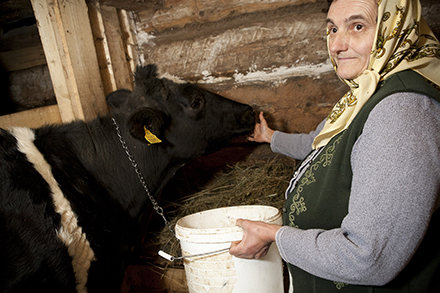 On March 8, 2012, International Women's Day, Leontina received a dairy cow from Heifer International that she named Ruji. Her family was one of 100 to receive a cow through Heifer's partner, Bothar Ireland, for the Milk for Orphans project. Another 36 cows were sent to nearby orphanages.
A small woman with an easy smile, Leontina is a natural mother, wrapping her arms around anyone in need, including her four daughters, one son and 85-year-old mother-in-law. She treats Ruji the cow as one of her children, buying her calcium supplements and feeding her homegrown vegetables.
For the first time, she no longer worries about her children and grandchildren getting enough to eat. Your kind and generous support for Heifer International has also given Leontina the chance to do what she loves most—help others in need.
As part of the Milk for Orphans project, Leontina Passes on the Gift of about 80 gallons of milk each year. She brings her milk to the collection point once or twice a week. It is then turned into cheese, yogurt and other nutritious foods that are delivered to the children of a dozen orphanages in the region.
And, as always, Leontina gives more than is required.
Today, most of the people around the world who are living in poverty are women and girls. That's why gender equity is a critical part of Heifer's holistic approach to development.
Heifer President and CEO Pierre Ferrari says rural women "seek genuine power over their own circumstances, to no longer live at the mercy of poverty and hunger. Our role at Heifer is to facilitate this process and provide the training and skills that do just that: give them the power to conquer the poverty into which they were born."
Empower more women like Leontina Giurgiu by giving to Heifer today.