Soas Meilas lives with her fisherman husband and six children in southwest Cambodia. In order to improve her own life and the lives of her family members, Meilas joined the Ponleu Strey group in 2013. The group was involved with a project called "Improving Income and Nutrition through Community Empowerment" (INCOME), implemented by the Rural Children Saving Association (RCSA).
During a Passing on the Gift™ celebration, Meilas shared her time with other self-help group (SHG) members. Her family passed on 25 chickens, vegetable seeds, and some feed. "During a year, my family sold about 40 kg of live chickens and received about $200. We used the money for improving our fishing business and our children's education," Meilas said. She added that she couldn't read and write and wanted to join a literacy class, but her husband wouldn't allow it. "I feel ashamed that I can't help my children with what they need," Meilas says. "I can't read a location's sign while traveling to sell fish at other communities."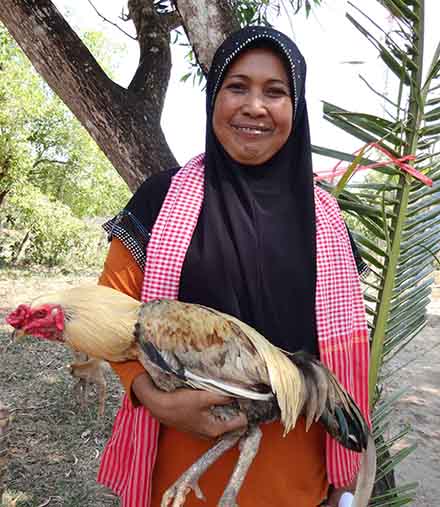 Thanks to the Ponleu Strey group and Heifer Cambodia, Meilas was able to start working on her reading and writing skills. "As a member of the Ponleu Strey group, I participate in literacy classes," Meilas explained. "I will do everything in my power to make sure I can read and write. It is one of my dreams."

Her second dream is to have at least 100 chickens or ducks to sell every month. "I talked to my husband about this plan, and he has agreed to start expanding our chickens' pen," Meilas says. "I know it won't be easy, but with the support of my husband and children, I hope that one day my dream will come true."
As an illiterate woman, Meilas often asked her children to read books for her, especially books on chicken raising techniques. She also asked the community animal health worker for help on learning more about animal management, especially feeding and vaccination.
Mrs. Soas would like to thank the RCSA and Heifer for helping her to work toward accomplishing her dream for her family. She is committed to making her dreams come true.
Story and photo by Kheang Sokleng, PME Manager, Heifer Cambodia.