Spring Sporting Event Celebrates the Year of the Snake
Story and Photos by Lam Trinh Hong Nhung | Program Officer | Heifer Vietnam
Translated by Nguyen Xuan Quyen | Communications and Networking Officer | Heifer Vietnam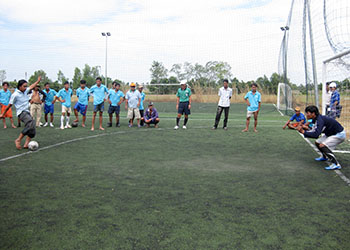 To celebrate the Year of the Snake, the project management board of Heifer Vietnam in Chau Thanh district, Soc Trang province, held a spring sporting event on February 2, 2013. More than 200 amateur athletes, who also are farmers in four Heifer projects in the provinces of Soc Trang and Kien Giang, participated in soccer and tug of war competitions.
The contests required a lot of energy, speed and teamwork, and spectators were given exciting performances. The self-help group (SHG) of Thuan Hoa village, Chau Thanh district, won the final soccer match during a penalty shootout.
Thach Chuol, who scored the final goal, said, "I was nervous at that time because I had never played any sport before. I took part in the contest for entertainment and for victory, as well. I cannot believe that my team won. My self-help group must be excited about the victory."
Four teams competed in the tug of war competition, while observers and other SHG members helped cheer on the teams. One SHG member from Kien Giang said, "I was a little bit afraid that we would get tired because we departed from Kien Giang at 4 a.m. We intentionally aimed to take part in the contest for fun and cultural exchanges. I came here to take care of and encourage my self-help group and I would be very happy if I contribute something for the group's victory."
Kien Giang's SHG took first place in the tug of war competition. The contest ended with smiles, handshakes and best wishes for wealth and success in the coming Lunar Tet holidays. Everybody was content with their performances at the contest and enjoyed making new friends.
Learn how you can be a part of the team to end hunger and poverty.