Story by Jessica Ford | Communications and Research Assistant | Heifer Peru
Photos by Bryan Clifton and Jessica Ford, courtesy of Heifer Peru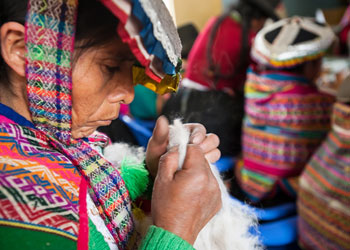 We've all heard the adage, "Give a man a fish, you feed him for a day. Teach a man to fish, you feed him for a lifetime." Perhaps you've also heard it taken one step further with… "Teach a woman to fish and you feed a whole family."
Heifer often uses these phrases and a few others to describe more simply the theory behind our development model. "Not a hand out, but a hand up," or "Not a cup, but a cow" and "sustainable development." Many of you have heard us at Heifer say these things many times. Our CEO, staff, Heifer volunteers and even donors are motivated by these philosophies to validate their support of this organization. Rightly so.
The concepts behind these phrases have stood the test of time for good reason, and I've been lucky enough to see some of it firsthand. Heifer has assigned me to work in its Peru country office for one year. I started here seven months ago and will head back to the Heifer HQ office in Arkansas in July. My assignment is one of professional and personal development. I'm here to learn. I'm here to understand better the "field" dynamics of Heifer's work. Boy am I ever. "Teach a woman to fish" isn't just a catchphrase or marketing slogan. I've seen it with my own eyes.
A week ago, I traveled to the Cusco office in southern Peru to spend a week with our satellite office there and visit some projects. I was there to observe and understand how a remote office operates and to better understand how we work with smaller NGO partners who help implement our projects.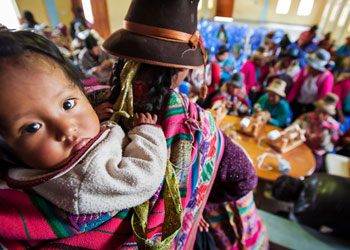 On the last day of my visit we took a two-hour journey to the community of Pitumarca. This community is in a remote region of Cusco. By the way, Cusco is where Machu Picchu is in the High Andean Region of Peru. The purpose of this visit was to attend a training where eight local women's groups were meeting to learn how to use spinning machines. Yes, Heifer does spinning machines. (It's like a sewing machine, but is used to turn fiber into thread.) Maybe you thought we just did animals? We do animals…and these women are alpaca farmers, but also incredible artisans. Some of them received alpacas from Heifer, others already had them. Getting quality, raw alpaca fiber is an intricate and long process, so having an alpaca is only one step in the chain of creating a better life for these women.
No matter where they got their alpacas—from Heifer or elsewhere—they still need to be able to turn that alpaca fiber into marketable thread. They use the thread to make products like scarves or hats or tablecloths or the other pretty little things they sell in the markets. (I mentioned Machu Picchu for a reason; there is a huge tourist demand for these types of artisan products.)
So this training I attended and the strategy behind it is where "teaching a woman to fish" comes in. Or, in this case, "teach a woman to sew." Because that's what Heifer was doing. We brought these women together, with their huge bags of raw Alpaca fiber and babies in tow, and we all sat around and learned how to spin it into thread using their new machines.
Check out those machines…
The women were all lined up in the front of the room and crowded around the machines to take turns learning to use them.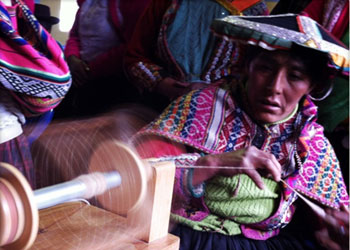 My favorite image (even though the quality isn't stellar) from this trip is here to the right… I quickly snapped it with my cell phone.
What do you see when you look at this picture? A moving machine? Yes. A woman dressed in the traditional dress of her region of Cusco? Yes. Poverty? Maybe. A tired woman? Probably. Take what you will, but this picture struck me when I went through all of them later that evening. For the first time in all my Heifer visits, I saw something new–and then it clicked. In the moment this shot was taken, this woman wasn't sad or tired. She was focused. It might be kind of hard to detect at first, but keep looking. She has that soft-eyed, mouth-slightly-opened look of a person who is just trying to learn something new. You've seen it. I've seen it before, too, but I never recognized it for what it was. I see it in my 9-year-old son often when we're doing homework together. Not only is the machine spinning, so are the wheels of this woman's mind. She isn't at the training for the heck of it. Come to find out, she walked two hours to get there, carrying her baby on her back. She has her own alpacas and she makes her own goods to sell in the market. She is at this training because she needs to feed her family. Learning to work with these machines will exponentially increase her ability to spin the alpaca fiber into thread, thus creating more to sell and more to use for the artisan products that she makes.
Now look at the picture. What do you see? (Or at least what I finally saw…) Focus? Yes. Drive? Yes. Determination? Yes. Power? Absolutely.
Teach a woman to sew and she feeds her whole family. Or community. Or the world.
In between the cute alpacas that Heifer families receive, and between the fancy Passing on the Gift® ceremonies–this is also Heifer's work. Training and educating women. Empowerment. Giving women new tools to live their lives. And what is so cool about this–you can't take it away from them. Ever. For these women, Heifer has taught something new–and no natural disaster or oppression from others or anything else can ever take it away.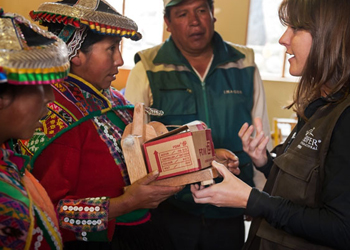 After the training, Heifer delivered eight new machines to the represented women's groups. Each group will share the machines among its members. I was lucky enough to present a machine to one group. Of course, they asked me to speak, which I am terrible at–but I told them that as a Heifer employee and as a representative of Heifer donors and staff all over the world, each of these women are an inspiration. I said that it was MY privilege to see their progress and commitment. And that they are leaders and innovators in this community and Heifer is proud to partner with them.
Heifer's fancy-pants way of explaining how our model creates sustainable impact is called the "Theory of Change." Simply put (even though it's not ever really that simple to solve hunger and poverty), the Theory of Change can be explained by looking at it like a math problem:
So, sew what? What does all this mean? What does a weird math problem and one woman at a training in the middle of nowhere with a determined look on her face mean?
Add the red boxes together, then multiply them by the yellow boxes and bang–you're on the path to ending hunger and poverty. Women are so important to this theory that they get their own box.
It sounds so easy doesn't it? It can be. Heifer is doing it. Heifer is using this model and empowering women all over the world. But Heifer can't do it alone. It takes donors and partners and committed women just like in the picture to make it happen. And it takes you.
Teach a woman; teach the world.